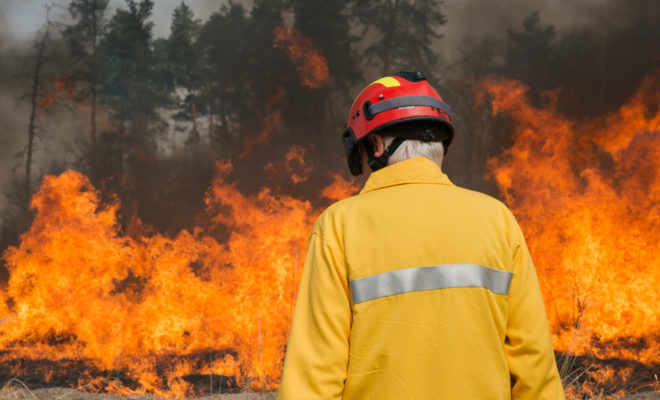 News
Prescribed Burns to begin in Sam Houston National Forest
By |
U.S. Forest Service fire personnel will be burning areas in the national forests during the next few months. Last year, National Forests and Grasslands in Texas accomplished more than 135,000 acres of controlled burning.
"The public may see a helicopter overhead, smoke columns rising and smoke settling in low-lying areas at night," said Sam Houston National Forest Fire Management Officer Jason Klawinsky. Controlled burning is a valuable land management tool when done prudently.
In East Texas, prescribed fire is a standard forestry management activity to restore the natural ecological cycle to the land. Most rangelands and wildlands are fire-adapted; meaning species evolved with fire as a natural and reoccurring disturbance. Fire suppression has eliminated the natural role fire once regularly played in ecosystems commonly found in East Texas, contributing to a buildup of "fuels." This contributes to faster, larger and more intense wildfires. Conducting controlled burns on regular intervals reduces the chances of a wildfire spreading out of control, and burning underbrush promotes new growth of tender vegetation that is beneficial to wildlife such as deer, turkey, and birds.
Controlled burning is implemented as a management activity to protect subdivisions, businesses and transportation corridors from potential wildfires. "Our primary concern is for the safety of the public," Klawinsky said. "We want the public to know what we're doing when we conduct burns in the national forest. These are controlled fires conducted by experienced, qualified firefighters who work as a team to ignite, monitor, and ensure that the fire stays within the control lines," he said.
The Forest Service conducts burning only when weather conditions are most favorable and are based on daily forecasts from the National Weather Service. Forest Service fire personnel take into account weather conditions and anticipated fire behavior before conducting a burn.
"Helicopters play a big role in our controlled fire program to help ignite and monitor fire, so it's important for the public to know that the use of drones is prohibited in the air space around a fire. Drones could cause mid-air collisions with our low flying aircraft. If drones are encountered during operations, helicopters would be grounded as a safety precaution, costing valuable time and money. Anytime there is a fire, there is going to be smoke," Klawinsky said. "There will be times when smoke will settle in low-lying areas. Also, for those with respiratory problems, we recommend they close windows and ventilate their homes by using the air conditioning or heating system. Some may want to leave the area until the smoke clears."
If drivers encounter smoke on the road, they should reduce their speed and use low beam lights to become more visible to other traffic. In some areas, Forest Service fire personnel visit property owners living closest to the burn areas to explain safety procedures and the benefits of fire.
"The bottom line is that smoke is a short term inconvenience that results in a long term gain by benefitting wildlife such as deer, turkey and the endangered red cockaded woodpecker, and protecting homes and property from destructive wildfires," he said.
For questions about the controlled fire program, contact Jason Klawinsky at 936-337-7068 or visit www.fs.usda.gov/detail/texas/home/?cid=STELPRDB5355005 to view planned and completed burned areas.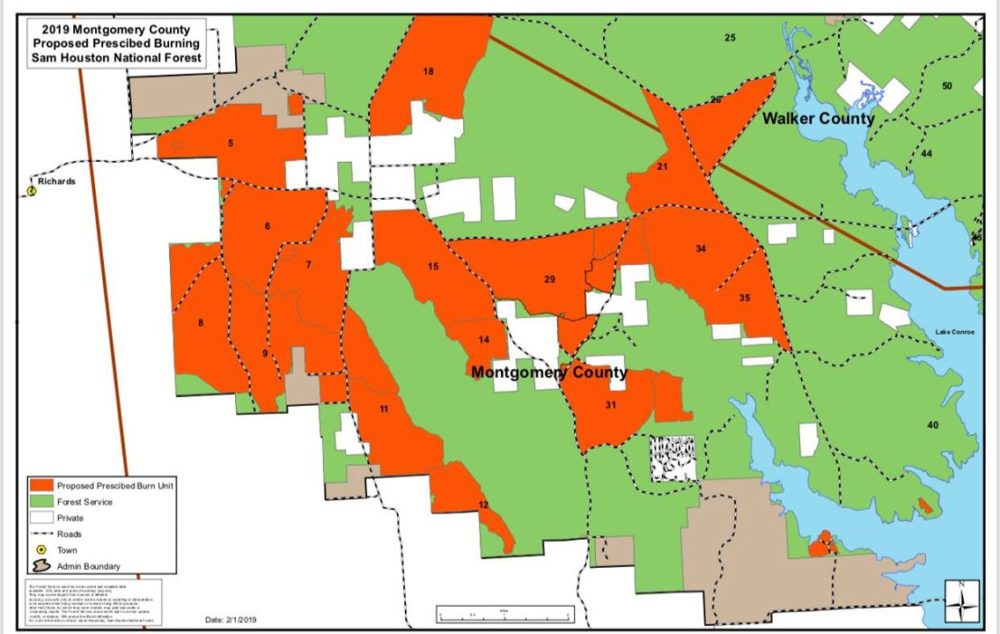 For more information about controlled burning and wildfire prevention and readiness, please visit the following websites.
www.youtube.com/watch?v=E542gY7uR0s www.fs.fed.us/managing-land/fire/prescribed-fire
www.frames.gov/regions/southern/
https://wildlandfirersg.org/
www.nfpa.org/Public-Education/By-topic/Wildfire/Firewise-USA
https://ticc.tamu.edu/PredictiveServices/predictiveservices.htm
www.youtube.com/watch?v=hKwCN-M8VLA&list=PLDiHiM_wYJyNoI9_RA2QE7oL34t3g3Ts5
Source: Montgomery County Fire Marshal's Office