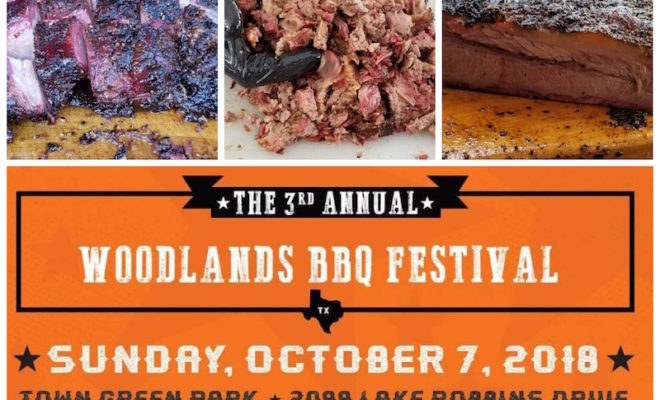 Food & Drink
Preview 5 Local BBQ Joints before The Woodlands BBQ Festival
By |
The Woodlands BBQ Festival returns to Town Green Park on October 7th. Hello Woodlands is highlighting five of the northside bbq joints and pitmasters for this article as well as one new bbq joint out of Magnolia making some serious waves. The complete list of this year's lineup include returning Houston area barbecue favorites BBQ Godfather, Blood Bros. BBQ, CorkScrew BBQ, Goode Company BBQ, Harlem Road Texas BBQ, Roegels Barbecue Co., Southern Q BBQ, Spring Creek Barbeque, Tejas Chocolate + Barbecue, Tin Roof BBQ and Victorian's Barbecue. The newly added include Brotherton's Black Iron Barbecue – Pflugerville, Daddy Duncan's BBQ – Katy, Feges BBQ of Houston, Reveille Barbecue Co. – Magnolia and Willow's Texas BBQ – Houston.
Last year's sold-out event drew bbq lovers from all over the state to enjoy unlimited sample portions from some of the best craft barbecue establishments and pitmasters around. This year families get to try some of the best of the best including many from the Texas Monthly Top 50 BBQ joints list as well as some newcomers, all without having to drive for many miles and all for one price.
We also want to highlight some of the signature special items at these stellar northside craft bbq restaurants.
Corkscrew BBQ – Spring, TX
Owned and Operated by husband and wife team Will and Nichole Buckman since 2012, Corkscrew was the first to put the Woodlands/Spring area on the Texas Monthly Top 50 BBQ list in 2013 and landed a Top 10 spot, #7 to be exact for the 2017 list. Famous for their perfectly smoked and tender moist brisket, ribs, pulled pork and their Saturday "Dino" beef rib. Fans wake up bright and early for one of the tastiest pieces of beef you will ever bite into, 1 to 1 ½ lbs of smokey, tender, juicy, beef, with a beautiful peppery bark on a bone. BBQ connoisseurs have posed with this rib and flooded social media/Instagram with it, and one will see all smiles of joy with their first bite. We asked pitmaster Will Buckman what was the fascination with their Beef Rib and what makes it extra special:
"One beef rib is a pound or better of smoked heaven. Consistency of pot roast and the flavor of the best brisket you have ever had. Imagine you are crossing state lines and entering Texas. The sign you see is grand in stature, with a lone star and reads "Welcome to Texas!" The beef rib is a miniature version, still grand in stature and it has "Welcome to Texas " Written all over it."
Corkscrew BBQ is located at 26608 Keith St, Spring, TX 77373. Learn more at www.corkscrewbbq.com.
Tejas Chocolate & Barbecue – Tomball
How do you land the number #6 spot on TM's coveted list? Consistency in everything you do is a great place to start and exactly what brothers and owners Greg and Scott Moore and Michelle Holland have done since 2015. . Tejas is always pushing the boundaries of what craft BBQ should be and have many fan favorites specials that change daily. Their current specials are, Tuesday: Barbacoa Tacos, Wednesday: Tejas House Prime – 1/2 pound of moist house smoked prime brisket braised cremini mushrooms, horseradish cheddar and a side of horseradish sauce. Thursday: House Smoked Pastrami Reuben and Pastrami Beef Ribs. Friday: Burnt Ends & Beef Ribs. Saturday: Burnt Ends & ½ chickens.
Scott, Greg, and assistant pitmaster Brandon have been making some house-made sausages here of late. They have always had some epic house ground sausage on the menu, but wait till you taste some of the craziness (in a good way) they have been coming up with. Brisket & Blues (blue cheese, grape tomatoes and red onion), Smoked Street Corn (charred street corn, cojita, ancho, cilantro, lime, ground pork), barbacoa boudin and now the much sought after Chile Relleno Sausage (a beef sausage link with roasted poblano, pepper jack cheese, and Tex Mex seasonings like chili and cumin). We asked Pitmaster Scott Moore Jr what made them start. making sausage in house and the inspiration behind the Chile Relleno Sausage:
"We started making sausage once we had room in our new kitchen area so we could make better use of our brisket trim. Sausage making is a way for a barbecue joint to get creative with flavor profiles. I got to thinking about what Texans love to eat and Chile Relleño came to mind. I wondered if that flavor would translate into a sausage so we tried it as an experiment. On the first attempt we nailed the sausage which might actually be better than a Chile Relleño itself. Everything you want in Relleño is in every bite."
If you want to try it, Tejas has some advice for you, "Come early, eat well!"
Visit Tejas Chocolate & Barbecue at 4753, 200 N Elm St, Tomball, TX 77375 and online at tejaschocolate.com.
Southern Q – Spring
Southern Q was started by husband and wife team Steve and Sherice Garner in 2009. Steve has created his own brisket rub and perfected a blend of spices to create an amazing smoked brisket. Sherice added the down home southern side dishes. The two kinds of sausage are made in house and the boudin with fiery crackers is their signature item. Southern Q is home of The Big Popa- Loaded Baked Potato with three meats, Chopped Brisket, Homemade Sausage, and a Rib. Friday and Saturday Southern Q has smoked turkey legs, rib tips, and smoked wings. Sundays smoke oxtails in gravy over rice. Recently Southern Q added a Louisiana Spicy Sausage (available Fri & Sat), loaded with green onion, pork, and Cajun spices. We asked Steve why he decide to make sausage and boudin in house:
"First of all, it's always cheaper to make it yourself, and the quality is higher because you control the meats you use. Secondly, we wanted to limit additives and chemicals in our product, while producing a completely unique sausage that sets us apart. The boudin is a sausage made from pork rice dressing stuffed into pork casings. We produce a spicy and a mild flavor boudin."
Visit Southern Q BBQ and Catering at 16540 Kuykendahl Rd, Houston, TX 77068 and online at www.southernqbbqcatering.com.
Tin Roof BBQ – Humble/Atascocita
Owned and Operated by the Webber family, Ronnie, Nancy and their son Brek Webber have been slinging Q since 2001. Texas BBQ, Country dinners and homemade country sides and desserts will be found on the menu at Tin Roof BBQ along with their "World Famous Texas Cheesesteak Sandwich" (Smoked sirloin thinly sliced with grilled onions bell peppers and mushrooms. Provolone cheese and thousand island dressing on a bun). Two specials are offered each week, Baby back ribs on Friday and beef short ribs on Saturdays, are both available until they sell out.
Brek Weber commented, "During the fall and winter we have smoked chicken noodle soup and smoked chicken and sausage gumbo. These vary day to day. We also are starting to have house made sausage on special, couple of times a month."
Tin Roof BBQ is located at 18918 Town Center Blvd, Atascocita, TX 77346. Visit online at www.tinroofbbqtexas.com/.
BBQ Godfather – Magnolia
Tony Faour opened up his business in Spring, TX in 2015 and recently moved his whole operation to Deacon Baldy's Food Truck Park in Magnolia. Juicy brisket, fall-off-the-bone ribs, spicy pulled pork, hearty bacon mac & cheese and a sweet potato casserole that will rival your grandma's. Specials are usually announced on. BBQ Godfathers Facebook page, they are one of the few places that offer burnt ends daily, but get there early if you want some. Tony's signature sandwich is the The Clemenza (Jalapeño Sausage, Spicy Pulled Pork and rib meat each sauced with our BBQ sauce, Chipotle Sauce and Rib Glaze topped with pickles, onions and Jalapeños. (you can also add coleslaw to it).
Tony had this to say about The Clemenza: "The idea behind the sandwich was to basically include all the pork items we made with each of their perspective sauces for a contrast of flavors."
Visit BBQ Godfather at 5447 Farm to Market Rd 1488, Magnolia, TX 77354 and online at www.facebook.com/BBQGodfather.
Reveille BBQ Co – Magnolia
Newcomer Reveille Barbecue Co., owned by James McFarland and Michael Michna, is now opened for weekend service on FM 1774 near Magnolia. James was previously assisting Scott Moore at Tejas Chocolate & Barbecue. Taco Sausage is their number one specialty currently, pitmaster James said, "Our menu changes every weekend, we do something different every weekend" and described the Taco Sausage as "we created a munchie item, because when you cut into one and taste it, it it's like going to Taco Bell at 2am with the munchies."
BBQ Bryan (Tales from The Pits Bryan Norton) has already given Reveille his stamp of approval for brisket, big beef ribs, house-made sausages.
Bryan shared, "they may be the new kids on the block but they are turning out some of the states best smoked meats. Be sure to follow them on social media to catch some of the unique specials they put out like taco sausage, smoked pastrami, gochujang beef ribs, and more. Don't skip the bread pudding, either!"
Visit Reveille BBQ Co at 37421 FM 1774, Magnolia, TX 77355 and online at www.reveillebbq.com.
Festival and Ticket Information
Both VIP and general admission tickets are available now at TheWoodlandsBBQ.com. Get your tickets fast! Festival organizers expect another sold-out event for 2018. All proceeds from the festival will be donated to organizations benefiting patients living with pulmonary hypertension (PH), a deadly respiratory disease afflicting all ages for which there is yet no cure.
"This family-friendly event is something we look forward to putting on for our community all year long," said Stuart Lapp, a Stibbs & Co., P.C. partner and founder of The Woodlands BBQ Festival. "It's a wonderful way for us organizers and volunteers to combine our love for Texas barbecue with the very important mission of improving the lives of children and adults suffering from pulmonary hypertension."
Learn more at The Woodlands BBQ Festival Facebook page at www.facebook.com/TheWoodlandsBBQ/
Check out and like Q Up The BURGERS (BBQ and Burgers Facebook page) for a chance to win two VIP tickets and a discount code for 15% off GA or VIP tickets at https://www.facebook.com/QuptheBURGERS/
Nick Rama is a food writer, contributor of Hello Woodlands, and shares his restaurant experiences on Nick's Local Eats at NicksLocalEats.com and the Q Up The Burgers Facebook page. Nick enjoys helping the small business owner, supporting his community with fundraising for food banks, and plans tasting events with locally owned mom and pop restaurants.