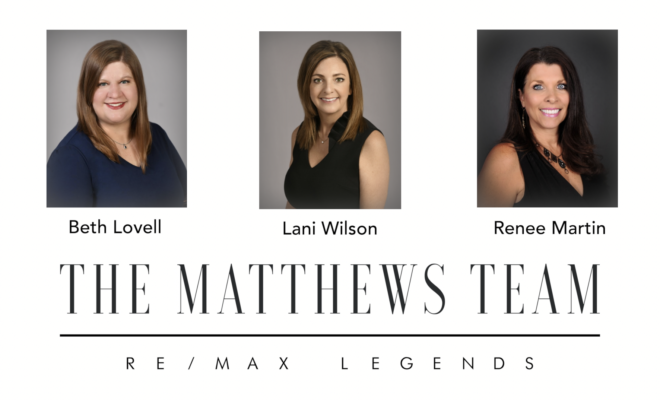 People
Real Estate Selling Experience with The Matthews Team RE/MAX Legends
By |
When you're faced with the challenge of selling a home, who do you turn to? The Matthews Team RE/MAX Legends has over 25 years of real estate experience, earned numerous prestigious awards and distinctions, including #1 RE/MAX Team in Texas for over 20 years, and has a full-service real estate team to guide you through every step of your real estate transaction, making it as smooth and seamless as possible.
In Hello Woodlands' video interview, meet members of The Matthews Team who work with homeowners in The Woodlands and across Houston to sell their home:
Beth Lovell, Broker/Realtor®
Lani Wilson, Listing Department Manager/Realtor®
Renee Martin, Pending Department Manager/Realtor®
Watch the video below!
The Matthews Team Selling Experience includes working with a team of experts to market your home, negotiate offers, coordinate under control, and the closing process. Their team uses a creative and aggressive approach designed to help you close your real estate transaction quickly and smoothly. Learn more about the selling experience at https://www.thematthewsteam.com/the-selling-experience/.
Whether you are buying or selling, The Matthews Team knows that the process can seem overwhelming on your own. The Matthews Team works with relocation clientele, empty-nesters, retirees, first-time home buyers, and everyone in between. Call The Matthews Team RE/MAX Legends at (281) 440-7900 or visit TheMatthewsTeam.com and learn how to save up to $5,000 on your home sale or purchase.