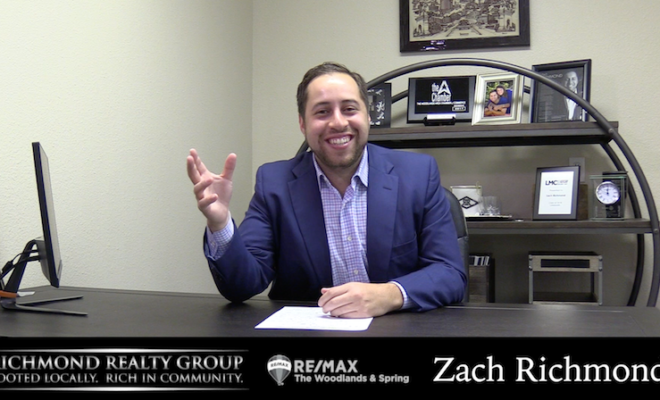 Lifestyle
Real Estate Market Update for August and Fall 2018
By |
Zach Richmond of The Richmond Realty Group RE/MAX The Woodlands & Spring shares a market update for real estate in The Woodlands, Texas area and Montgomery County for August and Fall 2018 in the video below:
View TREC Consumer Notices: https://bit.ly/TRECRichmondRealty  https://bit.ly/TRECTX
Real Estate Market Update – August 2018:
Activity in residential real estate is picking up in August 2018 and as we go into Fall 2018.
Per HAR.com, single family homes (not including new construction) in 77380-77386 zip codes is a sellers market with a 4 months supply.
In 77386 in South Montgomery County is "on fire" with only a 3.1 month supply of homes for single family homes (not including new construction). The area has experienced new retail, Grand Oaks High School opening, and the Grand Parkway has impacted the area with growth.
On a national level, the U.S. Bureau of Labor Statistics reported a 4.0% unemployment rate in the United states and Texas – the lowest in a decade.
Per The Conference Board, the consumer confidence index as of June is 127.1 and increased in July to 127.4.
West Texas Intermediate Crude Oil (WTI) is priced currently around $70 per barrel.
Baker Hughes Rig Counts last year was 958 in the United States and as of July 27, 2018 was 1,048.
For more information about real estate and market conditions in The Woodlands and Montgomery County, contact Zach Richmond at zach@richmondrealtytx.com, visit RichmondRealtyTX.com and Richmond Realty RE/MAX The Woodlands & Spring's Facebook page at https://facebook.com/richmondrealty.
Stay tuned for more important news and updates on real estate in The Woodlands and Montgomery County from Hello Woodlands!
Legal Disclaimer: The material provided here is for informational purposes only and is not intended and should not be considered as legal advice for your particular matter. You should contact your attorney to obtain advice with respect to any particular issue or problem. Applicability of the legal principles discussed in this material may differ substantially in individual situations. 
Texas law requires all real estate licensees to provide TREC Information About Brokerage Services to all prospective buyers, sellers, tenants & landlords. To view, click here. For TREC Consumer Protection Notice, click here.