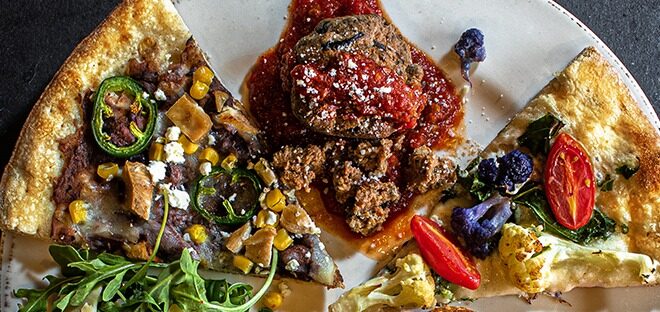 Business
Russo's Pizzeria Launches Innovative New Restaurant, Olio & Farina, in Tomball
By |
TOMBALL, TX – Anthony Russo, Russo's New York Pizzeria & Italian Kitchen Founder and CEO, has launched Olio & Farina, a pizza tasting concept restaurant in Spring/Tomball just south of The Woodlands.

Russo's, known for their creative, authentic Italian dishes, inspired by Anthony Russo's family cooking history, is proud to offer this innovative approach to dining, which is the first of its kind in the Greater Houston area.
This unique dining experience is sure to delight patrons as well as offer the chance to sample dishes beyond the typical pizza choices. This neighborhood eatery is where pizza is on-trend, from simple to sophisticated palates with hand-stretched, made-from-scratch Romo style pizzas topped with unique flavors, textures, and ingredient combos. Also available are select wines and signature hand-crafted cocktails that pair perfectly with the deliciously distinctive pizza as the heart of it all.
Guillermo Medellin, owner of Olio & Farina, is also the 14 year owner of Russo's New York Pizzeria & Italian Kitchen in The Woodlands and Conroe. He is thrilled to be part of Russo's new dining concept choice in Tomball. "We want Olio & Farina to be a place where people can have great food and a social dining experience. We are looking to evolve the pizza concept beyond what the normal market has and that will set us apart as something different."
The menu provides a creative approach for diners to discover, he added. "Having been part of the Russo brand for over 10 years, it's exciting to be part of something new and creative," Medellin said. "The signature cocktails and craft pizza are unique recipes that create a tour around the world trying different flavors and combinations of ingredients."
Michael Miller, Director of Operations, Russo's New York Pizzeria & Italian Kitchen, Inc., stated Russo's has been working to launch a new concept allowing it to diversify in different marketplaces. "Olio & Farina has a full bar and pizza tasting with 17 unique types of pizza, allowing guests to try something different," said Miller.
Olio & Farina is located at 24230 Kuykendahl Rd. #200, Tomball, TX 77375. Hours are Sunday through Thursday from 4 p.m. to 9 p.m. and Friday and Saturday from 4 p.m. to 10 p.m. For more information, visit www.olioefarinapizza.com or call (832) 639-6503.