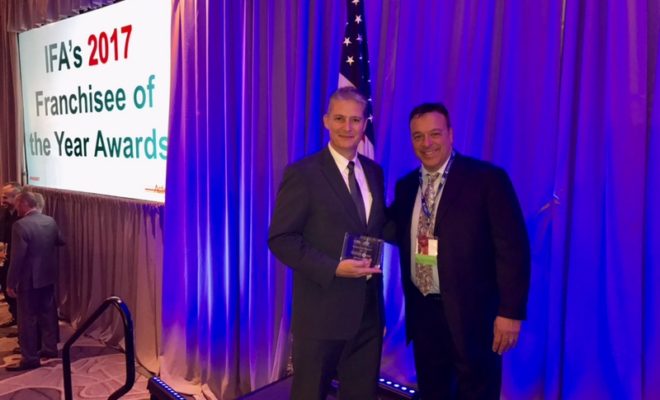 Food & Drink
Russo's Restaurants names Guillermo Medellin 2017 "Franchisee of the Year"
By |
Russo's Restaurants, the family of dining concepts that includes Russo's New York Pizzeria and Russo's Coal-Fired Italian Kitchen, recently announced seasoned local franchise owner Guillermo Medellin as the recipient of its coveted "Franchisee of the Year" award.
Winners are recognized annually at the International Franchise Association's gala held during its Public Affairs Conference in Washington, D.C. The award is presented by participating franchisors and honors sales achievements, dedication to industry advocacy and community leadership.
"I'm honored to be recognized as Russo's 'Franchisee of the Year'," said Guillermo Medellin, who owns three Russo's Restaurants franchises. "This award is a testament to the hard work we put in each and every day at all of our restaurants, and the amazing people we have on board to help us do so. I can't wait to share the news and celebrate this award with my team."
Medellin, originally from Mexico, worked in the manufacturing industry before moving to the United States. Since purchasing his first Russo's franchise in 2009, he now operates three Russo's Restaurants concepts in Texas: The Woodlands, Spring and Houston, and has made an impact in each market through partnerships and regular community giveback.
Read about our visit to Russo's The Woodlands and Guillermo's favorite dishes.
"Guillermo's passion makes him an excellent leader here at Russo's," said Chef Anthony Russo, the creative culinary genius behind the brand who also serves as its CEO. "He's willing to put in hard work, learn and help others. And, while we have dozens of incredible franchisees in our network, Guillermo really set himself apart this year – I couldn't think of someone more deserving of our 'Franchise of the Year' award."
Russo's New York Pizzeria and its traditional Italian recipes trace their origins to a tight-knit family where the kitchen was the center of activity.
Along with its sister brand, Russo's Coal-Fired Italian Kitchen, Russo's New York Pizzeria has garnered a cult-like following for its truly authentic and delicious Italian dishes made from the freshest ingredients, and its New York-style pizza. The restaurants blend premium recipes with the freshest ingredients that are all natural with no preservatives, no additives and zero trans-fats. Chef Russo's family promise, "If it isn't fresh, don't serve it!" is the mantra of each and every franchisee who has been certified and mastered the Russo's brand operating criteria.
Learn more about Russo's New York Pizzeria and view menu options available at www.nypizzeria.com.