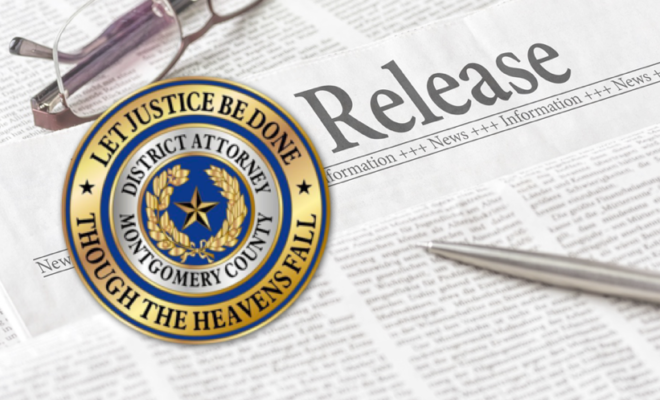 News
Sex Offender sentenced to 45 Years in Prison
By |
On Tuesday, October 25th, 2022, a jury in the 9th District Court, The Honorable Phil Grant presiding, found James Ray Demps, 30, guilty of Aggravated Sexual Assault of a Child. The same jury then sentenced Demps to forty-five years in prison. Because Demps was convicted of Aggravated Sexual Assault of a Child under 6, he is not eligible for parole.
On December 3rd, 2020, the victim's mother picked up her children, including her 5-year-old daughter, from school. After getting into the car, the mother immediately noticed something was bothering her children. The victim disclosed that Demps sexually assaulted her during the Thanksgiving break at their home in Willis, Texas. The victim's mother drove her children directly to the Willis Police Department. An investigation followed, and police charged Demps with Aggravated Sexual Assault of a Child.
At trial, Chief Prosecutor Laura Bond and ADA Ryan Fuller presented several witnesses, including the child, now 7, the mother of the child, a Sexual Assault Nurse Examiner, a former detective from Willis Police Department, and a forensic interviewer. The defendant did not testify in the guilt and innocence phase of the trial. After a relatively short deliberation, the jury convicted Demps of the charges.
During the punishment phase of the trial, prosecutors presented evidence that the defendant had previously been convicted of Engaging in Organized Criminal Activity and was on parole for that offense when he sexually assaulted the 5-year-old child. Prosecutors also presented evidence to the jury of the defendant's behavior in the Montgomery County Jail, specifically a number of incidents where the defendant exposed himself to female inmates and jail staff while awaiting trial.
The defendant testified during sentencing. He admitted to his prior criminal conduct and sexual behavior in the jail while awaiting trial but denied the charged sexual assault. After a relatively short deliberation, the jury returned with the 45-year sentence.
This case was investigated by members of Children's Safe Harbor in Conroe, Texas, along with their colleagues at the Texas Forensic Nurse Examiners in Houston, Texas. These organizations provided the victim and her family with care and resources that aided a just verdict in this case.
Assistant District Attorney Ryan Fuller said, "Every parent rightly fears the person who appears safe but turns out to be a predator of children. It is the nightmare. In this case, we are grateful that this mother went immediately to the police. We are grateful the jurors listened carefully and rendered a just verdict. And, finally, we are grateful that this family can go to bed at night knowing Demps can't hurt them or any other child for a long, long time."
District Attorney Brett Ligon stated, "The day-for-day sentence of 45 years means that James Ray Demps will not take another breath of free air during my lifetime and likely his. He attempted to take this child's innocence, and a jury took what is likely the rest of his natural life in return. I strongly recommend that those who contemplate taking advantage of a child consider Demps' story and take careful note: in this county, actions have consequences, and evil does not go unchallenged."
Source: Michael R. Holley, First Assistant District Attorney, Montgomery County District Attorney's Office