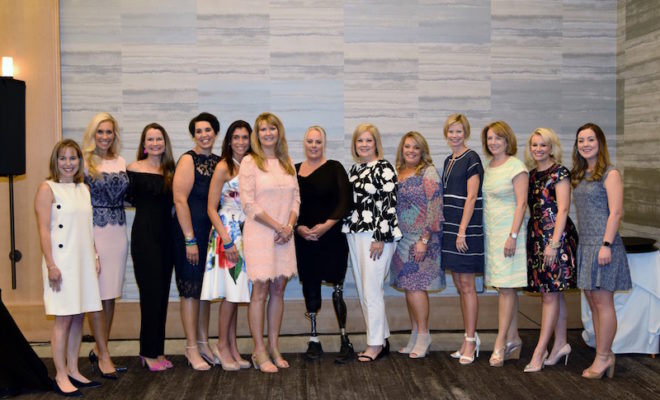 Calendar
Stephanie Decker Speaks at Women Empowering Women Luncheon
By |
The fourth annual Women Empowering Women Luncheon was held Friday, May 5th at The Westin at The Woodlands. Stephanie Decker, this year's keynote speaker, shared her inspiring story leaving guests with the fitting message, "Don't let the storms in life get you down." Presented by CHI St. Luke's Health, the event raised much-needed funds for Interfaith Community Clinic.
"We were honored to have Stephanie Decker as our speaker for this year's event for Interfaith Community Clinic. Her story is one of perseverance and strength and is truly an inspiration," shared Missy Herndon, President and CEO of Interfaith Community Clinic.
Over 225 enjoyed the luncheon while listening how the Indiana Mom courageously shielded her children when two tornadoes devastated her home and community. Her injuries required amputation of both of her legs, but she did not let this handicap shatter her spirit. Determined to "Find her why," she founded the Stephanie Decker Foundation, which supports children with prosthetics. She left guests with a favorite quote, "Storms in life are inevitable, letting them defeat you is optional." All proceeds from the luncheon benefit Interfaith Community Clinic.
Interfaith Community Clinic opened its doors in 1996 to meet the medical needs of the uninsured population. As the needs of the community have grown, so have the services offered at the clinic. Today, the clinic continues to provide quality basic medical and dental care, counseling and patient services to individuals in need. A volunteer staff of licensed physicians, nurses, medical providers, dentists, dental assistants, dental hygienists, as well as translators and support personnel work together to provide patient care. Programs are provided free of charge and are funded by the generous financial support of grants, faith-based organizations, businesses, civic groups, and individuals.
For more information, please view www.interfaithcommunityclinic.org or call 281-364-7889.