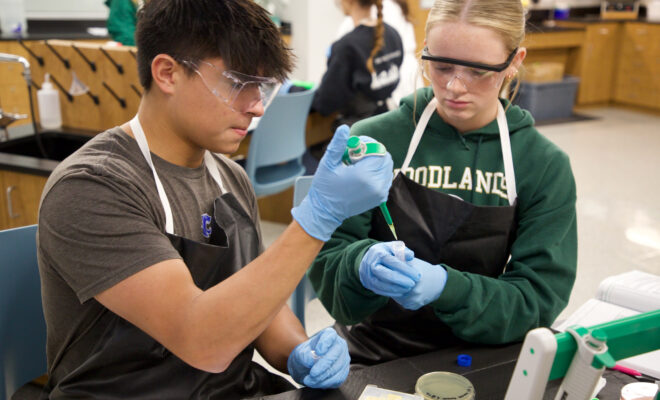 Photo Credit: Rod Prado
People
Students gain unique Lab Experience and Awards in Biotech and Bioengineering Program at The Woodlands Christian Academy
By |
On the beautiful 40-acre campus of The Woodlands Christian Academy (TWCA), students PreK through 12th grade have a wide variety of classes and activities to choose from. From Biblical Studies to Broadcasting and English to Engineering, high school students receive a well-rounded, challenging, Christ-centered liberal arts education in a dynamic classroom environment for learning so that graduates are prepared to continue their education at four-year universities.
Hello Woodlands had the opportunity to visit the Biotechnology and Bioengineering class and step into the lab to interview TWCA teacher Jessica McKenny and students as they worked on culturing viruses.
Jessica McKenny has taught at TWCA for eight years and is part of the high school faculty. Having a degree in microbiology, starting a career at a startup biotech company, and enjoying to work with teenagers, teaching for McKenny became a wonderful way to merge her love of science and working with kids. After moving to The Woodlands with her family, she found TWCA and fell in love with the energy on campus, the direction the administration was taking, and the school. From the beginning, McKenny knew she could do quality science work at TWCA because of the opportunities available and technology was a priority. During her college years, the human genome was sequenced, and they were on the preface of biotechnology, DNA, genetic engineering – studies McKenny was very passionate about. From gaining her degree in microbiology, she was able to infuse what she had learned in the AP Biology curriculum. In the curriculum there was one biotech lab and the students really enjoyed it. As a teacher, she realized she needed to be training her students for jobs and technology that don't even exist yet. She thought, "How do I fulfill that mission as a teacher?" The answer was to get the students into cutting edge courses like the Biotech and Bioengineering class like the one we visited that day.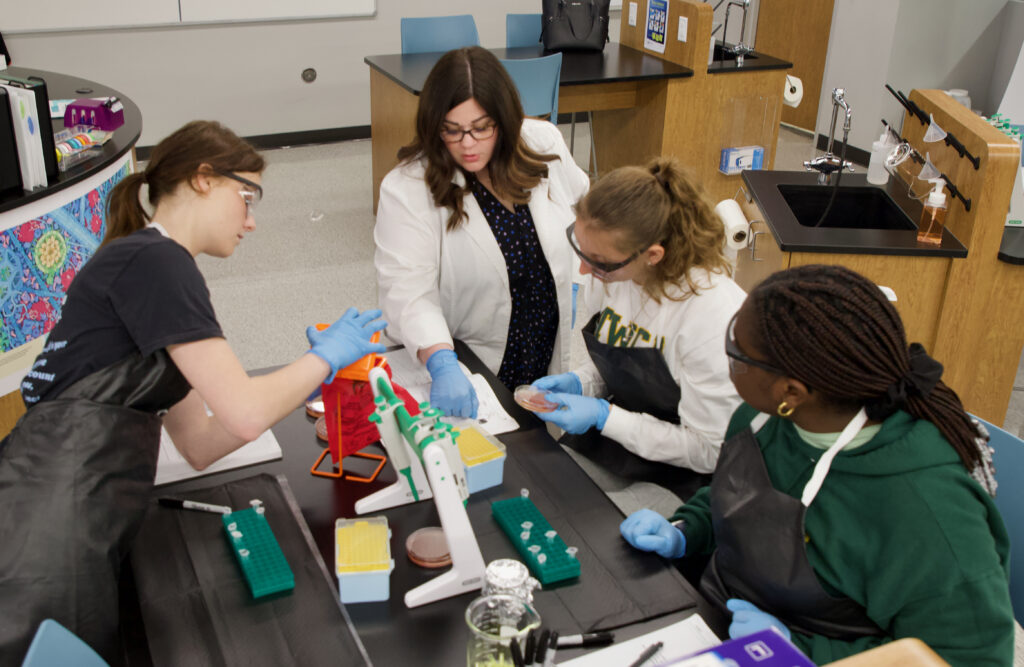 Advertisement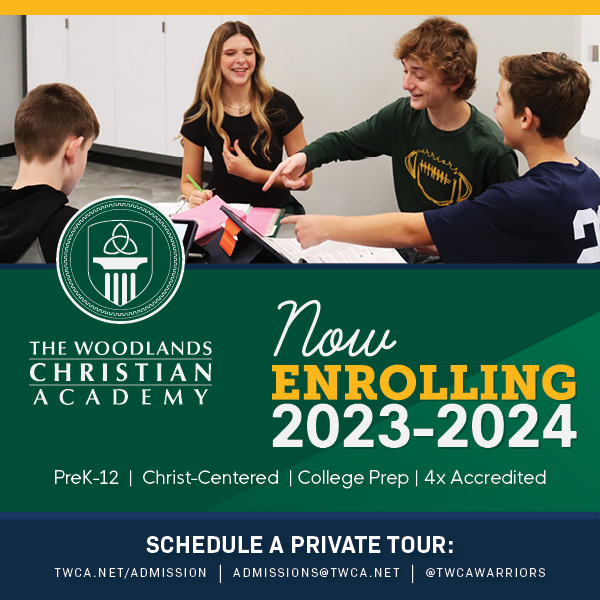 Mrs. McKenny explained, "Our Biotechnology and principles of Bioengineering class really melds well with our school's mission. We teach from a Christian worldview and ask ourselves and our students, 'How do we protect this world God created and use our knowledge and God-given gifts to serve others?' With Biotechnology and Bioengineering you can do that. You can heal, you can feed, and you can fuel the world, and I've centered my curriculum around these themes. At TWCA we are blessed to provide students with access to lots of technology that most high school students never see and only some get to use in college courses. This gets the kids excited, and with repeated exposure to the tech and bioengineering concepts, they grow more comfortable applying what they've learned in the lab. As we near the end of the course, I've seen my students develop a technical confidence that is rare to see in high school students. They realize they can not only major in rigorous science and engineering disciplines, but they can go out and be the makers of tomorrow's technology."
The Biotechnology and Bioengineering program is unique to TWCA and offers students an opportunity to gain hands-on lab experience and study curriculum in-depth on topics and projects such as Polymerase Chain Reaction & DNA Sequencing, Bioremediation of Oil, Synthetic Biology, Genetic Engineering, CRISPR-Cas9, Culturing Viruses, Gel Electrophoresis/DNA fingerprinting (multiple labs/techniques), and more.
During our visit to the Biotech lab, students were culturing viruses and infecting cells with them safely in a controlled environment. Mrs. McKenny explained that the class was tracking two patients who were "infected" with a virus and monitoring their viral load over time as they were using antiviral medication. The data displayed one of the patient's viruses had become resistant to the antiviral medication. This is the springboard to a case study where students look at how pharmaceutical companies progress drugs through clinical trials. Pharmaceutical companies analyze data from each phase of the trials through the perspective of doctors, toxicologists, medicinal chemists, strategic marketers, and financial consultants. Ultimately, they would make recommendations about which drug to submit to the FDA for approval.
Mrs. McKenny gave credit to the Biotechnology/Bioengineering program at TWCA for the students' success at this year's Education for Tomorrow Alliance's (EfTA) SCI://TECH Biotechnology Competition. "We really need a course like this that is devoted to biotechnology and bioengineering to be able to do this curriculum, and no other school in the area offers that. This is the main reason why we went from winning one award last year – our first year [at the competition] – in the EfTA's SCI://TECH Biotechnology Competition to winning 5 out of 9 this year, including first and second place overall!"
Due to the excitement of the new Biotechnology and Bioengineering course, 16 students were in the classroom, one of Mrs. McKenny's largest classes but allows the students to work well on labs in groups and gain data. TWCA has smaller class sizes which allows for more attention and one-on-one time students and their studies. To take the course, students must first complete Biology/Biology Pre-AP and Chemistry/Chemistry Pre-AP.
Students in the class have been attending TWCA from a few to several years – some attending the school since lower grades. One student came into the class loathing Biology, yet in taking the Biotech Class with Mrs. McKenny that all changed. He was now excited about diving into the coursework and projects. While some students enjoyed taking the class as part of their regular electives, others were so inspired and impacted by the class that they are looking forward to going into fields and careers in Biotechnology or Bioengineering – from going to Medical School to going into Lab and Research, Biotechnology, or Genetics.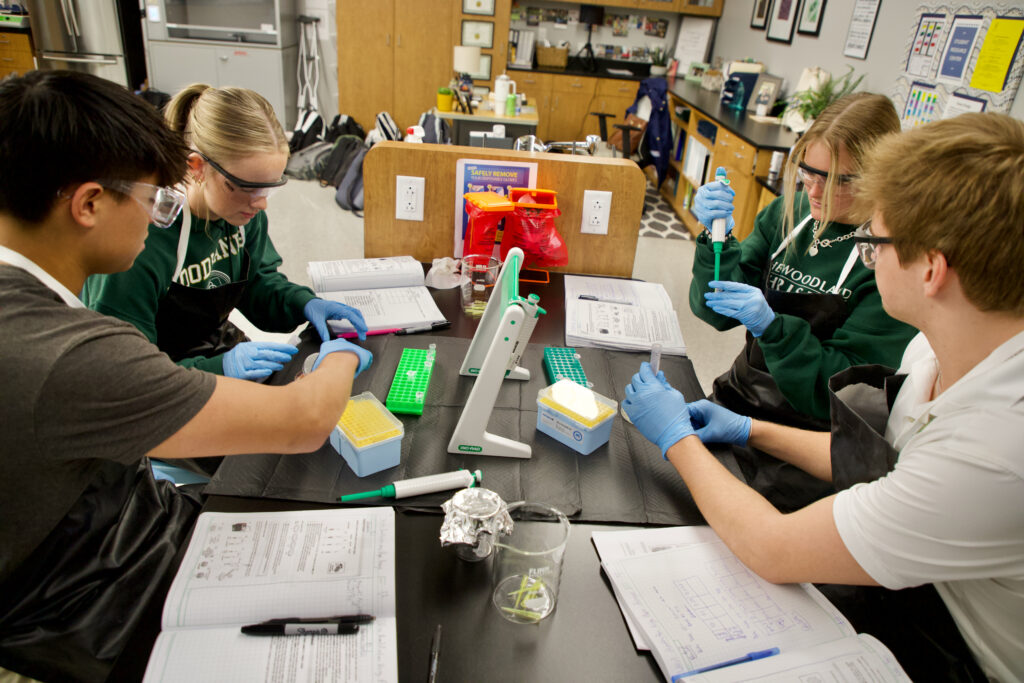 In talking with the students, it was clear to see that Mrs. McKenny is a class favorite. The student shared how her passion is contagious, how much she truly enjoys teaching, and wants to make sure each student succeeds. From the attention and time in teaching the students, providing in-depth studies and challenges courses, and always having an open door to help answer questions – the students shared unanimously how much they enjoy taking classes with Mrs. McKenny and at TWCA.
Mrs. McKenny shared, "I've never worked harder anywhere than I have had at TWCA, because there is a culture of excellence here among faculty and that comes from the top down – it's modeled by our Head of School, Julie Ambler, and our administration. We invest so much time and energy because we love our kids and love what we do. I've worked super hard because I enjoy teaching. It fuels me. I love seeing a kid's sense of accomplishment when they finally get their experiment to work after many trials and troubleshooting or hearing the excitement in their voice when they get that college acceptance letter back and they've been accepted into a top engineering/science program. There's nothing quite like hearing back from students I've taught who have landed positions working in college labs as freshman or who are living their dreams as doctors, scientists, and engineers now and working on projects that will truly change our world! To know that my teaching and the experiences they've had in my lab and at our school have played a role in making all of this possible for our kids, that's what fuels me."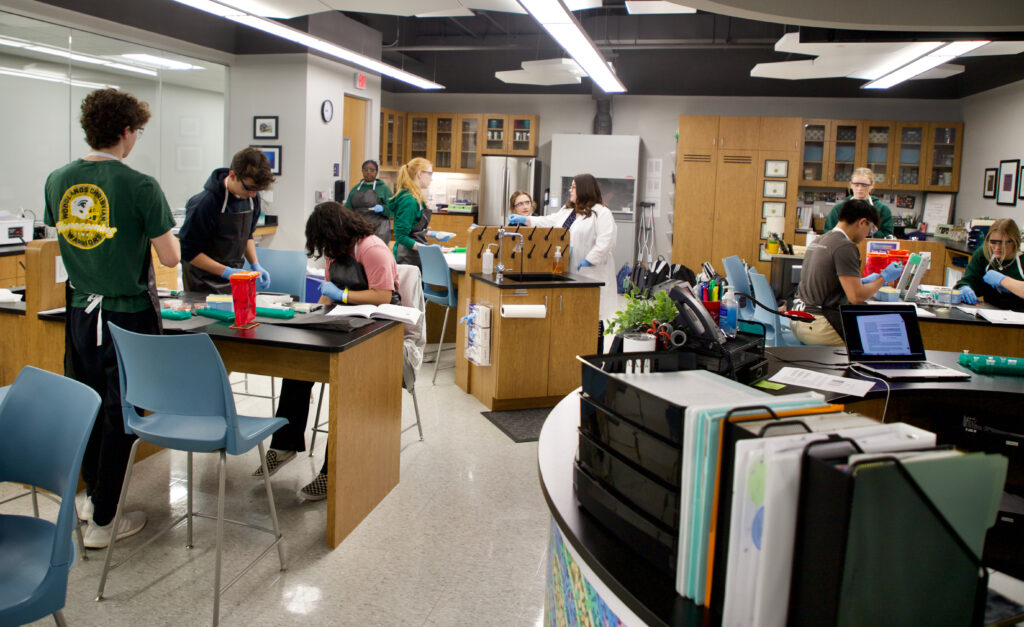 What does Mrs. McKenny see for the future of this program?
"We have a lot of interest in the program, and I hope we can build and expand it in the coming years. We are making it a priority to infuse engineering concepts throughout our K-12 curriculum so that even our youngest Warriors are encouraged to think analytically and creatively in STEM classes, and we can do even more challenging work when they get to the high school level in years to come. I'd love to have my biotechnology and bioengineering students collaborate with our computer science students to write programs and develop tools to analyze molecular data. I'd also like to offer more time for kids to do authentic and student- driven research. This may take the form of a special research-based course where we can connect kids with mentors in industry and maybe even have open-lab in the summer where students can use our resources to work on their own projects. These types of authentic experiences not only engage students, allow them to satisfy their curiosity, and serve as a springboard for their personal interests, but they are highly regarded by our nation's top colleges as well.
We are fortunate to have a low student-teacher ratio, lots of flexibility, and generous funding here at TWCA to make these types of things possible. To build robust science programs, teachers need quality and continuous professional development. This summer I was able to attend a training at Promega Corporation's Biopharmaceutical Technology Center in Madison, Wisconsin."
View photos during our visit on the Hello Woodlands Facebook page:
Read more about The Woodlands Christian Academy Biotech Team taking home 5 awards in 2023 SCI://TECH Biotechnology Competition
The Woodlands Christian Academy is an independent, Christ-centered, college preparatory school that integrates learning with Biblical faith and spiritual growth, and challenges students to reach their highest potential – intellectually, creatively, physically and socially – for the glory of Jesus Christ. Learn more about the school and how to apply for the 2023-2024 school year at https://www.twca.net/.