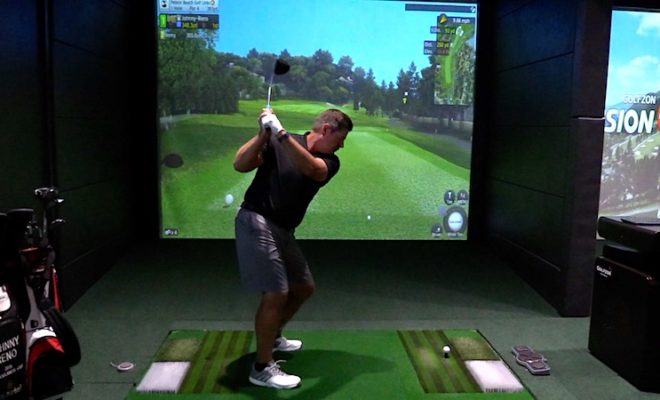 Business
VIDEO: Swing Zone Golf, the Local Indoor Golf Center
By |
The Hello Woodlands team took a trip to Swing Zone Golf, a local indoor golf center, and talked with owner John Reno about his new business. Watch what happened:
Located in Tomball at 24036 Kuyhendahl Road, Swing Zone Golf is a fun place for golf lovers of every skill level. With over 165 golf courses to choose from, visitors can experience the incredible golf simulators that are great for training, practice, recreation, and a fun activity for the entire family – rain or shine.
John Reno and his wife Amy had always wanted to pursue their dreams of becoming entrepreneurs, saw a need within the community, and seized the opportunity of opening Swing Zone Golf in April 2017.
Not only do they provide a realistic golf experience indoors, but Swing Zone Golf is also a sports bar with a complete food menu with appetizers, sandwiches, pizza and more. Happy Hour is available Monday though Thursday from 4 to 6 p.m. as well as on Friday and Saturday nights from 9 to 11 p.m. Swing Zone Golf hosts individuals and small groups to large groups, teams and corporate events at their climate controlled location. Hello Woodlands meet-up anyone? Learn more about their Happy Hour, Sunday fun days, Heroes discount, kid's pricing, and lunch specials at https://swingzonegolf.com/specials
The locally owned and operated enterprise is the only Golfzon sports bar in the United States and brings an indoor golfing experience to the public with innovative and accurate golf simulators that allow players to experience 3D graphics, various play modes, receive instant feedback, and view a detailed swing analysis. Players have the luxury of the indoor facility that offers an auto-tee system, three hitting services, and "swing play" where the floor moves and rotates to adjust to the course.
Swing Zone Golf is a unique golf venue allows golfers to play at courses all over the world while enjoying the comfort and flexibility of golfing indoors (72 degrees or cooler). Golfers have the advantage of being able to play in any weather, after work and at night while enjoying food, drinks, and even watch an Astros game on one of their seven large tv screens.
Visitors can enjoy a round of golf on their favorite course, hit the driving range, or play Arcade Golf. Arcade Golf is another fun way to enjoy your time at Swing Zone Golf that features a dart board in the middle of the lake or enjoy the game "Block Off" which is similar to the "Candy Crush" game.
Enter their next Indoor Golf Tournament and enjoy a little friendly competition on Saturday, November 4 on the beautiful Kiawah Island Ocean Course. The 2 person best ball tournament includes unlimited draft beer, cash prizes, and contests for a $50 entry fee. Limited spots available! Sign-up today at info@swingzonegolf.com or call 346-808-7959. https://swingzonegolf.com/tournaments/
For more information or to book a tee-time experience, visit www.swingzonegolf.com or email info@swingzonegolf.com.