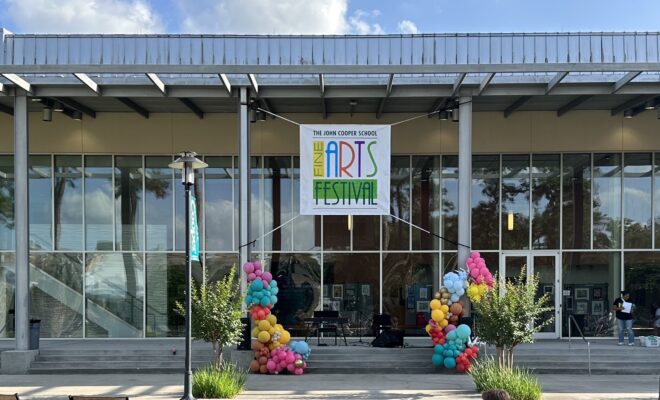 Art & Culture
The John Cooper School Celebrates Student Art at Fine Arts Festival
By |
The John Cooper School celebrated its student artists and showcased their hard work at the Fine Arts Festival held in the Bayless Courtyard on Wednesday, April 19, 2023 from 4:30 to 6:30 p.m.
View pictures from the event on Hello Woodlands' Facebook Page here:
It was a beautiful day as families enjoyed music, art, dance, food, and fun.
The celebration of art included aerial silk performances from students and a student art gallery. Talented young musicians played in front of the Glenn Performing Arts Center.
Guests participated in art activities such as building with oversized blocks, making crafts, creating their own instruments, and drawing with chalk to add to the chalk art sidewalk display. Additionally, there was a "plant bar" where students could choose a plant and design their own pot. For a total immersive experience, guests had the opportunity to "paint" through a virtual reality simulation.
Attendees were treated to a variety of food from the onsite food trucks. Families enjoyed face painting, a caricature artist, and a balloon artist. Student art filled the The Rock Math + Science Center, including sculpture, drawing, photography, painting, metal and wood works, graphic design, and multimedia art.
Cooper's mascot, Draco the Dragon, was on hand interacting with children, giving high fives, building with blocks, and joining an impromptu game of soccer.
The festival is organized by the Fine Arts Council at Cooper, made up of parent volunteers.