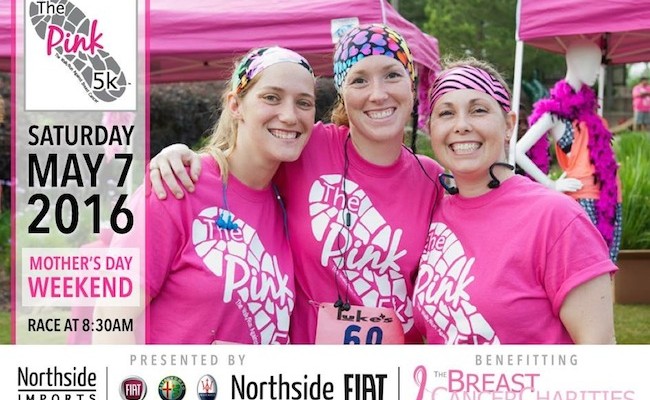 Events
The Pink 5K
By |
The Pink 5K, presented by Northside Imports – FIAT – Alfa Romeo – Maserati, is coming back to The Woodlands on May 7, 2016 for its third consecutive year, and the Breast Cancer Charities of America has a special offer for signing up early.
Now through March 31, registration is only $30 per person for both individual runners and teams. Registration for The Pink 5K, held in Creekside Park, can be completed at www.ThePink5K.com
The Pink 5K is open to all, so bring your family, friends, children in strollers, and even your dog! The race begins at 8:30 am, but those who come early will enjoy coffee provided by Blue Mug Café, bagels provided by Brooklyn Bagel, and fun in the photo booth provided by Woodlands Photo Co.
Additional event sponsors include Luke's Locker, Christian Brothers Automotive, Stephens & Gatewood Dentistry, Insperity, Houston Fertility Clinic,  Kendra Pratt Orthodontics, Waste Connections Inc., Air Now, SpeedPro Imaging,   The Woodlands Lifestyles & Homes, PKWY Magazine, PR Luxury Media/ reviewit.FLair.Vida Social Magazines, K Star Country Radio, Woodlands Monocle, The Woodlands Journal, Hello Woodlands, Woodlands Online, and Chick-fil-A.
Proceeds from The Pink 5k will go to help the charity's mission to eliminate breast cancer as a life-threatening illness and to directly help women to prevent & survive breast cancer through their program services.
Sponsorship opportunities remain.  For questions or to get involved with The Pink 5k, contact BCCA's offices at 936.231.8460 or Info@iGoPink.org
For more information about the organization visit: www.iGoPink.org.
The Breast Cancer Charities of America (BCCA) is a non-profit organization with new global headquarters in The Woodlands, Texas.  BCCA is dedicated to educating and empowering women to prevent and survive breast cancer.  Through their numerous program services and resources, BCCA is able to partner with over 450 hospitals nationwide to serve women.