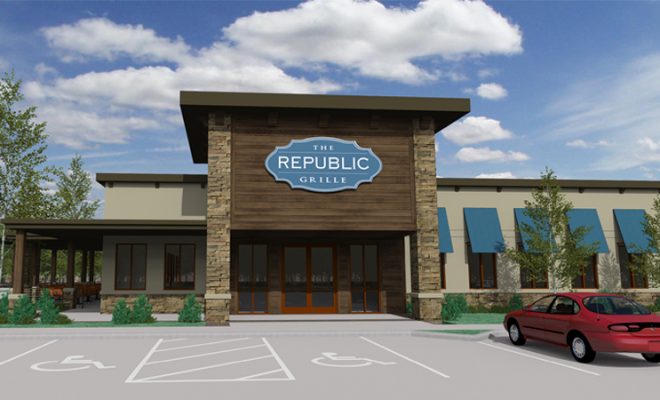 Food & Drink
The Republic Grille Expands to Third Location
By |
THE WOODLANDS, TX – Terry McBurney, Founder and Managing Partner of The Republic Grille, has announced plans for a third restaurant to be located in the Spring area at Rayford Road and Grand Parkway.
The free-standing unit will complement two existing locations in The Woodlands Panther Creek Shopping Center and West Woodlands Terramont Shopping Center.
Independently owned and operated, The Republic Grille is well known for serving award-winning, high quality Texas cuisine with a Southern twist. Each location features an eclectic Hill Country ambiance showcased in a backdrop of the local community. Open for lunch and dinner seven days a week, The Republic Grille is often rated #1 on Trip Advisor.
Construction will begin in September on the new 6,000-square-foot restaurant on a nearly one-acre pad site purchased in the 70-acre, mixed-use Harmony Commons development, located at the southwest corner of Grand Parkway 99 and Discovery Creek Boulevard, which is anchored by H-E-B. Terry McBurney represented himself in the purchase. Zach Armstrong of The J. Beard Real Estate Company represented the seller.
SLI Group, Inc. of Houston has been chosen for architectural design, site construction and building shell. McBurney will manage all aspects of the interior design and construction. The restaurant is expected to open in early 2020.
"I am excited to announce a third rendition of The Republic Grille which will be located in the Rayford Road and Grand Parkway corridor," said McBurney. "In recent years, neighborhoods such as Harmony, Benders Landing and Woodson's Reserve have seen a tremendous growth in population and we are pleased to be one of the first upscale, yet casual, dining options. Being in such close proximity to Springwoods Village and the ExxonMobil campus also played a significant role in our decision to bring The Republic Grille to this area."
For more information, visit TheRepublicGrille.com, or call (281) 719-5895 (Panther Creek) or (281) 789-7119 (West Woodlands).