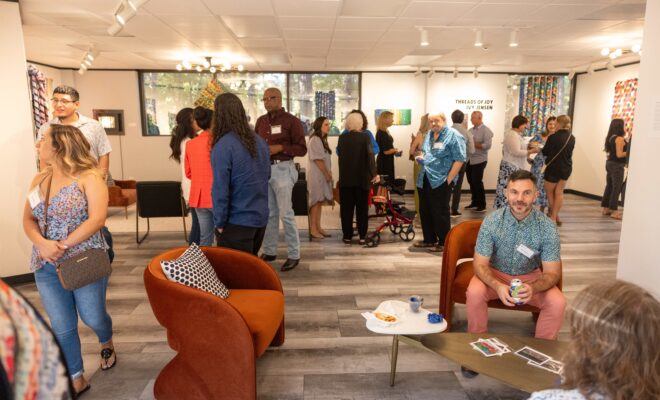 Art & Culture
The Woodlands Arts Council Presents First Exhibition in New Space
By |
THE WOODLANDS, TX – The Woodlands Arts Council (TWAC) celebrated the opening of their first-ever space with an invite-only soft launch for art lovers, board members, and prominent community members. The 2,000-square-foot location includes office space and will host a cycle of exhibitions in the general gathering area. 
"We see this space as an extension of our mission, and we are optimistic about bringing more exhibitions, workshops, and gatherings to The Woodlands Arts Council," said TWAC Executive Director Jenny Carattini-Wright. "We are excited about the community we can build together from The Woodlands Arts Council. We are especially grateful to Charbonneau Interiors for helping us make it feel like a home."
The Woodlands Art Council proudly presents Threads of Joy, a retrospective exhibition featuring a lifetime of work by Woodlands fiber artist Ivy Jensen and curated by Annette Palmer. This exhibition is the inaugural show at the new location of The Woodlands Art Council.
"The kaleidoscopic palette, broad use of texture, and experimental techniques made this exhibition a pleasure to curate," said local artist and show curator Annette Palmer. "Ivy Jensen has a beautiful contemporary approach to fiber art."
Ivy Jensen was introduced to quilting by her mother at an early age. She has developed her skills through experimentation with alternative techniques and approaches to this traditional craft. We delight in celebrating her creative journey with this exhibition of her varied accomplished works, which include art quilts, wall hangings, garments, and sculptural pieces.
Fabric approaches include marbling, painting, shibori dyeing, photo-manipulation to print, melting and burning, embellishing, and working with natural fibers, acrylic rods, and home construction materials in creating these colorful, detailed works of art. A long-term member of SAQA, Studio Art Quilt Associates, Jensen has exhibited her artwork and wearable art at the Houston International Quilt Festival, Houston Center of Contemporary Craft, as well as overseas and in The Sultans Palace in Istanbul, Turkey.
Her love of words and literature is apparent in her work, where we discover text and prose in the linings of clothing, stitched into quilts and other artworks, and much of the poetry is her own.
Threads of Joy honors Ivy Jensen and her lifetime of creativity, inspiration, and artistry created with community and love at its heart. "Ivy's art truly lifts the spirit. You can sense her joy of life. And that was reflected in the uplifted spirits at the gathering Friday night celebrating our new space," said TWAC Board President Glen Rector.
The public is invited to come to "Meet The Artist" and celebrate the opening reception of Threads of Joy, October 7, 2023 from 1:00 – 3:00pm with both Ivy Jensen and curator Annette Palmer in attendance. Learn more here: www.thewoodlandsartscouncil.org/events/2023/threads-of-joy-opening-reception
Threads of Joy Exhibition Dates/Hours
October 3, 2023 – December 9, 2023
Tuesdays-Thursday from 1:00pm – 4:00pm
Opening Reception & Meet The Artist
October 7, 2023 1:00pm- 3:00pm
Address
The Woodlands Arts Council
9450 Grogans Mill Road Ste 160
The Woodlands, Texas 77380
Click here for directions: www.thewoodlandsartscouncil.org/directions.aspx
About The Woodlands Arts Council
The Woodlands Arts Council provides regional, cultural, and educational enrichment opportunities that encourage, support, and promote the visual and performing arts in our community. From the award-winning Woodlands Waterway Arts Festival to public art installations and the year-round community and educational outreach programs of Because Art Matters, the council has one primary goal….making our community better…Because Art Matters!