Art & Culture
The Woodlands Waterway Art Festival Ticket Giveaway
By |
THE WOODLANDS, TX – The Woodlands Waterway Arts Festival will celebrate its 14th year and take place on Saturday, April 13 from 10 am – 6 pm, and Sunday, April 14 from 10 am – 5 pm along The Woodlands Waterway and in Town Green Park.
Town Green Park and the waterway will be transformed into an outdoor art gallery featuring over 200 juried artists from across the country. Attendees will have the opportunity to enjoy 4 entertainment stages, hands-on art activities and demonstrations along with amazing food and beverages all weekend long.
Tickets for the whole weekend's festivities are now available online at www.thewoodlandsartscouncil.org.
The price for a 2 day tickets is $15 online and at the gate will be $18. Children 12 and under are admitted free. Enjoy a VIP Experience all weekend by purchasing a $75 ticket to the Terrace Hospitality Suite, a shaded art oasis where you can meet up with friends and savor small bites and libations.  You can also purchase tickets to one of the most fun, casual and creative events of the year – the VIP Art Dash Party on Friday, April 12 at The Pavilion Event Center. Learn more at https://www.thewoodlandsartscouncil.org/festival/.
TICKET GIVEAWAY
Hello Woodlands is giving away 4 Tickets to The Woodlands Waterway Arts Festival! Enter to WIN 4 Tickets by simply entering your name and email address below and click "Enter" by Saturday, March 16, 2019 at 11:59pm CST. One winner will be selected, contacted by email, and receive 4 tickets to the festival. Good luck!
***The contest is now CLOSED. Congratulations to our winner Nikolas N! Thank you for participating in our WWAF ticket giveaway. We look forward to seeing you at the festival on April 13 and 14!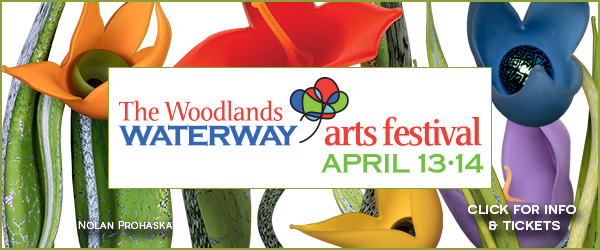 In addition to the highest quality and selection of artwork, there will be live musical performances on four stages, featuring a full schedule of renowned Texas regional entertainers. Other popular attractions include Artopoly, where children of all ages can make their own works of art to take home.  The Early Inspiration Gallery provides a variety of student artwork that children ages 5-12 may purchase for $5 to start their own art collections and develop an early appreciation for the arts. And for all those foodies out there, the Art of Food will showcase some of the finest chefs in the area hosting culinary demonstrations and tastings. YUM!
NEW this year will be Spotlight on Mexico, generously sponsored by Don Julio Tequila, world's first luxury tequila, and La Costeña Foods, the leading canned food products company in Mexico. Visit this specially curated "living museum" in Town Green Park and discover the vibrant culture of Mexico through art exhibits and demonstrations, live music, food and tequila tastings and more!
Another highlight will be the Warriors in Art Community Art Project, facilitated by The Woodlands Art League. This 501 (c) 3 non-profit organization was started last fall by a Marine and Air Force veteran to enrich the lives of military veterans through the visual arts. The Woodlands Art League will assist with engaging festival-goers in helping create a hands-on art project that brings awareness to Warriors in Art's unique mission. Don't miss the opportunity to participate in this collaboration with our veterans.
Fulfilling The Woodlands Arts Council's mission to educate the youth of our community about the arts and culture, each year thousands of dollars in art scholarships are awarded to high school students in the Student Art Scholarship Competition. The winning entries will be on display at the Student Art Scholarship Exhibit at the festival.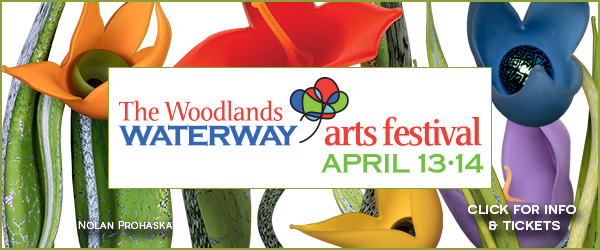 The Woodlands Arts Council provides regional cultural and educational enrichment opportunities that encourage, support and promote the performing and visual arts in our community. From the award-winning Woodlands Waterway Arts Festival to the year-round community and educational outreach programs of Because Art Matters, the council has one primary goal….making our community better, Because Art Matters!
For all the latest updates on The Woodlands Waterway Arts Festival, visit www.thewoodlandsartscouncil.org and follow on Facebook, Twitter and Instagram.