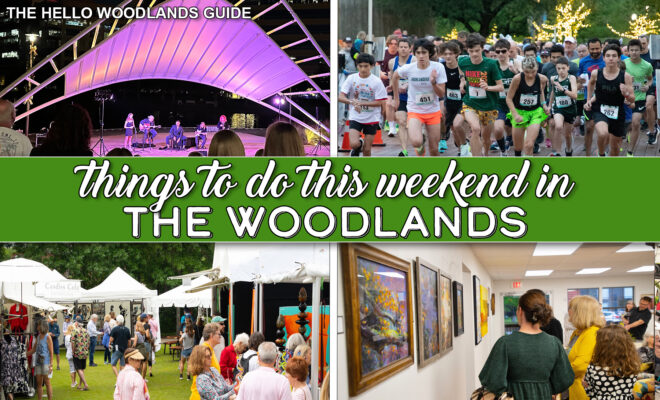 Art & Culture
Things to Do in The Woodlands Area Labor Day Weekend
By |
Discover things to do in The Woodlands area Labor Day weekend, including the Labor Day in The Woodlands event, a community garden day, a wellness expo, the last weekend of Houston Restaurant Weeks, family BINGO night, starlight swan rides on the Waterway, and more!
Friday, September 1, 2023
Experience Shoal (Ongoing)
Shoal is an ongoing, experiential artwork featuring a choreographed, interactive light show. Located on Restaurant Row in Hughes Landing, this is the latest addition to one of the largest outdoor collections in the country. Shoal features 750 individual orbs of light suspended in air and programmed to seamlessly flow in mesmerizing movement to sound. Learn more at www.TheWoodlands.com/Shoal.
Houston Restaurant Weeks (Aug. 1 – Sept. 4)
Houston's most anticipated foodie event of the year, Houston Restaurant Weeks, is 35 days of delicious meals and super deals raising necessary funds for the Houston Food Bank. An extensive list of the most popular restaurants will participate and serve specially priced, multi-course prix fixe menus for brunch ($25), lunch ($25), or dinner ($39 or $55), available for dine-in and take-out. Learn More.
Find a list of local participating restaurants here: www.hellowoodlands.com/local-restaurants-participating-in-houston-restaurant-weeks.
Lights, Heights & Bites
Texas TreeVentures, The Woodlands Township's aerial adventure course, offers a two-hour twilight climb, finishing the night with a campfire and s'mores for an amazing night out with friends and family! Adult Supervisor climber required for ages 6 – 12. Ages 6+. Texas TreeVentures is located at 6464 Creekside Forest Dr. at the Rob Fleming Recreation Center. Learn More
Conroe ISD's Fall 2023 Realtor Course
Conroe ISD's Fall 2023 Realtor Course is an opportunity for area realtors to obtain district-specific information about zoning, tax rates, school district funding, growth, programs, and more. Registration required. The course will be held at The Jett Center at Woodforest Bank Stadium, 19115 David Memorial Dr., from 9:00 am – 3:00 pm. Learn More
The Woodlands Country Club Charity Classic Luxury Gala
The Woodlands Country Club invites you to the Palmer Legacy Ballroom from 6:15 – 9:00 pm for an unforgettable evening of cocktails and live music. Indulge in four food stations curated by the fabulous club chefs, dance to the lively 5-piece Bayou Junction Band, and savor a variety of samples from the wine, beer, and spirit vendors. And, don't forget to capture the moment with a 360 photo opportunity! Proceeds from this event benefit The Woodlands Family YMCA, Education for Tomorrow Alliance, The Invited Employee Care Foundation. Learn More
Family BINGO Night
Join The Woodlands Township for a fun-filled BINGO night at Rob Fleming Recreation Center with your family and friends. Prizes awarded for good bingos. Light refreshments will be available for purchase. Due to the event selling out, pre-registration is highly recommended! Fee: $5 Per Person. Time: 6:30 - 8:30 pm. Learn More
Starlight Swan Rides
Starlight Swan Rides are a spectacular Friday evening on the Upper Woodlands Waterway. Riva Row Boat House will be open from 8:30 – 9:30 for this program so that you can take a journey down the lit up waterway on a swan pedal boat. Learn More
Live on the Lawn
Enjoy live music on the lawn at Central Park in Market Street with Sarah Kelly Music School from 6:30 – 8:00 pm on Friday nights. Blankets and lawn chairs welcome. Learn More
Saturday, September 2, 2023
Community Garden Day
Join The Woodlands Township for the annual Community Garden Day from 10:00 am to 2:00 pm at Alspaugh's Ace Hardware of The Woodlands. Visit with local garden experts about: Organic Lawn Care Tips, Native Plant Resources, Pollinator Habitat Guides, Water Savings For Home and Lawn, and MUCH more! Community Partners include: Native Plant Society of Texas, The Woodlands G.R.E.E.N., Woodlands Water, and Alspaugh's Ace Hardware of The Woodlands. Learn More
Texas Lagerfest
Join Fass Brewing in downtown Conroe for a celebration of lager with 15 local participating breweries. Tickets include a branded stange glass and 5 tokens to redeem for samples of lager at any of the brewery tents. Additional tokens can be purchased at the event in packs of 5 for $15. This event is open to the public and begins at noon. A ticket is not required if you are not consuming lager. Learn More
Wellness Expo (Sept. 2-3)
Experience body, mind and spirit vendors. Shop for energized jewelry & stones, experience bodywork, Reiki, reflexology & intuitive readings. The Wellness Expo promotes the lifestyles of natural health, personal, and spiritual growth, and will feature over 75 exhibitors and 24 lectures. The expo will take place at The Lone Star Convention & Expo Center, 9055 Airport Rd, Conroe, Texas 77303. Learn More
Sunday, September 3, 2023
Labor Day in The Woodlands
Relax and enjoy the fruits of your labor at Labor Day in The Woodlands with live music, children's activities, strolling entertainment, pie eating contests and more! Note: due to drought conditions, there will be no fireworks this year. The celebration will be held at Waterway Square, 31 Waterway Square Place, The Woodlands, TX 77380. from 5:00 - 9:00pm. Learn More
Cars & Coffee for a Cause
Cars & Coffee for a Cause, hosted by The Woodlands Car Club, provides a morning gathering to show off special vehicles within the car community, be a supportive partner with Market Street and the local community, share information about needful nonprofit organizations in Montgomery County, and to give back monetarily as well. The event is from 6:30 – 10:00 am. Learn More
Plan Ahead: Upcoming Events
Lazy River 5K (Sept. 9)
Join The Woodlands Township for the 2nd Annual Lazy River 5K event, this year with even more options, including 1 mile! Run or walk against the current (10 laps equals 1 mile). Families are invited to cheer you on as you race! Space is limited. Fee includes registration, free event shirt and a medal upon completion. The Rob Fleming Aquatic Center is located at 6535 Creekside Forest Dr, The Woodlands, TX 77389. Learn More
Patriot Day of Remembrance (Sept. 11)
Please join The Woodlands Township for a ceremony to honor the brave men and women who tragically lost their lives during the terrorist attacks of September 11, 2001. The ceremony takes place at the Central Fire Station, 9951 Grogan's Mill Road, The Woodlands, TX 77380 from 7:30 - 8:00am. Learn More
Blast Off to Space (Sept. 14)
Join The Cynthia Woods Mitchell Pavilion on Thursday, September 14 for Blast Off to Space with the Houston Symphony! When you think of the classic space scenes captured on film, what do you hear? It's got to be the music – the brilliant music that sends you blazing clear to the other side of the universe. What's better is that this Houston Symphony show, built for your whole family, is about exploring every star and undiscovered planet in our musical galaxy. Buckle up for an outer-space adventure with action-packed music from Star Wars, E.T., The Planets, and more. From the moon to Mars and beyond, this concert will transport your child's imagination to a galaxy far, far away! Gates open at 6:30 p.m., Show starts at 7:30 p.m. Learn More
In the Pink of Health (Sept. 15)
The 23rd Memorial Hermann In the Pink of Health Luncheon keynote speaker is Elin Hilderbrand, the New York Times' bestselling author of twenty-eight novels, including The Hotel Nantucket. In the Pink of Health changes lives by raising funds to reduce the incidence of breast and ovarian cancer. The luncheon will be held at The Woodlands Waterway Marriott Hotel & Convention Center beginning at 10:00 am. Learn More
Montgomery County Home and Outdoor Living Show (Sept. 16-17)
The 5th Annual Fall Montgomery County Home and Outdoor Living Show features special guest appearances and over 100 exhibitors with the latest in-home products and services on the market at the Lone Star Convention Center, 9055 Airport Road, Conroe, TX 77303. Home improvement experts share information for any project of your home from walls to roofs, bathrooms, kitchens, closets, ac/heating, windows, and outdoor living. Early Bird Pricing: $7 entry tickets if purchased before Sept 1, 2023. Purchase Tickets
Arts in the Park featuring The Woodlands Renaissance Faire (Sept. 23)
Enjoy a day out with family and friends at Rob Fleming Park! Grab a bite to eat at the food trucks and take a stroll back to Renaissance times while enjoying musical performances at The Woodlands Renaissance Faire. Activities include children's arts and crafts, face painting, local vendors, strolling entertainment, Renaissance themed youth and adult costume contests and much more! Then, on September 30, head back to Rob Fleming Park for Arts in the Park featuring Shakespeare in the Park! Learn More
Spark Media Ignite Conference (Sept. 28-30)
The 2023 Spark Media Ignite Conference is the premier Christian podcast and communicators conference where creators, innovators, and enthusiasts unite to explore the limitless potential of the collaboration and growth. The conference will be held on September 28-30, 2023 at the Houston CityPlace Marriott at Springwoods Village located at 1200 Lake Plaza Drive, Spring, Texas, USA, 77389. This year's event promises a star-studded lineup of industry experts, including former MTV VJ Adam Curry, Worship with  Shane & Shane & Kezia Alford, exclusive networking opportunities, and hands-on workshops designed to elevate your podcast to new heights. Learn More
Woodlands Landscaping Solutions (Sept. 30)
Come learn how to tap into nature at this FREE garden event! Learn tips and techniques from experts that will make your landscape a water-wise and earth-friendly oasis. Bring questions, leave inspired! The event will be held at Recreation Center at Rob Fleming Park, 6464 Creekside Forest Drive from 9:00 am - noon. Learn More
Check back on Hello Woodlands' Calendar Page and the monthly 31 Things to Do list for more events as they come up!
Have an event coming up or want to highlight your business? You can sponsor one of these popular weekend guides! By sponsoring a guide, your company name (organization or event) and logo will be included on the featured photo of the article published on the Hello Woodlands website. Your company name will also be included within the article along with a paragraph sharing more about your business with your logo and a link to your website. Email info@hellowoodlands.com for more information.