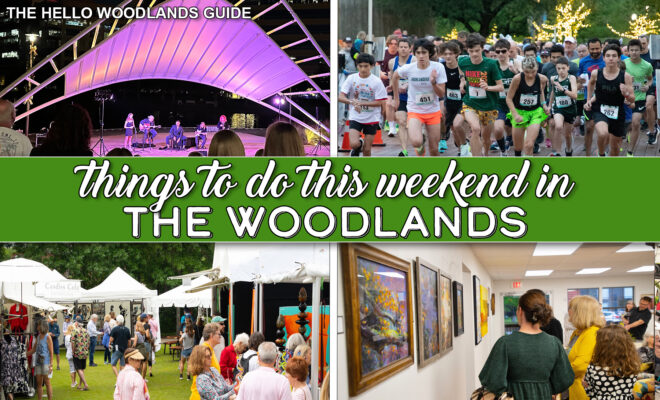 entertainment
Things to Do in The Woodlands This Weekend, June 23-25
By |
Looking for something to do in The Woodlands area this weekend? Find out what's happening the weekend of June 23-25, including a patriotic concert, an author festival, a fire station tour, and more!
Friday, June 23, 2023
Canopy Cancer Survivorship Center
Canopy is a cancer survivorship center on the campus of Memorial Hermann The Woodlands Medical Center. Canopy is open to men and women, no matter where you were treated, and for any kind of cancer. If your life has been impacted, whether you were the patient or the caregiver, you have a safe haven at Canopy. Learn More
Events scheduled for June 23:
9:30 am Chair Yoga
9:30 am Pet Therapy (Beau)
10 am Coffee & Support
10:30 am Mah Jongg
11 am – Nutrition in Action – Demo
Moto Xtreme Circus (June 23-24)
Experience Moto Xtreme Circus at Lone Star Convention Center featuring America's Got Talent Extreme Winner Colby El Loko Gort, Multiple World FMX Champion Gabriel Villegas, The Nuclear Aerialist Stunt Girls, The Unbelievable Globe of Death Stunts, BMX Freestyle, Rocket Man, Bee & Optimus, and much more! Bring the whole family out to see these amazing performers. Learn More
Live on the Lawn
Enjoy live music on the lawn at Central Park in Market Street with Sarah Kelly Music School from 6:30 – 8:00 p.m., on Friday nights. Blankets and lawn chairs welcome. Learn More
Saturday, June 24, 2023
Live the Sweet Life Home Tour (Weekends in June)
Get a taste of Grand Central Park's sweet life during a tour spotlighting nine professionally decorated model homes weekends throughout June! Model homes will be open 10 a.m. to 6 p.m. Saturdays and noon to 6 p.m. Sundays. Visitors can register to win a $500 gift card at each of the models. The month-long tour ends on a tasty note 11 a.m. to 2 p.m. on Saturday, June 24th with milkshakes at The Finding Place. Learn more at www.grandcentralparktx.com/sweet_home_tour
RESCHEDULED: Old People Are Cool Fashion Show
The Landing at Augusta Woods' Old People Are Cool Fashion Show will now be held on Friday, July 14 at 12pm. The event is free, however attendees are asked to make a monetary donation to help raise funds for Great Age Movement's Senior Playground. Learn more about Great Age Movement here: thegreatage.org. Scooter's Coffee – Kuykendahl and Gosling locations will be sponsoring 2 seniors for the fashion show. For information about Old People Are Cool visit: oldpeopleare.cool
Art & Lit for Kids
Art & Lit, a perfect activity for preschoolers through 8 year olds, will feature the book Snail Trail begining at 1:00 pm at Village Books. The fee is $10, payable to Ardest Gallery. The project is supported by the artist Microgrant from The Woodlands Arts Council. Learn More
Reading & Signing with Best-Selling Author Paul Doiron
Join Village Books on Saturday, June 24 at 3pm to welcome best-selling author Paul Doiron and celebrate the release of his newest thriller in his Mike Bowditch series. The mystery series has garnered rave reviews from The New York Times, Associated Press, Publisher's Weekly, Kirkus Reviews and Booklist! Sign up for free at PaulDoiron.eventbrite.com.
BioBlitz BioBooth (June 24)
The free, educational BioBlitz BioBooth will be held from 8 to 11 a.m. at The Recreation Center at Rob Fleming Park, 6464 Creekside Forest Drive. As part of National Pollinator Week, June 19-25, 2023, The Woodlands Township is hosting "BioBlitz," a week-long community effort to identify as many insects, plants, and local species as possible. Discover the display of biological wonders and look through the microscope to see butterflies and their host plants up close. Experts will be on hand to help with iNaturalist observations and answer questions on local insects, plants, birds, mushrooms, and more. Learn More
Fired Up Tours – Creekside Park
Experience the lights and sirens of public safety equipment, explore a fire truck and police patrol vehicle, and learn more about National Night Out! The Creekside Park Fired Up Tour will be held at The Woodlands Fire Department Station 7, 26722 Kuykendahl Road, The Woodlands, TX 77375 from 10:00 am to noon. Learn More
City of Shenandoah's Independence Celebration 2023
Shenandoah residents are invited to come celebrate our nation's birthday with fun, food and fellowship. There will be Kona Ice, hot dogs, face painters, balloon artists, stilt walkers, a train, popcorn, bubbles, and a dunking booth! The celebration will be held from 10:00 am to noon at City Park, 801 Maplewood Drive, Shenandoah, TX 77381. Learn More
Misty Dawn Community Involvement Day
Community Involvement Days are FREE events designed to provide residents valuable information regarding property maintenance, crime prevention, safety, mosquito control and other community services. Staff from The Woodlands Township Covenant Administration, Neighborhood Services & other Departments will be in attendance, as well as staff from The Woodlands Fire Department and Montgomery County Sheriff's Department. The event will be held at Misty Dawn Park, 174 W. Drifting Shadows, The Woodlands, TX, from 10:00 a.m. to noon. Learn More
Tomball Author Fest
Tomball Author Fest is a free event that brings together over 20 local authors from a wide variety of genres. Meet and greet these amazing authors and get your books signed in person. Not only will you have the opportunity to interact with local authors, but you will also be supporting a great cause! A portion of all book sales goes to the Tomball Friends of the Library, a nonprofit organization dedicated to supporting the Tomball Community Library and its programs. Book sales are facilitated by the authors and community partner Buy the Book bookstore. The event is from 11:00 am – 2:00 pm at Lone Star College-Tomball Community Library, located at 30555 Tomball Parkway, Tomball, TX 77375. Learn More
Flick-N-Float – Minions: Rise of Gru
Bring your pool noodle and relax in the pool at the Conroe Waterpark while watching a movie on the big screen. Only noodle-type devices will be allowed. $10 Entry Fee, Concessions will be available. Free popcorn and root beer floats. Flick-N-Float is held at the Conroe Aquatic Center Waterpark, 1207 Candy Cane Ln, Conroe, TX 77301 beginning at 7:00 pm. Learn More
Conroe High School 50th Reunion
The Conroe High School "Class of 73" 50th Reunion will be held at Seven Coves Clubhouse on Lake Conroe from 6:00–10:00 pm. 1973 classmates and guests are invited. For more information please contact Roxanne Smith Davis, 713-557-5962. Learn More
Waterway Nights Summer Series
Enjoy live music by local and regional performers in the picturesque setting of Waterway Square at Waterway Nights. Waterway Square is located at 31 Waterway Square Place, The Woodlands, TX 77380. Coolers, picnic baskets, blankets and lawn chairs are permitted. Glass is prohibited. All entertainment is weather-dependent and subject to change. Concerts are from 6:30 - 8:30 pm. Learn More
Sunday, June 25, 2023
The Woodlands Concert Band's annual Patriotic Concert
The Woodlands Concert Band will perform its annual "I Love America XXII: Long May She Wave" patriotic concert, Sunday, June 25, 2023, at 4:00 pm at Christ Church Methodist, 6363 Research Forest Dr., The Woodlands, Texas 77381. Wear your favorite patriotic attire! Veterans and their families will be recognized and honored. Admission is free. Learn More
June Small Biz Market
The June Small Biz Market at Paradigm Brewing Company features over 50 vendors, live music, kids activities, and more. The market is from 11:00 am to 4:00 pm. Paradigm Brewing Company is located at 2130 S Persimmon Ln, Tomball, TX 77375. Learn More
Plan Ahead: Upcoming Events
Star Spangled Salute (July 3)
This Woodlands tradition gets ready to soar once more! Join The Cynthia Woods Mitchell Pavilion for the Star-Spangled Salute, a Free Event with the Houston Symphony with lots of pre-concert fun on Monday, July 3, 2023. Gates open at 6:30 p.m. Show begins at 8 p.m. Learn more at https://bit.ly/StarSpangledSalute2023
Red, Hot & Blue Festival & Fireworks Extravaganza (July 4)
Celebrate freedom in The Woodlands with great food, live entertainment and family fun at multiple locations around The Woodlands! The event culminates with one of the largest fireworks displays in the Greater Houston area. Learn more at www.redhotblue.org.
Rock the Row (July 6 – August 10)
Rock the Row Summer Series begin July 6! Experience Hughes Landing on scenic Lake Woodlands with live music! Rock the Row features local and regional bands playing a variety of favorites from pop and rock to country, Thursday evenings from 7:00 – 9:00 pm. Learn more
---
Check back on Hello Woodlands' Calendar Page and the monthly 31 Things to Do list for more events as they come up!
Have an event coming up or want to highlight your business? You can sponsor one of these popular weekend guides! By sponsoring a guide, your company name (organization or event) and logo will be included on the featured photo of the article published on the Hello Woodlands website. Your company name will also be included within the article along with a paragraph sharing more about your business with your logo and a link to your website. Email info@hellowoodlands.com for more information.