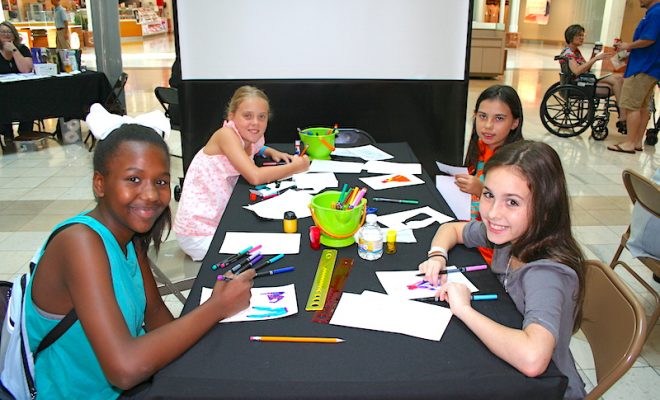 Art & Culture
TWAC 7th Annual Summer Art Workshop is July 27
By |
THE WOODLANDS, TX – On Saturday, July 27 from 10 am – 12 noon, The Woodlands Arts Council (TWAC) and The Woodlands Mall will present the 7th Annual Summer Art Workshop for all students who will be entering the fifth and sixth grades this fall. All public, private and home-schooled students from Montgomery County are invited to register and attend. The event will be held in The Woodlands Mall courtyard outside Dick's Sporting Goods.
Students are encouraged to sign up online early, as this opportunity is open to the first 40 students who register at: https://www.thewoodlandsartscouncil.org/cultural-arts/student-opportunities/summer-art-workshop/
This year's project was created by art students from The Woodlands High School. Entitled "Exploring the Golden Ratio," the creative project is inspired by Jen Stark, whose work uses assorted shapes and colors from paper, wood, metal and paint to create lush landscapes. This exciting new workshop provides an opportunity for students to create two projects, using assorted shapes and papers, reflecting naturally occurring patterns with a charismatic influence of mathematics and nature.
"We wish to thank The Woodlands Mall for hosting this wonderful event for the talented, young artists in our community," said Tricia Howard, TWAC coordinator for the annual event.
"This event and many others like it are part of The Woodlands Arts Council's Because Art Matters educational and cultural outreach programs, made possible by generous community partners, sponsors and donors. We are also grateful to TWHS art teacher Jen Lucas and her students for their creativity and support of this year's project."
Contact Tricia Howard, Outreach Coordinator, at thoward@thewoodlandsartscouncil.org.
The Woodlands Arts Council provides regional cultural and educational enrichment opportunities that encourage, support and promote the performing and visual arts in our community. From the award-winning Woodlands Waterway Arts Festival to the year-round community and educational outreach programs of Because Art Matters, the council has one primary goal…. making our community better, Because Art Matters! Learn more at www.thewoodlandsartscouncil.org.