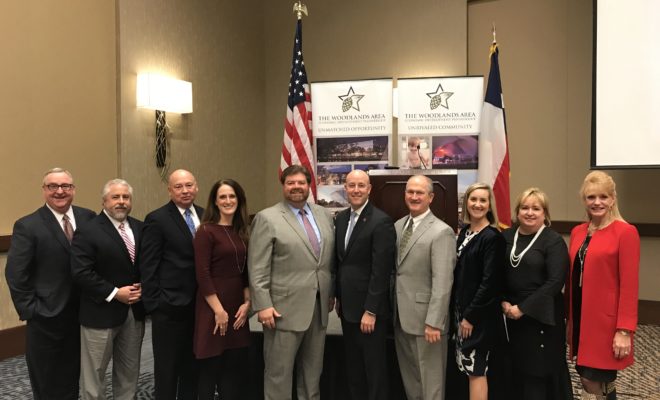 Business
TX Economic Development CEO Speaks at Woodlands EDP Luncheon
By |
THE WOODLANDS, TX – The Woodlands Area Economic Development Partnership (EDP) held their Quarterly Partner Luncheon at The Woodlands Resort & Conference Center on Thursday, January 10, 2019. Over 100 partners and guests heard from Robert Allen, President and CEO of the Texas Economic Development Corporation (TxEDC).
The State of Texas is the 10th largest economy in the world and maintains its position as the nation's #1 job creator. The TxEDC is an independently funded and operated 501(c)(3) nonprofit organization responsible for marketing and promoting Texas as a premier business location. Along with the Governor's Office of Economic Development and Tourism (EDT), these two highly focused organizations make up the cornerstone of Governor Greg Abbott's economic development agenda to build a stronger Texas.
Robert Allen was appointed by Governor Greg Abbott as Deputy Chief of Staff for the Office of the Governor on January 20, 2015 and manages the daily administration and operation of the 250-employee agency. In addition, Mr. Allen works closely with the Director of the EDT division to further Governor Abbott's mission to position Texas as a global leader in economic development and as the best state for business innovation, job creation, and continuing economic expansion.
Gil Staley, CEO of EDP, said, "As an economic development ally and a TxEDC investor, we were excited to hear from Robert Allen. We have enjoyed a robust relationship with TxEDC for many years and have mutually benefited in promoting our state and community to corporate decision makers and site selection consultants around the world."
For the past thirteen years, the EDP has held their luncheons for Partners in order to keep them informed of important issues facing businesses today. Past topics have included Economic Development, Regionalism, State of Education, Law Enforcement Update, Center for Houston's Future Scenarios 2040, Anadarko's Current and Future Projects, State Economic Development and Tourism, Banking Executives Update, Life Science Update, State of our Economy, Local Tourism, and Healthcare.
Partners in attendance at the luncheon were A Strong CPA, adWhite marketing & design, Amegy Bank, Bank of Texas, BBVA Compass Bank, Caldwell Companies, Calvetti Ferguson, Carr, Riggs & Ingram, CenterPoint Energy, Cherry Creek Mortgage, City of Oak Ridge North, Corporate Incentives, Cypressbrook Company, Efficient Wealth Management, LLC, Entergy Texas, First American Title NCS, First Financial Bank, Frost Bank, Houston Methodist The Woodlands Hospital, Independent Bank, JLL, Jones Walker, Kean Miller, LINK Professional Group, Linscomb & Williams, LJF Marketing, Lone Star College, Lone Star Family Health Center, Pioneer Bank, Richmond Realty Group RE/MAX The Woodlands & Spring, Riddle & Associates, PC, Sam Houston State University, Soules Insurance, Stibbs & Co. Attorneys, Texas Children's Hospital The Woodlands, The Blair Law Firm, The Tough Law Firm, The Woodlands Area Chamber of Commerce, The Woodlands Resort & Conference Center, The Woodlands Township, United Way of Greater Houston, Waterway Wealth Management, Webber, Wells Fargo, Westwood Magnolia Parkway Improvement District, Woodforest Development Inc., Woodforest National Bank, Wright Business Technologies, and Wright's Printing.
The Woodlands Area Economic Development Partnership is a nonprofit organization dedicated to promoting the economic development of The Woodlands Area through the support of existing businesses and the recruitment of new businesses that can bring job opportunities and capital investment to the area. For more information on the EDP, visit www.edpartnership.net or call 281 363-8130.