News
TxDOT to hold Public Meetings on I45N – Beltway 8 to Loop 336 Study in October
By |
HOUSTON, TX – The Texas Department of Transportation (TxDOT), Houston District, is conducting a Planning and Environmental Linkage Study (PEL) on I-45 from Beltway 8 to Loop 336 South in Conroe, spanning Harris and Montgomery Counties. The study would include the city areas of Houston, Oak Ridge North, Shenandoah, Conroe, and The Woodlands Township.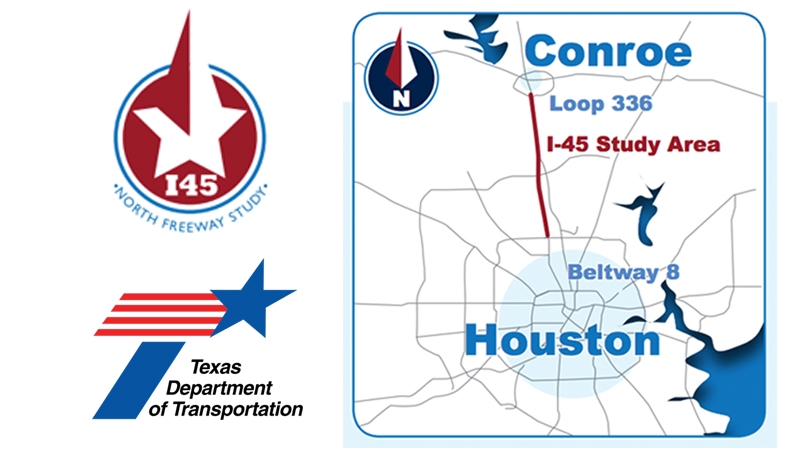 TxDOT will hold a series of public meetings regarding the study designed to identify existing and projected transportation issues within the corridor through public and stakeholder comments and identify viable solutions.
Identical meetings will be held on the following dates at three locations:
Saturday, October 12, 2019: 10:00 a.m. to Noon – Harvest Time Church, 17770 Imperial Valley Drive, Houston, Texas, 77060
Tuesday, October 15, 2019: 5:30 p.m. to 7:30 p.m. – Spring High School, 19428 1-45 North, Spring, Texas, 77373
Wednesday, October 16, 2019:5:30 p.m. to 7:30 p.m. – Oak Ridge High School 9th Grade Campus, 27310 Oak Ridge School Road, Conroe, TX 77385
Each meeting will consist of an open house during which time members of the public may review project information, submit feedback and ask project team members questions. No formal presentation will be made. The purpose of the public meetings is to present the latest updates on the study and receive comments on alternatives. An earlier set of public meetings was held in 2018 and public input from those events has been considered in the study findings, with more public input needed at this stage of the study.
PEL Study Purpose and Benefits
The PEL study is a high-level, early-planning study process that represents an approach to transportation decision making that considers environmental, community and economic goals early in the planning stage and carries them through project development, design and construction. The goal of a PEL study is to gather feedback during planning to inform the environmental review process, including the National Environmental Policy Act (NEPA).
PEL Timeline and Process
Following is a high-level timeline; ongoing agency and stakeholder involvement occurs throughout the entire PEL process. More information can be found here: https://ftp.dot.state.tx.us/pub/txdot/get-involved/hou/pel/100517-i-45-fact-sheet.PDF
Phase I: Spring 2017 – Summer 2018
Conduct data collection
Analyze existing conditions
Determine corridor needs and concerns
Identify vision for the corridor with community input
Phase II: Fall 2018 – Summer 2020
Develop and screen conceptual ideas and alternatives that support the corridor vision
Consider viable alternatives
Present PEL findings
After the PEL study process, the NEPA process will then be initiated and additional public involvement will be required and planned.
Project information will be available for review at the public meetings. This information will also be available by appointment for review Monday through Friday between the hours of 8:00 a.m. and 5:00 p.m., excluding state holidays, at the TxDOT Houston District Office, located at 7600 Washington Avenue, Houston, Texas 77007. To schedule an appointment at the Houston District, please contact Cesar Martinez at cesar.martinez@txdot.gov, or call (713) 802-5279.
Source: TxDot, City of Shenandoah