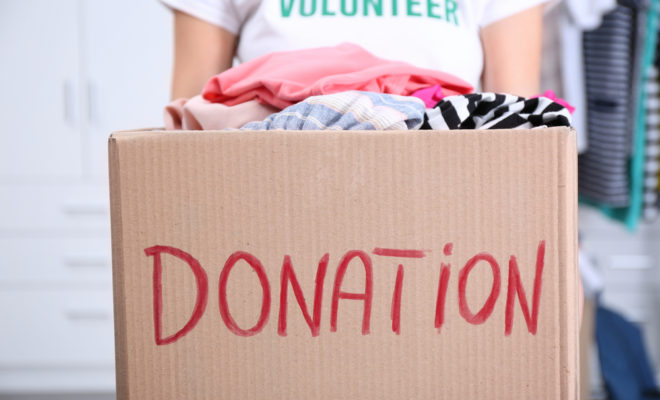 Events
Volunteers and Donations Needed after Harvey
By |
Hello Woodlands has compiled and confirmed an up-to-date list of shelters, organizations, non-profits and locations that need Volunteers and Donations in Montgomery County. Last update: Wednesday, September 7 at 6:30AM CDT
The Woodlands:
Church Project
Interfaith of The Woodlands

4242 Interfaith Way, The Woodlands, TX
Volunteers needed: https://woodlandsinterfaith.org/volunteer
Monetary Donations (100% of funds raised will stay local) to help families transition from shelters to long-term housing. Text GIVE to 832-925-3144.
Current donations needed at woodlandsinterfaith.org/give-back including cleaning supplies, NEW socks and underwear.
Phone: 281-367-1230
Distribution sites will be located throughout the county with the largest site located at Falcon Steel America, 3575 Pollok Street, Conroe, TX 77303. Individuals needing assistance are required to bring a photo ID or passport at the time of distribution.
Lord of Life Lutheran Church – ELCA (Interfaith Partner)

Location: 3801 South Panther Creek Drive, The Woodlands, TX
Distributing supplies to those in need Monday through Friday from 10:00 a.m. to 6:00 p.m., Saturday from 10 to 3pm.
Email LOL@lordoflifeonline.org

Northwoods Unitarian Universalist Church

Location: 1370 N Millbend Dr The Woodlands, Texas, TX 77380

Panther Creek Inspiration Ranch

Location: 25902 Glen Loch Dr The Woodlands, Texas, TX 77380
Contact volunteering@inspirationranch.org with any questions.
If you are in need of hay, please contact MG@InspirationRanch.org

Special Angels of The Woodlands

Location: 314A Pruitt Rd Spring, Texas, TX 77380
Volunteers:  Help day rehab center for adults with disabilities to put sheet rock back, installation, moldings, painting and putting things back where they go (construction).
Needs: paint and paint supplies, professional painters this weekend
Phone: 281-367-3200 or Nancy at 832-610-6653

The Woodlands United Methodist Church

Location: 2200 Lake Woodlands Dr, The Woodlands, Texas, TX 77380
Donate and Volunteer 9 a.m. – 4 p.m.

Items needed most
• Children's backpacks
• School supplies
• Children's books
• Cleaning supplies
• Large bottles of bleach
• Contractor strength trash bags
• New socks
• New underwear (children's and adults)
• Toiletries

Learn more at https://www.thewoodlandsumc.org/storm

Woodlands Church

Location: 1 Fellowship Dr, The Woodlands, Texas, TX 77384
Medical volunteers – Email your contact info and credentials to missions@wc.org.
Home demo and cleanup efforts – Visit WC.org/Hurricane to sign up
Donations – Mud out and Cleaning Supplies Needed:  https://bit.ly/2ethh5T
Disaster Relief Hotline: If you desire assistance with the recovery of your home, call the hotline number at 936-217-5026.

Junior League of The Woodlands
Conroe:
Montgomery County Food Bank

Location: One Food for Life Way, Conroe, TX 77385
Food Needs: Peanut butter, Canned meat/protein, Canned fruits and vegetables, Canned stews, soups, chilies, Dry cereal, Easy to open snacks, Baby formula, Fruit cups, Any other ready to eat items, pop-top cans preferred
Personal Care Items Needs: Tooth Brushes, Toothpaste, Deodorant, Shampoo, Conditioner, Baby Wipes
Cleaning Supplies: Buckets, Mops, Bleach, Paper Towels, Toilet Paper, Laundry Detergent, Rubber Gloves, Face Dust/Particle Masks
Sign up at Emergency Volunteer Schedule: https://www.signupgenius.com/go/5080b49aea72caafd0-harvey

Crisis Assistance Center

Location: 1022 McCall Ave, Conroe, TX
Needs: new or gently used bags – especially back pack style, drawstring backpacks to provide to clients transporting resources.
Phone: 936-539-1096

Conroe VFW

Location: 1303 W. Semands St. in Conroe
Needs: Gloves, Cleaning Supplies, Masks, Shovels, Box Cutters, 5 gallon buckets, pest control, trash bags, heavy duty gloves

Falcon Steel – Main Donation Center/Warehouse

NOTE: Please do NOT take items directly to the Lone Star Convention Center!
Location: 3575 Pollok Dr, Conroe, TX
Open 9/5 to 9/8 9am to 4pm, Distributing supplies to those in need and Volunteers needed!
Must be 18 or older to volunteer due to Warehouse Safety
Needs:

Cleaning Supplies like brooms, shovels, gloves for yard work and well as latex gloves, scrub brushes, bleach and all-purpose cleaners
First aid kit items like band-aids of all sizes and shapes, triple antibiotic ointment, hand sanitizer, travel size items, etc.
Construction supplies and "dirty work" supplies
Needs as of 9/2: Respirator masks, Rubber gloves, Cleaning supplies, Heavy duty garbage bags, New pillows, snack food items, baby formula, Sports drinks, Cleaning Supplies, New bedding, New towels, New blankets

Friends of Conroe

Location: 1712 N Frazier #118, Conroe, TX
Needs: non-perishable/canned food items, masks, gloves, cleaning supplies, mops/brooms, gatorade, granola/protein bars, bleach, trash bags, hygiene items, diapers, water, NEW socks/underwear, etc

East Texas Dream Center

Location: 301 S 1st St; Conroe, Texas 77301
Emergency shelter and command post for any agency needing to set up a command post in Conroe.
Needs: School Supplies
Contact 281-601-6800

Lone Star Convention Center

Location: 9055 Airport Rd, Conroe
Shelter Volunteers starting Sunday 9/3 through Wednesday 9/13 – sign up at www.mocoshelter.weeby.com

Montgomery County Fairgrounds – Pop Up Animal Shelter

Location: 9333 Airport Rd, Conroe, TX 77303
Need: BLOWER FANS to keep moisture out of the building. Extension cords would also be helpful.
Volunteer Orientation at fairgrounds on September 6 at 6pm
Volunteers: If you've gone through the MCAS orientation, please feel free to check in at the Fairgrounds. Time blocks needed: 8-11, 12-3, 3-6, and 6-8. Offsite dog walkers need to be 18 years old and wear their green volunteer shirt.
If you haven't attended an orientation at the shelter they are looking for help at the horse stables at the Fairgrounds as well.

Sacred Heart Catholic Church

Location: 109 N Frazier St Conroe, Texas, TX 77301
Needs: Canned Food, Cleaning Supplies, Monetary Donations
For more information, please contact the parish office at 936-756-8186.
Shenandoah: TBA
Spring: TBA
Declaration Church

Location: 1136 Rayford Road Spring TX 77386
Needs: Volunteers and Donations
Donation Needs as of 9/3: Diapers size 3-6

Grace Church The Woodlands

Location: 24400 Interstate 45 N, Spring, TX 77386
Sign up to Volunteer: https://gracewoodlands.churchcenteronline.com/registrations/events/82920
Relief Center providing items to those in need including clothes, baby items, shoes, pre-packaged food, hygiene kits, blankets, towels, bedding, and more.
Tomball: TBA
Magnolia
FEMA Disaster Recovery Center at:

West Montgomery County Development Center
Location: 31355 Friendship Drive Magnolia, TX 77355
Hours: Opening Friday September 8, 2017 at 9 a.m., Open Monday-Saturday 7am – 7pm
From then on, this DRC will be open Monday-Saturday 07:00-7:00
Other Locations/Groups in Need:
Volunteers needed at 66 Lake Reverie Place, 77375, The Woodlands, TX
In Forest Hills, they are in serious need of help to move furniture, pull carpets, cut drywall, etc. on Thursday and in the near future. (located North of Harper's Landing, behind Costco). Contact (text) Tanya at (832) 585-4641
Bennett Estates needs volunteers (on 1314, just south of 242). Contact Paul Crowson at (281) 507-7806
Assistance Agencies: If you would like to support a local assistance agency you can contact them correctly or donate online via their website.
North, Central, West Montgomery County: Crisis Assistance Center – 1022 McCall Ave. Conroe, TX 77301, Phone: 936-539-1096, Website: cac-mctx.org
East Montgomery County: Mission Northeast – 22098 Loop 494 New Caney, TX 77357, Phone: 281-354-1200, Website: www.missionne.org
South Montgomery County: Interfaith of The Woodlands – 4242 Interfaith Way, The Woodlands, TX 77381, Phone: 281-367-1230, Website: Woodlandsinterfaith.org
Upcoming Events and Drives:
Friday, September 1 from 10 a.m. to 2 p.m. – Woodforest Bank Stadium and Moorhead Stadium hosting donation drive for Montgomery County Food Bank
Donate blood – learn more here 
Donate Online (confirmed credible websites):
Please contact us at info@hellowoodlands.com with additional shelters, organizations, non-profits and locations in need. For more information on how to help in Montgomery County, please call 936-523-3900.
Thank you to all for your caring assistance to our friends and neighbors in need.