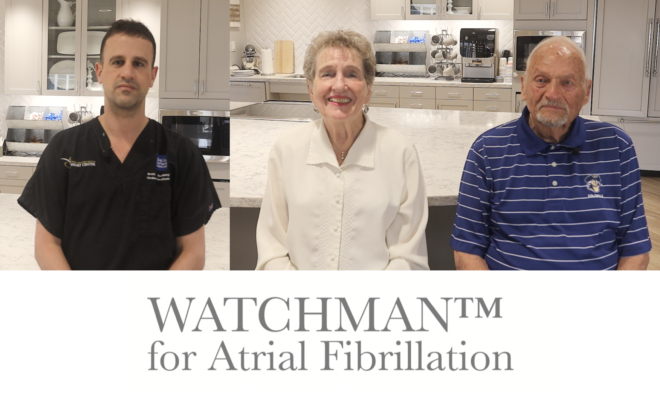 Health
WATCHMAN for Atrial Fibrillation in The Woodlands
By |
Patients in The Woodlands now have access to the innovative WATCHMAN™ treatment that reduces the risk of stroke caused by non-valvular Afib. Watch our video interview with Dr. Scott Greenberg, cardiac electrophysiologist, and patient Cliff Peabody with his wife Jean, who share their life-changing experience with the WATCHMAN™ treatment.
Watch the video interview below:
Surgical Procedures for Atrial Fibrillation
Physicians can now perform a wide range of surgical and minimally invasive procedures to treat patients with heart arrhythmia and atrial fibrillation, or AFib. Unlike traditional open heart surgery, minimally invasive surgeries are performed using small instruments through much smaller incisions, Minimally invasive surgeries, typically can be much less traumatic. Patients have been found to experience less pain and bleeding, lower risk of infection, shorter hospital stays and reduced recovery times.
About the WATCHMAN™
The WATCHMAN is a small parachute-shaped device that permanently closes off the left atrial appendage, a site where clots can form and increase the risk of stroke. Implantation takes about an hour and once the device is implanted, it will not require replacement. In addition to reducing a patient's risk of stroke, the WATCHMAN also eliminates the need for blood-thinning medications.
How Does WATCHMAN Work? The WATCHMAN device fits into a part of your heart called the left atrial appendage (LAA). 90 percent of blood clots that come from the heart are formed in the LAA. WATCHMAN permanently closes off this part of your heart to keep those blood clots from escaping. Your doctor will explain the procedure to you during your visit.
Learn more about Atrial Fibrillation (Afib) Treatment options like the WATCHMAN™ at https://www.memorialhermann.org/services/treatments/atrial-fibrillation
Special thank you to Canopy Cancer Survivorship Center located in Memorial Hermann The Woodlands Medical Center for allowing Hello Woodlands to film the video interview at their location at 1120 Medical Plaza Dr #250 in The Woodlands, TX.