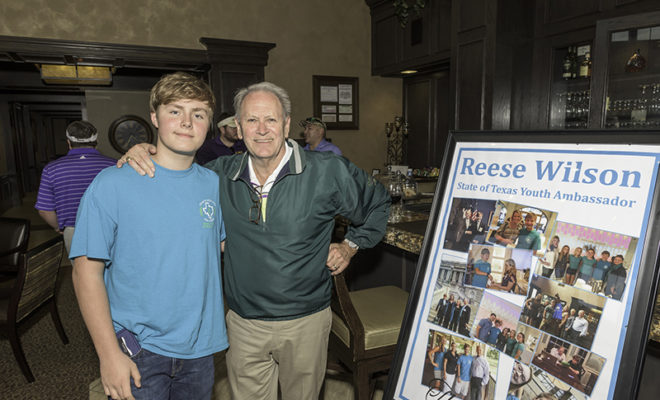 Calendar
Woodforest Hosts 4th Annual Takeaway Tourettes Charity Golf Tournament Nov. 1
By |
MONTGOMERY COUNTY, TX – Golfers will once again take to the green to raise money for research into Tourette Syndrome during the Takeaway Tourettes Charity Golf Tournament Thursday, November 1, at the Woodforest Golf Club, 1199 Fish Creek Thoroughfare.
The tournament — now in its fourth year — benefits the Tourette Association of America-Texas Chapter. Last year, 130 teal-clad golfers participated, raising more than $52,000. The event has collected more than $150,000 since its inception. Registration is going on now at www.woodforesttx.com/takeaway.
"So many children are diagnosed with Tourette Syndrome, but so little is known about it," said Virgil Yoakum, Senior Vice President and General Manager of Woodforest. "That's why this tournament is so important. The money raised will fund research into the syndrome and eventually a cure will be found."
Tourette Syndrome is characterized by involuntary, repetitive movements and vocalizations that usually becomes evident in early childhood or adolescence. It affects 1 in 162 children with 1 in 100 being male — like Yoakum's grandson Reese Wilson, State of Texas Youth Ambassador for Tourette America. Wilson said being involved with the state and national organizations has been life-changing.
"I was diagnosed late because so many doctors were still uneducated about Tourette Syndrome," said Reese, who is a senior at The Woodlands High School. "By the time I was diagnosed, most of the symptoms of TS had just about broken me down and made me feel bad about myself.  My teachers didn't understand, my family didn't understand, the kids at school didn't understand and I was alone and scared. Then at 13, I applied for the Youth Ambassador Program. It changed my life and made me an advocate for research and education and mostly to help the younger kids not have to suffer as much."
Reese said that Sheryl Kadmon, executive director of the Tourette Association – Texas Chapter, was very supportive. "She and the whole team at Tourette Texas dedicate themselves to helping kids and their families get through the roughest years of their lives. They run support groups, attend meetings at the schools to help educate the educators, meet with the medical community and take a personal interest in each of the kids and their families."
Reese's sister Madeline Wilson agrees that Tourette Texas has helped her family greatly. "Before meeting Sheryl Kadmon and the team at Tourette Texas, I didn't understand my brother," she said. "Our whole family was almost mean to him because we didn't understand why he couldn't stop clearing his throat. It bothered me…I felt guilty for being mad at him all the time."
Madeline said that after becoming involved with Tourette Texas, she realized his condition was a real medical issue and not just a behavior. "Meeting Sheryl and the team at Tourette Texas saved my brother and our whole family," she said. "I've decided to take on the role of Youth Ambassador as a sibling supporter to help other kids and their brothers and sisters overcome the challenges of TS."
Part of Reese's efforts to raise awareness of the disorder led directly to the establishment of Takeaway Tourettes golf tournament. Yoakum, parents Jeana and Roby Wilson of MAXXIMEDIA Advertising Co., Tourette's advocate Tammy Schroder of Veritas Title Partners, and Amanda Murphy of Woodforest assisted him.
This year, the tournament will include both lunch and dinner as well as the opportunity to participate in raffles and win prizes for the longest drive and closest to the pin. Registration will take place at 10:30 a.m. with a shotgun start scheduled for noon. For more information, sponsorship opportunities and donations visit www.woodforesttx.com/takeaway.
The Woodforest Golf Club is a 27-hole championship golf course featuring a 10,000-square-foot clubhouse with a restaurant, full-service bar and a pro shop within the top-selling master-planned community. For more information about Woodforest, visit www.woodforesttx.com.