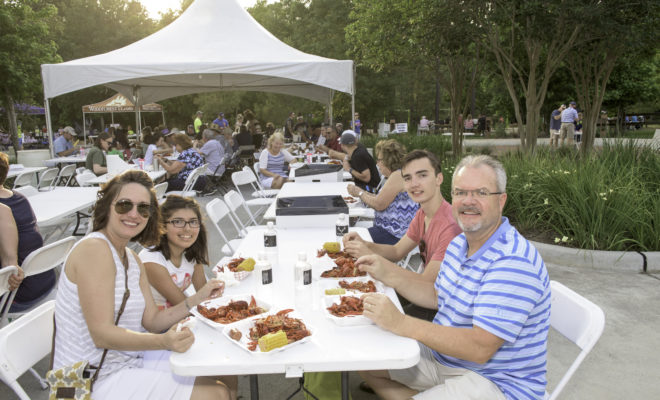 Events
Woodforest Presents Crawfish Carnival April 6
By |
MONTGOMERY COUNTY, TX – Crustaceans, carnival rides and colorful pinwheels promise a kaleidoscope of fun for everyone at the Woodforest Crawfish Carnival, noon to 5:00 p.m. Saturday, April 6.
The public is invited to come out to Christine Allen Nature Park, 5831 Woodforest Parkway South, for heaps of spicy crustaceans and a Ferris wheel, not to mention Zydeco music; a carousel; carnival games and food; crawfish races; inflatables; a stilt walker; a photo booth; and more.
Admission to the event is free, but tickets must be purchased for the food. Diners can buy advance tickets by April 5 that include 3 pounds of crawfish or a food item and non-alcoholic drink for $10 online at www.woodforesttx.com. Tickets also can be purchased the day of the event for $15 cash only. Adults 21+ can purchase beer, wine and margaritas.
"We wanted to update the traditional crawfish boil," said Virgil Yoakum, Senior Vice President and General Manager of Woodforest. "We also wanted to show off some upgrades we recently made to Christine Allen Nature Park — something that can be viewed to beautiful effect from the top of the Ferris wheel."
While enjoying the food and fun, attendees will have an opportunity to take photos in front of giant pinwheels decorating the park. The colorful installation is one of many art displays highlighting "Houston's Largest Home Tour."
The annual tour, sponsored by Woodforest developer Johnson Development Corp., encourages the public to tour hundreds of model homes and available homes in 13 Johnson communities throughout the month. Hours are 10:00 a.m. to 6:00 p.m. Mondays through Saturdays and noon to 6:00 p.m. Sundays. Admission is free. Tour maps and event details can be downloaded at www.houstonhometour.com.
Woodforest, celebrating its 10th anniversary this year, will open the doors to 22 model homes. For more information about Woodforest, visit www.woodforesttx.com.