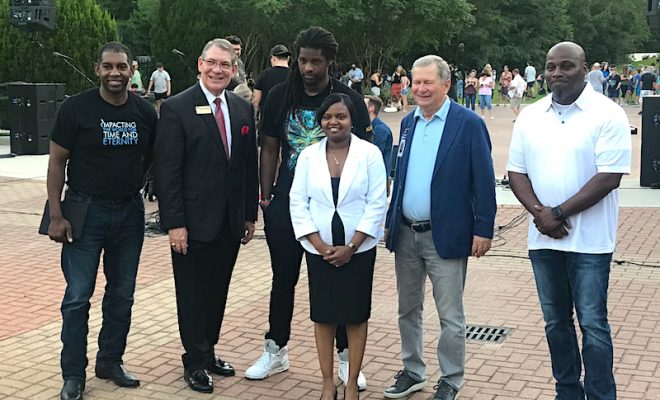 Events
Woodlands Churches unite at Prayer Gathering, plan Panel for June 10
By |
The Woodlands United Methodist Church and Impact Church of The Woodlands partnered to lead an outdoor Prayer Gathering for Justice and for Peace in response to the tragic death of George Floyd and the ensuing events around the country. Local church leaders and members of the community were invited and gathered together at the outdoor event held on June 4th at 7 p.m. on The Woodlands UMC's Fairway for a time of reflection and prayer.
The event followed social distancing protocols and best practices to be mindful of the continuing coronavirus concern, as many attendees wore masks and were distanced from the main stage. Deputies from the Montgomery County Sheriff's Office were also in attendance.
The Prayer gathering included songs of worship from The Woodlands UMC Music team members Brenna Bullock, Josh Price, Matthew Kerley, and Michael Rafferty. Words and prayers were spoken by the following local pastors:
Opening Words and Prayers by Dr. Roche Coleman, Impact Church of The Woodlands, and Dr. Ed Robb, The Woodlands UMC
Prayer of Self Examination by Lo Alaman, The Woodlands UMC
Prayer for Systems by Dan Hannon, Chaplain of Interfaith of The Woodlands
Prayer for Public Servants by Rev Melinda Thompson, Christ Church UMC
Prayer for Society and Salvation by Dr. Roche Coleman
Call to Action and Closing Prayer by Pastor Marcus Hayes, Crossroads Baptist Church
Watch moments from the gathering in the video below:
The Woodlands UMC and Impact Church comes together and hosts the annual Martin Luther King Jr. Commemorative Celebration every year and was held earlier this year on January 20th. Read more here
Dr. Roche Coleman and Dr. Ed Robb shared that they came together again on June 4 not for celebration, but to unite, go to God in prayer with the community, ask for forgiveness, and to bring Him glory. Dr. Roche Coleman shared that as pastors, God has called the leaders into servantship and they wanted to provide the biblical and Christian response to the tragedy and recent events.
The June 4th event was quickly organized and announced on Tuesday, June 2 because the church leaders believed that a prayer gathering was needed now, not later.
A panel discussion is currently being planned for next Wednesday, June 10 at 7 p.m. where local pastors, Township Chairman Gordy Bunch, and Congressman Kevin Brady and community leaders have been invited to join a discussion on the "Biblical and Christian response to our Cultural Crisis" and what changes need to be made in our community. The event at Impact Church of The Woodlands will not be open to the public due to social distancing and COVID-19 protocols, but will be live streamed online.
Sources: The Woodlands UMC, Dr. Ed Robb, Dr. Roche Coleman, Impact Church of The Woodlands