Lifestyle
2021 Community Peacebuilding Nominations Sought
By |
Are you looking for a way to recognize individuals, organizations or volunteers who do good in your community? A great way to support those who are promoting peace within your community is to nominate them for the 2021 Peacebuilding Community Awards.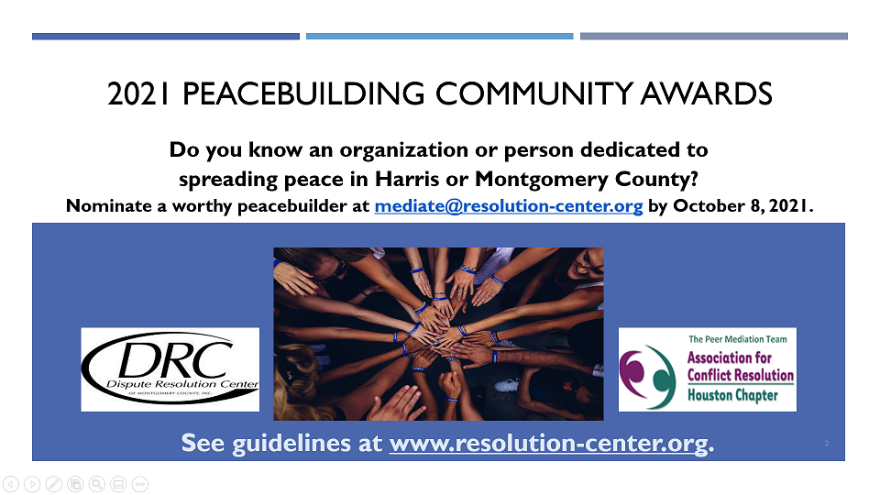 In celebration of national Conflict Resolution Month in October, the Dispute Resolution Center of Montgomery County, Inc. (DRC-MC) and the Association for Conflict Resolution Houston (ACRH) Peer Mediation Team are pleased to announce nominations are now being accepted for the 2021 Peacebuilding Community Awards in Harris and Montgomery County.
These awards recognize individuals and organizations for establishing or promoting local peace initiatives, promoting peaceful conflict resolution practices, or for providing peace training for any age group. Last year's winners were Mac-Arthur Pierre-Louis, Instant Mediations, Ritz Wiltz, Children's Books on Wheels, Melanie Davis, H.O.N.O.R. Mentoring, Laran Cone, Kids' Meals and Chikawa Aztec Dance and Traditions with Alejandra Tapia and Eheca Aztlah.
Criteria for the 2021 Peacebuilding Community Awards are posted on the DRC-MC website at www.resolution-center.org. Individuals and organizations may self-nominate. Additionally, individuals and organizations may be nominated for an award in more than one category. The nomination form is brief and easy to complete online. Each nomination must include a narrative statement or letter of recommendation in support of the nomination by October 8, 2021.
The four nomination categories are: (1) K-12 Grade Nominee (for student peacemakers); (2) New Generation Nominee (18-25 years old); (3) Community Member or Volunteer Nominee; or (4) Organization Nominee. Winners will be announced on October 21, 2021, which is nationally recognized as Conflict Resolution Day.
The Association for Conflict Resolution – Houston (ACR Houston) is a nonprofit organization dedicated to promoting Alternative Dispute Resolution (ADR) and conflict management, supporting and developing ADR professionals, and to the practice and understanding of peaceful conflict resolution at all ages. For additional information on programs offered by the ACR Houston, visit their website at www.acrhouston.org or contact Darcy Thompson, ACR Houston Peer Mediation Team Coordinator at peermediation@acrhouston.org.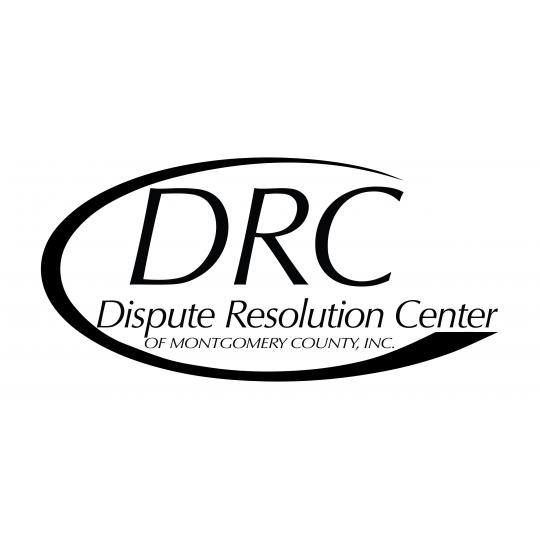 The Dispute Resolution Center of Montgomery County, Inc. (DRC-MC) was established in 1988 by Commissioners Court and the Montgomery County Bar Association. The DRC-MC offers an affordable way to prevent disputes from escalating into serious civil or criminal matters. Find out more about training programs, mediations and volunteer opportunities at the Dispute Resolution Center of Montgomery County by visiting www.resolution-center.org. Visit the DRC-MC Facebook page at www.Facebook.com/MontgomeryCountyDRC or call (936) 760.6914, Ext. 4 from 8:00 a.m.-5:00 p.m., Monday – Friday.