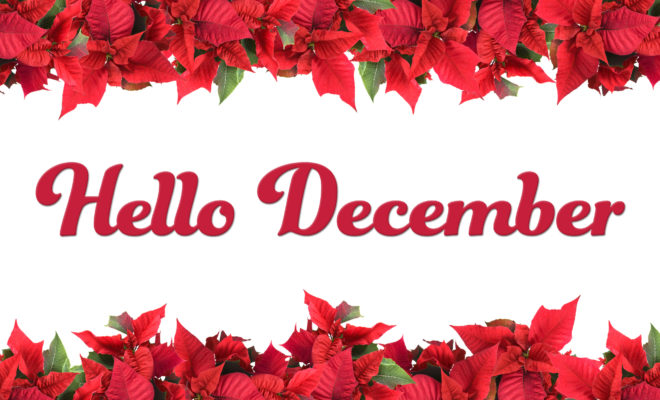 Events
31 Things To Do in December
By |
Hello Woodlands's "31 Things To Do" monthly guide highlights events, activities, and things to do this December in The Woodlands and Montgomery County area that can be enjoyed online or while practicing social distancing PLUS ways to support local and give back during the holidays. Be sure to check back on Hello Woodlands for updates!
If there is any opportunity for the Hello Woodlands team to help communicate news, important updates, and/or highlight a story or need, please let us know by emailing info@hellowoodlands.com.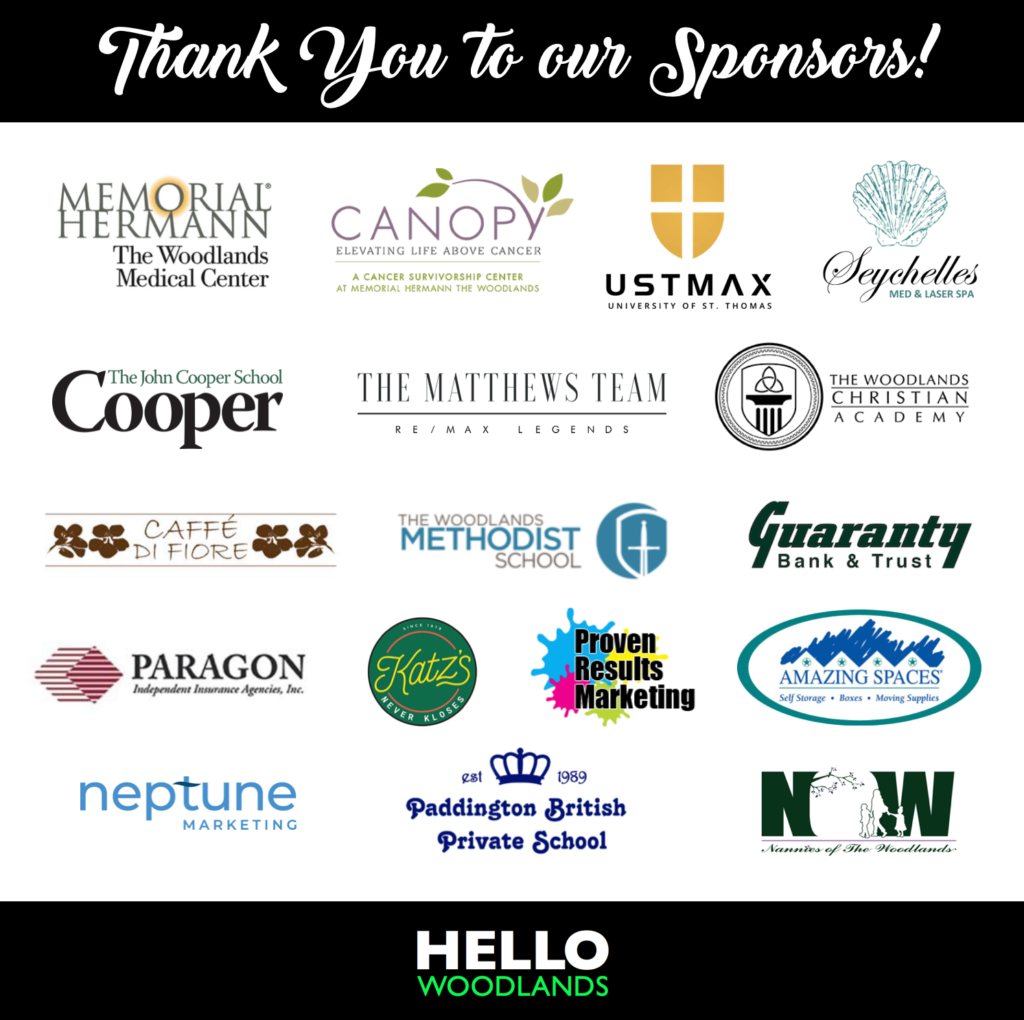 DECEMBER 2020
FEATURED EVENTS
*Please note that events, programs and details are subject to change due to the current environment and regulations, orders and recommendations due to COVID-19.
TODAY through December 6 – Operation Blue Elf Christmas Toy Drive -Montgomery County Sheriff Rand Henderson, The Montgomery County Sheriff's Office, and community partners are partnering for the 4th Annual Community Christmas Toy Drive, "Operation Blue Elf." Now, through December 6th, the Montgomery County Sheriff's Office is asking for your help to make Christmas better for our communities' children in need by donating new, unwrapped toys at one of many drop off locations throughout Montgomery County including Guaranty Bank & Trust-Conroe and Canopy Cancer Survivorship Center. Learn more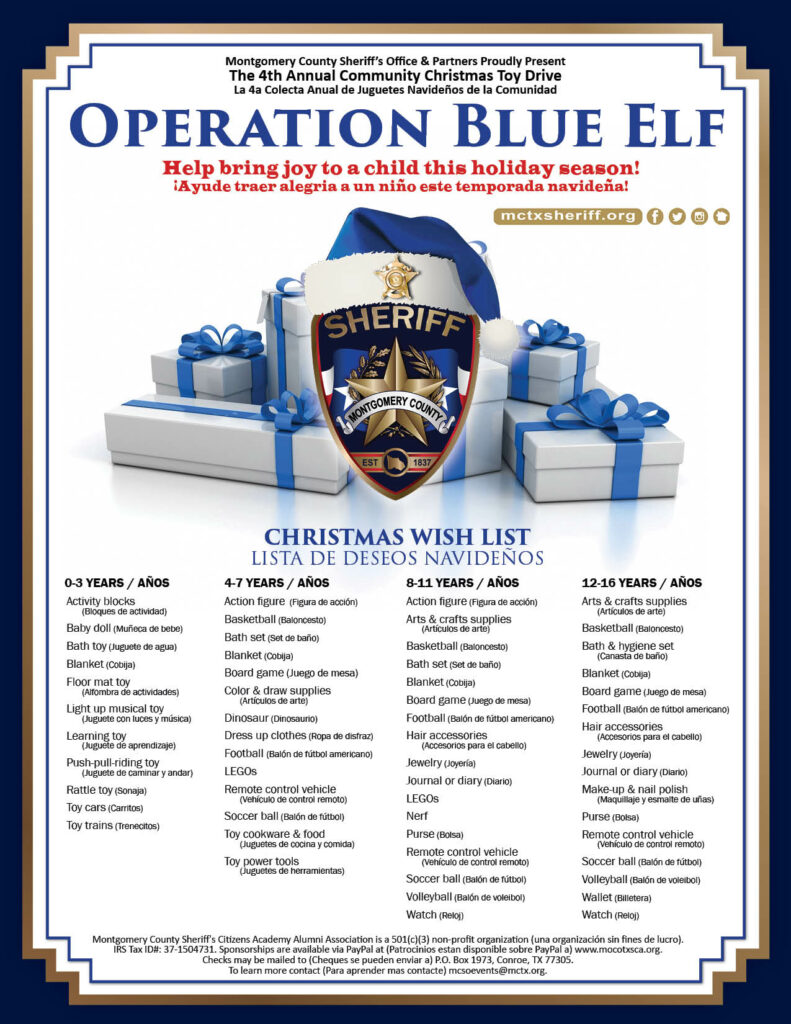 December 4 – Virtual Signatures Author Series – The John Cooper School Fine Arts Council has announced that the 16th Annual Signatures Author Series will be a virtual experience on December 4, featuring international bestselling author Jesmyn Ward. Ward has received two National Book Awards for novels that are set on the Gulf Coast. Salvage the Bones is a personal story of how one family endured Hurricane Katrina and Sing, Unburied, Sing gives an intimate portrait of three generations of a family in an epic tale. As is tradition, a portion of the proceeds from the 2020 event will go to a local charitable organization. To learn more and purchase tickets, visit www.johncooper.org/signatures
December 5 & 6 – Furever Homes Pet Supply Drive – Grand Central Park will collect pet supply donations for Operation Pets Alive during a weekend drive from 10 a.m. to 5 p.m. on Saturday, Dec. 5 and Sunday, Dec. 6, at The Finding Place, 170 Town Park Drive in Conroe. The wish list of supplies can be found at GrandCentralParktx.com. Potential pet parents can also view adoptable dogs and cats throughout November and December during our virtual pet adoption event! Grand Central Park will cover all adoption fees for the featured pets. Head to our website for more details and to register to win a $500 Chewy.com gift card and make donations to Operation Pets Alive. Grand Central Park will match donations up to $2,500. Learn more at https://www.grandcentralparktx.com/furever
December 11-13 – Virtual Jingle Bell Run – Though the Arthritis Foundation's 2020 Jingle Bell Run is going virtual, don't let that stop you from jingling. Join the original festive race for charity from anywhere! Whether you want to run your favorite 5K route, challenge yourself to something new or get moving on your treadmill, you can strut your stuff and FEEL GOOD about DOING GOOD. Every runner will receive an exclusive Jingle Bell Run short sleeve t-shirt, unique medal, and sticker for your water bottle or laptop! For more information visit http://www.jbr.org/thewoodlands. Learn more about Community Honorees, Roger & Natalie Goertz, by visiting their team page: https://events.arthritis.org/team/goertz
December 13 – Night of Carols – Join The Woodlands United Methodist Church for a Night of Carols on Sunday, December 13, 2020 from 6 to 7 p.m. at The Woodlands UMC Fairway. Learn more at thewoodlandsumc.org/christmas.
December 18 – Let It Snow – Join The Church at Woodforest for Let It Snow, a family Christmas event, on Friday, December 18, 2020 from 2pm to 5pm. This outdoor family event brings snow to Woodforest. There will be crafts, Santa, snacks and snow. The event will be held at The Church at Woodforest at the Woodforest Sports Field located at 700 Fish Creek Thoroughfare, Montgomery, TX 77316. Learn more about the event at thewoodlandsumc.org/Christmas
THINGS TO DO
*Please note that events, programs and details are subject to change due to the current environment and regulations, orders and recommendations due to COVID-19.
Visit Local Farmer's Markets
Take a Private Tour of The Woodlands Christian Academy's 40 Acre Campus – With 40 acres and small class sizes, The Woodlands Christian Academy is excited to offer future warrior families a safe, socially distanced private campus tour. Touring campus is a great way to experience Woodlands Christian! The private campus tour will include a brief overview of school history, mission, leadership, philosophy of education, the application process and a walking tour of our beautiful campus. You can view the upgrades made to create a controlled environment and healthy campus. Lower school (Pre-K – 4th grade), middle school (5th – 8th grade) and high school (9th -12th) programs are introduced, providing an excellent overview of a Warrior education. You can also take an online virtual tour here. To schedule a private tour, please contact Director of Admissions, Amanda French at (936) 271-3104.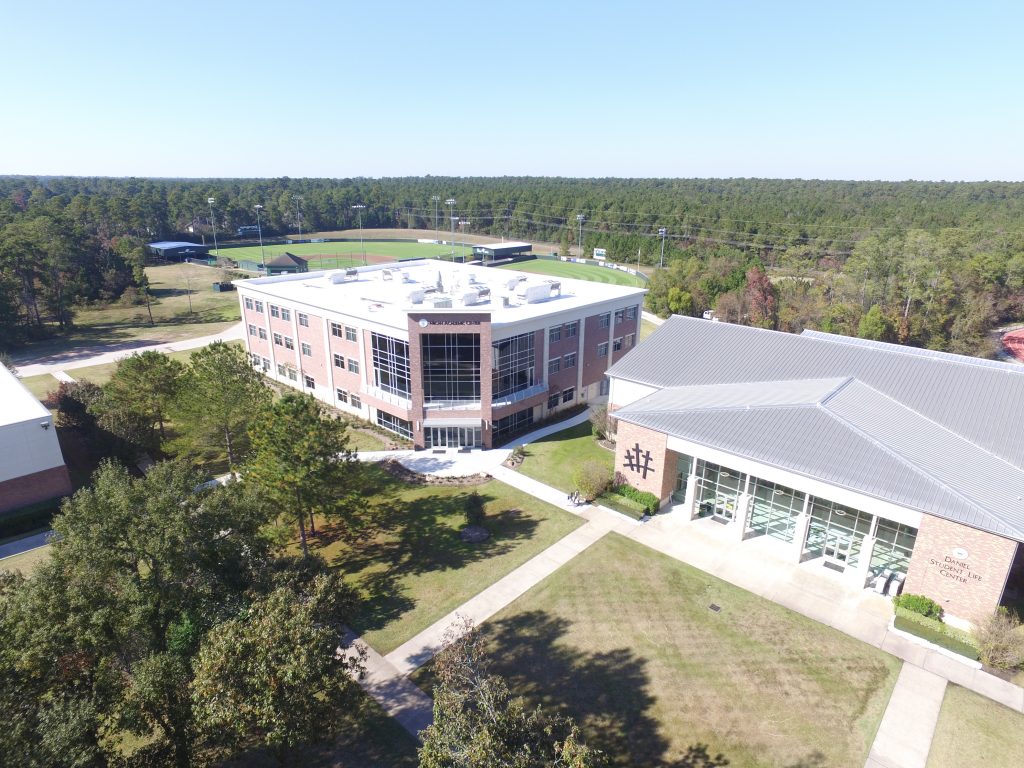 Art Bench Scavenger Hunt – The Woodlands Arts Council has created an Art Bench Scavenger Hunt, where participants can win prizes while experiencing the beauty of The Woodlands and its public art. Enjoy this self-paced, outdoor, family friendly activity while taking in some of the interesting, thought-provoking, and fun art benches around The Woodlands. This socially distanced event encourages art appreciation and engagement. Solve the clues, post a photo with the hashtag #ArtBenchHunt and tag @TheWoodlandsArtsCouncil to win fabulous prizes. TWAC has created a route that includes riding The Woodlands Trolley for free. Learn More
TODAY through December 31 – Shop the Virtual Waterway Arts Festival – The 2020 Virtual Woodlands Waterway Arts Festival will continue through December 31 to give art lovers and gift givers the opportunity to shop for beautiful art pieces including jewelry, paintings, drawings, apparel and accessories, unique pens and journals, photography, clay and wood works and mixed media. More than 80 juried artists are participating in the Festival Marketplace, where you can engage with the artists, watch their videos, visit their social media and websites, and purchase their art in one easy process. Learn More
November 28 – December 31 – Woodforest Merry & Bright Tour of Lights – Woodforest is inviting the public on a Merry & Bright Tour of Lights November 28 to December 31 to see three miles of shimmering holiday displays. Christine Allen Nature Park, will be the starting point and guests can follow the signs for the drive-thru tour of more than 70 light displays and to "Santa's Workshop" where they can take holiday photos and drop off letters in Santa's mailbox. On Saturdays, Santa's Workshop will also have take-home cookie decorating kits, jingle bells, hot cocoa, and reindeer food from 6:00 – 8:00 p.m. while supplies last. A specially curated Spotify playlist will provide a cheery backdrop to the festivities. Learn More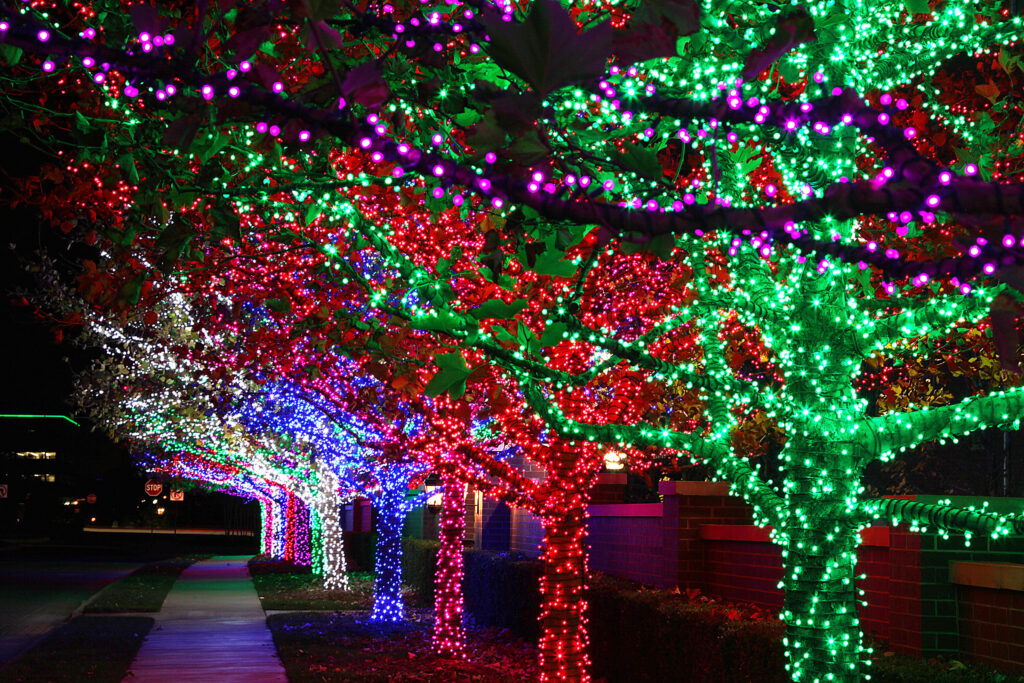 December 1 – Christmas on Main – Christmas on Main immediately follows the City of Conroe Christmas Tree Lighting and goes until 8:30 p.m. on the streets of Main, Simonton, and Metcalf. Founder's Plaza will be the center of music by the Jazz Connection starting promptly at 7:00 p.m. and will also serve as the drop off for tickets to win prizes that night. Learn more
December 1 – 23rd Annual Lighting of the Angels – The City of Shenandoah celebrates the start of the holiday season with the 23rd Annual Lighting of the Angels. Enjoy family-friendly entertainment that will include animal rides, music, performances and an ice slide following the lighting of the iconic angels in the city. Learn More
December 3 – USTMAX Center Information Session about Associate Degrees at UST – On December 3 at 5 pm via Zoom, learn about the Associate of Applied Science Degrees at UST. An associate degree offers a wonderful opportunity to set yourself up for success in a growing career field. While it can take 4 years or longer to earn a bachelor's degree, you can earn your associate degree within 2 years. You'll complete the program empowered with skills for rewarding jobs in cybersecurity, electronic technology and networking technology. RSVP here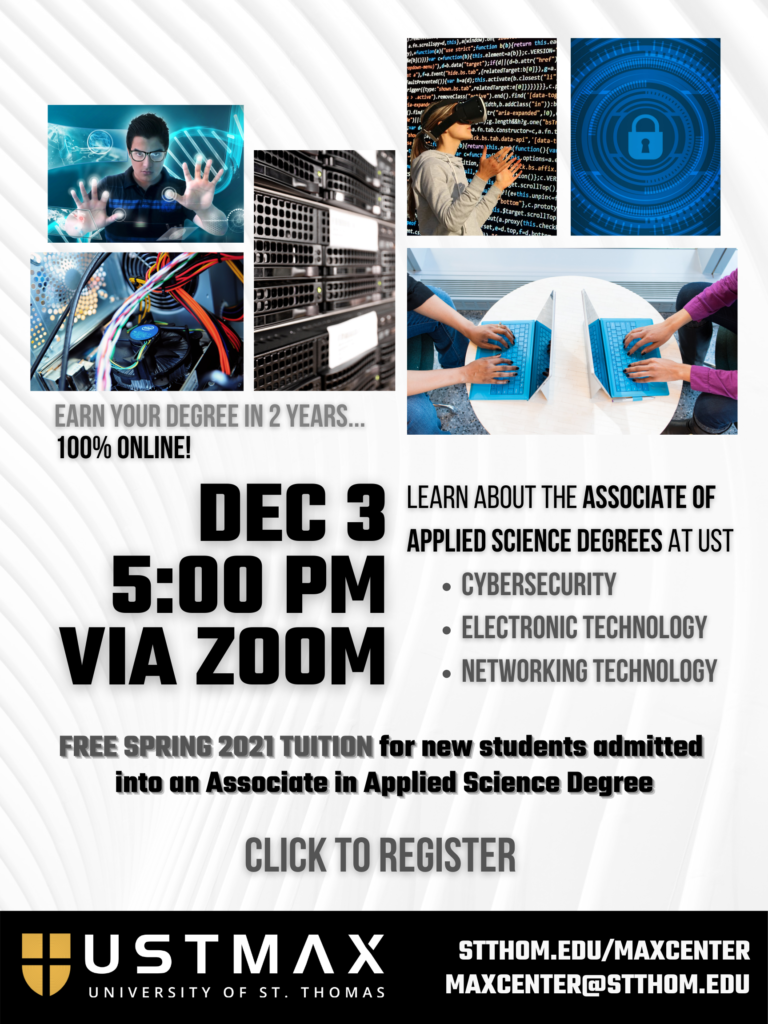 December 4 – Montgomery County Food Bank Holiday Drive – Join the community-wide Holiday Food Drive benefitting the Montgomery County Food Bank from November 1st through December 4th! Take part by collecting non-perishable items in your neighborhood, business, family, or organization. Deliver your donations on December 4th from 8:30 a.m. to 4:00 p.m. at The Woodlands United Methodist Church or Conroe Founders Plaza. Learn More
December 4, 6, 11 – Holiday Concert Series at Glade Cultural Center

December 4 – Latin Christmas Beats with Will Cruz and Good Vibe – Celebrate this Holiday Season in Latin style with Will Cruz and Good Vibe Band, featuring special guest Alberto Graulao. Doors open at 7 p.m., Show starts at 8:30 p.m. Full table service, Holiday inspired handcrafted cocktails, Dance and much more. Purchase Tickets
December 6 – Woodlands Symphony Brass Holiday Concert – Doors open at 6 p.m., Performance starts at 7 p.m. Holiday attire recommended. Refreshments available at the bar before the show and during the intermission. Purchase Tickets
December 11 – Gene Keen in Concert – An evening of outstanding entertainment showcasing a musical journey from Houston to Las Vegas, with the world in-between. Throughout the evening you will be presented with everything from Classical to Jazz; Rhythm and Blues to Classic Rock; Dixieland to Country, and more. Performed by an All Star Band featuring Gene Keen on keyboards, vocals and brass; Robert Amyx on drums and percussion; Ken Cluck on bass and tuba; Stephan Badreau on guitars; Darryl Bayer on trumpet; Don Pope on sax; and Steve Cox on trombone, it promises to be a memorable experience for all. Doors open at 7 p.m., Show starts at 8 p.m. Full table service, Holiday-inspired cocktails, Sommelier curated wine list. Limited seating available. Purchase Tickets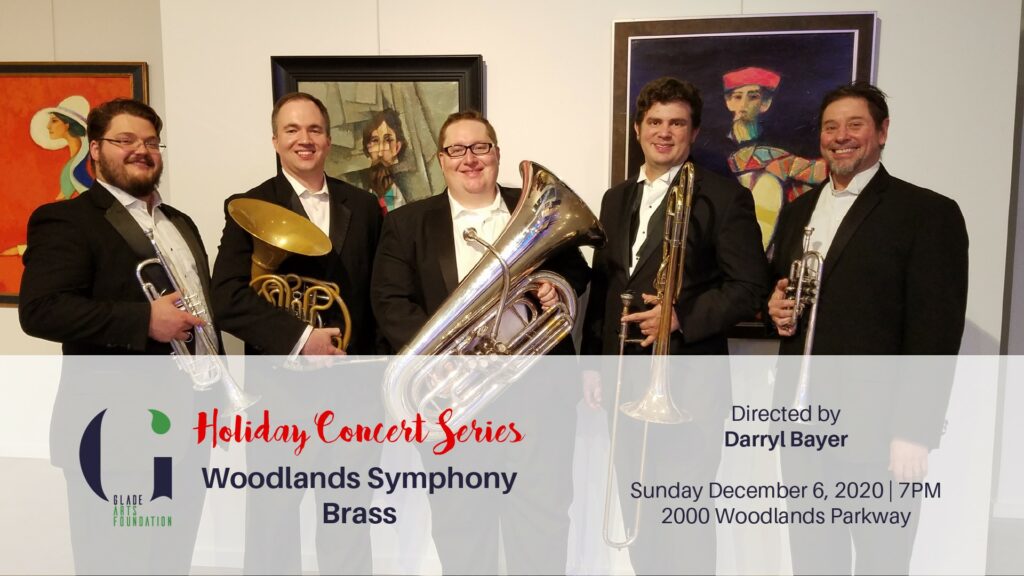 December 5 – Bridgewood Farms Christmas Market – The event will be held at the Bridgewood Farms Gym between 10 am – 3pm where proceeds will be directed toward scholarships, activities to combat social isolation and expanding art programs for Bridgewood Farm's Intellectually and Developmentally Disabled clients. Shop, enjoy food and drinks, and activities such as photos with Santa and Christmas games, activities, and inflatables. Learn More
December 5 – The Magic of Christmas Parade of Lights – Join Commissioner Charlie Riley, Montgomery County Precinct 2, and the City of Magnolia to ring in the Christmas Spirit at the annual parade on Saturday, December 5 at 5:30 p.m. at Magnolia Unity Park & Nichols Sawmill. Learn More
December 7 – 28 – Montgomery County Food Bank Mobile Markets -Mobile Markets are temporary drive thru distribution centers where pre-packaged bags of groceries will be provided to Montgomery County residents in need, while supplies last. Residents can drive up to the Mobile Market, stay in their car, and MCFB's partner agencies and trained volunteers will load the groceries safely into their car. View dates and locations here
December 8 – Virtual Gratitude Workshop – Canopy Cancer Survivorship Center presents a monthly Gratitude Workshop on the second Tuesday of every month to take place virtually at 10 a.m. Canopy, a cancer survivorship on the campus of Memorial Hermann The Woodlands, is open to men and women, no matter where you were treated, and for any kind of cancer. If your life has been impacted, whether you were the patient or the caregiver, you have a safe haven at Canopy. Learn More
December 11 – Inspired Leaders – Join us for Inspired Leaders on Friday December 11th, 11:30 a.m. to 1:00 p.m. at the Glade Cultural Center! Listen to local leader, Jackie Battle, share his story of grit, perseverance, and success. The event is free and open to everyone, and Inspired Leaders strives to create a safe and encouraging space where entrepreneurs and business owners can get real about what they are working through and get support & encouragement through these stories. All social distancing rules apply. Face masks are encouraged. Learn more
December 17 – Grand Chanukah Celebration and Menorah Lighting – Market Street will host Chabad of The Woodlands for a Grand Chanukah Celebration and Menorah Lighting on Thursday, December 17 from 5:00 pm – 6:30 pm. Learn More
December 18 – Outdoor Christmas Family Movie – Experience the funny, heart-warming tale of How the Grinch Stole Christmas at Family Movies on Plaza in CityPlace Springwoods Village at 6 p.m. The film's reclusive star will be on site for a rare photo opportunity, and admission and popcorn are complimentary. Space is limited. Learn More
December 19 – Arts in the Park featuring Holiday in The Woodlands – Points North Theatre, in conjunction with The Woodlands Township and The Woodlands Jazz Orchestra, is proud to present Arts in the Park featuring Holiday in The Woodlands, an original 1940s USO-style musical revue. Take a journey back in time with this musical extravaganza – which is free and open to the public in Waterway Square from 6 to 8:30 p.m. – as you enjoy an evening filled with song, dance, live Big Band music, and even authentic commercials from The Greatest Generation. Learn More
December 24 – Christmas Eve Services at The Woodlands United Methodist Church

Traditional Worship in the Sanctuary – 3:00, 5:00*, 7:00 p.m.
Traditional Worship in Robb Chapel – 11:00 p.m.
Harvest Worship Center – 1:00, 3:00*, 5:00 and 7:00 p.m.
Loft Worship Center – 3:00, 5:00, 7:00* p.m. and 9:00 p.m
*services will be streamed live online as well as in person. Learn more at thewoodlandsumc.org/Christmas

Apply for the 2020-2021 School Year at The Woodlands Methodist School – Come SOAR with us! The Woodlands Methodist School is currently accepting applications for the 2020-2021 school year on a first-come, first served basis. Applications for the 2021-2022 school year will be accepted beginning January 6, 2021. Find more information, visit twmschool.org/admission/apply and schedule a tour by calling 281.822.8220.
Visit the Hello Woodlands Calendar for updates on postponed dates, cancelled events, and be sure to stay tuned for more details.
GIVE BACK
Due to the current COVID-19 pandemic, nonprofits are in need now more than ever. Organizations are working hard to maintain the quality of care they have always provided to our community.
Hello Woodlands' ongoing series "Nonprofit of the Month," featuring Randy Lovelace of Paragon Independent Insurance Agencies, spotlights several of these nonprofits. Learn more about the nonprofits' missions and meet the people behind them here.
Learn more about the Hello Woodlands Nonprofit of the Month, FOB Rasor, and watch our video interview here.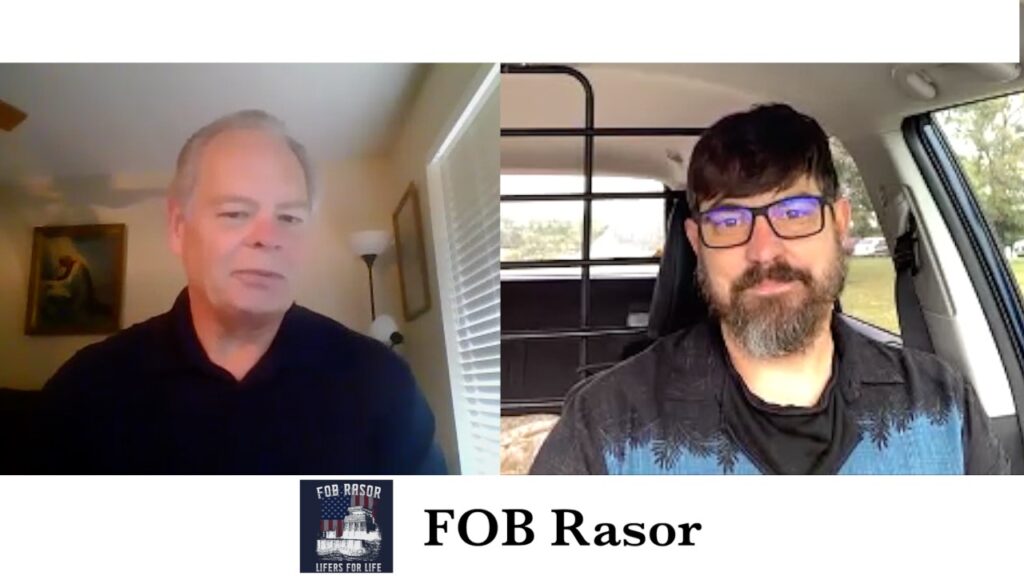 SUPPORT LOCAL DURING THE HOLIDAYS
Doing one of these things will be greatly appreciated by the local businesses this holiday season. Please join us by showing your support!
Purchase gift cards online and use as a gift for the holidays!
Order to go, takeout or delivery from local restaurants.
Shop online! Support your favorite local retailer, artists, author, musician, etc. by buying their digital or physical products.
Make a donation, tip or contribution online to show your support to a local nonprofit organization in need.
Support local musicians, entertainers, and performers by purchasing their merchandise, buying music (songs/albums), streaming music online, and promoting to friends online.
Support local authors! Purchase a book from a local bookstore by a local author. Stay tuned for interviews and book features in upcoming articles on Hello Woodlands!
Event cancelled? Instead of asking for a refund, consider donating the funds to the small business, nonprofit or charity who needs the funds during this time.
Purchase a holiday or Christmas card from a local boutique or retailer to send an encouraging message to a friend, family member or loved one. Words of kindness and hope during this difficult time is a great way to offer your support!
Visit our online calendar, subscribe to our Email Newsletter, follow us on social media at @HelloWoodlands, and check back for a list of 31 things to do in January 2021!
Contact us at info@hellowoodlands.com to tell us about updated events and more ways we can share about helping our community, supporting local businesses, and things to do in The Woodlands and Montgomery County.
Thank you for your support!