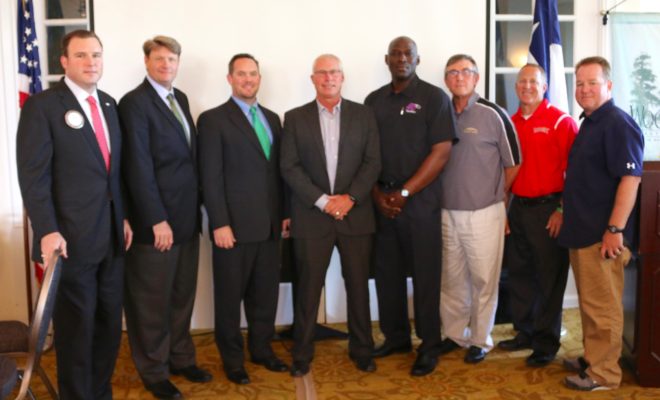 HelloWoodlands.com
Calendar
Local Football Coaches Come Together for Fall 2016 Season
By |
At the Rotary Club of The Woodlands' recent luncheon, seven football coaches from local high schools were in attendance as members gathered together at The Woodlands Resort. It was quite an experience as the coaches sat together and took turns speaking to Rotarians about this year's football season, including:
Naming players, strategies, and upcoming games, coaches shared their enthusiasm for the new school year. Pride for their hard working teams and schools shined from the podium as each elaborated on what parents ands fans can look forward to during the Fall 2016 Football Season.
But, it's not just about the football team. Coaches made sure to highlight not only the football players, but also the achievements and talent of their school, bands, drill teams, cheerleaders, teachers, staff and groups who actively participate and attend each football game.
No matter what high school they represented, every coach left one clear message with the audience: Support your local schools and teams by attending a football game!  The players, students and staff have been working hard this semester, past summer, and over the last year to bring their best game and skills onto the field.
So be sure to support your community by attending a football game this season! Check out the schedules for the following schools below. Mark your calendar and plan on attending a game near you.
Fall 2016 Football Schedules:
We look forward to seeing you at the next game!
A special thank you to The Rotary Club of The Woodlands for hosting the luncheon and bringing the seven coaches, teams and schools together as they do every year at the start of the Fall Football season. To learn more about the club, visit WoodlandsRotary.org