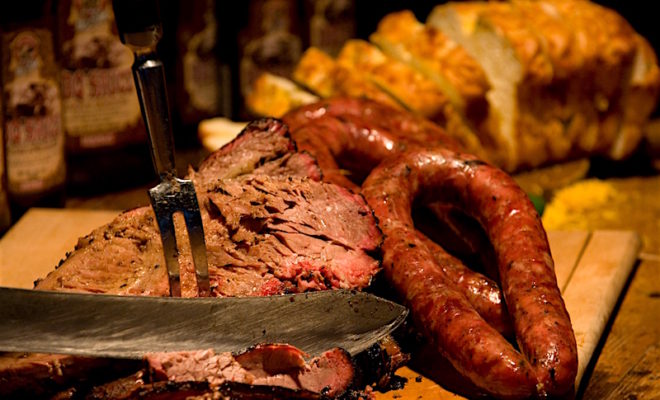 Business
Goode Company Barbeque Opens August 1 in The Woodlands
By |
After decades of blending Texas culture and cuisine, Goode Company Restaurants is taking its storied brand outside the Houston City Limits for the first time and into The Woodlands with two side-by-side restaurants that together make up 14,000 square feet of Goode-ness: a new location for the company's original Goode Company Barbeque – opening Tuesday, August 1st – and a new concept that will make its debut a few weeks later: Goode Company Kitchen & Cantina.
Goode Company Restaurants' President Levi Goode worked alongside Gin Braverman's Houston-based gin design group and has left no stone unturned for the Goode family's first foray into The Woodlands. The stand-alone, new construction building sits on the axis of Six Pines Drive and Research Forest Drive and already feels like tried-and-true Goode Company digs with a time-honored aesthetic that perfectly complements the authentic Texas barbeque.
Mahogany doors and slat walls made of reclaimed wood from old Texas farmhouses perfectly frame the 4,700-square-foot interior. Chicken feeders that serve as light fixtures swoop down from the 16' to 24' ceilings and hover above the reclaimed wood tabletops, booths, and stained concrete floors, while meticulously curated objects like old signs and drink boxes from the Goode Family's collection are perfectly placed; other repurposed materials give the 156-seat dining room and adjacent 36-seat A/V-capable private event space its unmistakable Texas character.
The restaurant shares a 2,200-square-foot breezy patio with Goode Co. Kitchen & Cantina. Interactive games on the patio will keep the kids entertained while the parents get fortified at the adjacent agave-focused bar.
Goode Co. Barbeque showcases three pits manufactured by Texas-based J&R Manufacturing — the same company responsible for all of the barbeque pits used by Goode Company to perfect its 'que over the past four decades. The pits are on full display as customers continue to enjoy the delicious smoked meats that generations have been coming back for again and again at Goode Co. Barbeque. With the capacity to smoke just under 4,000 pounds of barbeque at a time using 100% fresh-cut mesquite wood from South Texas ranches, Goode Co. Barbeque in The Woodlands is not only designed for extreme freshness but the capability to cater residential and corporate events from 5 to 5,000 people.
In addition to the barbeque standards that have made the Czech-style sausage, pork ribs, and beef brisket at Goode Company the stuff of legend, the menu will feature new sides that The Woodlands can call its own, including white cheddar mac & cheese, smoked duck collard greens, deviled eggs and pimento cheese as well as handspun milkshakes and floats. Not only can guests expect the same level of top quality in the jalapeño cheese bread, jambalaya Texana, and world-famous Brazos Bottom Pecan Pie, they can equally expect the same friendly service, authentic environment and the totality of the Goode Company experience.
Goode Company Barbeque is located at 8865 Six Pines Drive at Research Forest Drive in The Woodlands and marks the first time Goode Company Restaurants has ventured outside the Houston City Limits after 40 years of blending Texas culture and cuisine. Since opening the original Goode Co. Barbeque on Kirby Drive (1977) – and later Goode Co. Taqueria (1983), Goode Co. Seafood (1986), and Goode Company Armadillo Palace (2004) – the Goode family name has been synonymous with authentic Texas flavors and food that is slow-smoked, scratch made and handcrafted daily. Goode Co. Barbeque in The Woodlands opens daily at 11:00 AM and closes at 9:00 PM on weekdays and 10:00 PM on weekends. For more information, call 281-947-9120 or visit https://www.goodecompany.com.