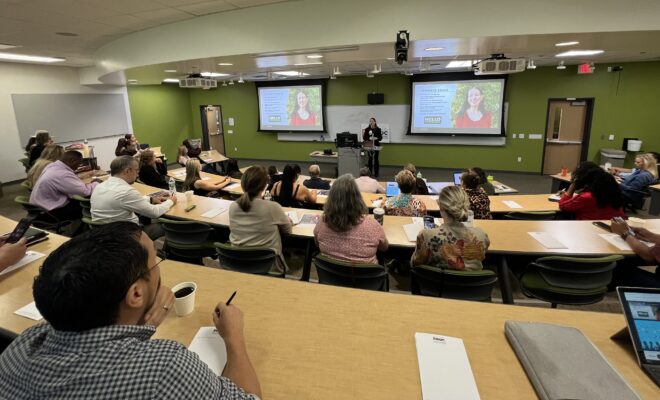 Photo by Tiffany Marascio, Hello Woodlands
Business
Hello Woodlands Founder Presents "Storytelling for Business" Seminar
By |
On October 7, 2022, Jennifer Bruse, President and CEO of Hello Woodlands, presented "Storytelling for Business," a seminar designed for small businesses to an at-capacity classroom. The free seminar was hosted by the Sam Houston State University Small Business Development Center (SHSU SBDC) – The Woodlands Center, located at 3380 College Park Dr, The Woodlands, TX 77384. Refreshments were provided by Miguel Lopez of Conganas.
View photos from the event on the Hello Woodlands Facebook page.
The seminar was designed to educate small business owners on how to share their story in an effective, educational, and engaging manner to their target customers. Attendees learned about publishing blogs and creating "evergreen" content to increase traffic and answer customer questions. Additionally, Bruse discussed the importance of developing a content calendar and a strategy for social media. Other topics included utilizing YouTube and podcasts to create a community, and how to write and pitch press releases.
On December 2, 2022, Bruse will present "Building a Buzzworthy Business with Social Media" focused on how small business owners can promote and market their business using social media.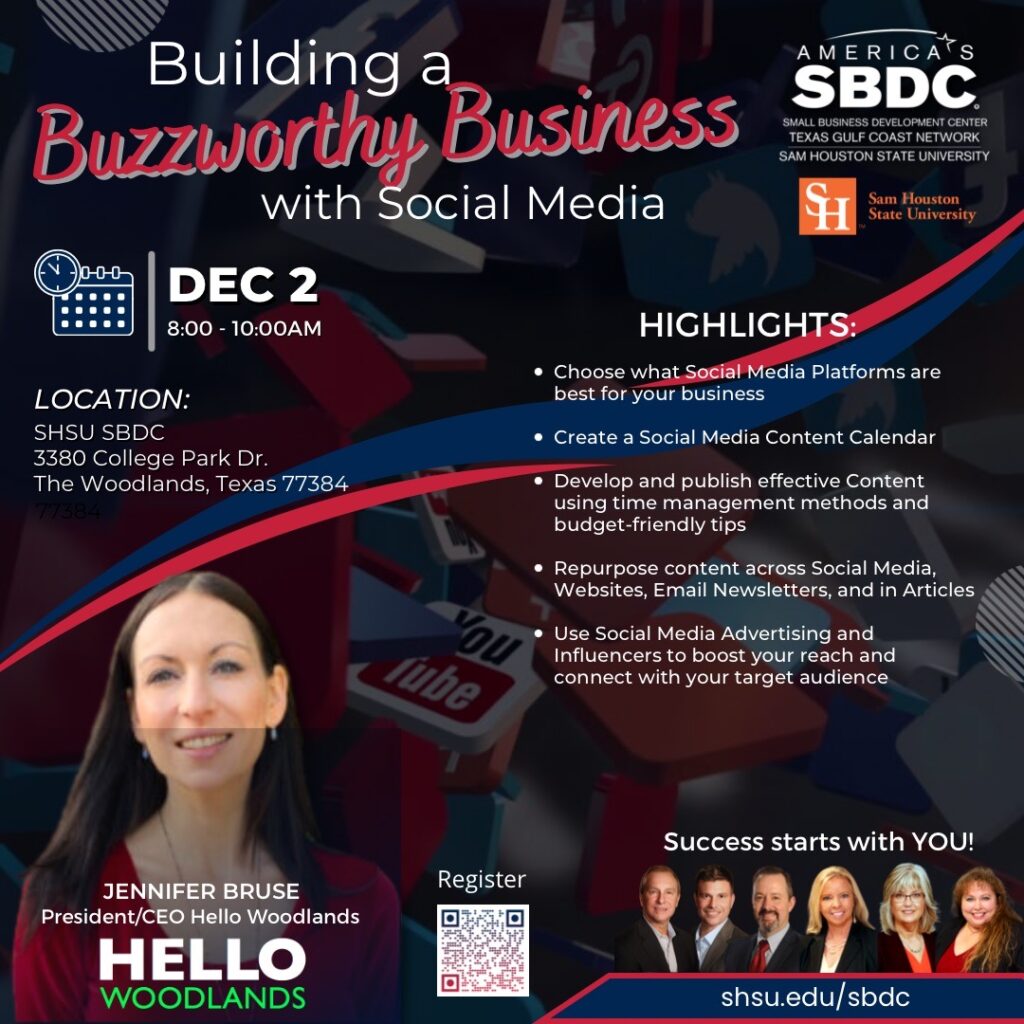 Bruse will discuss how small business owners can decide which social media platforms are best for their business and how to develop and publish effective content. She will share strategies to repurpose content in different ways and best practices in creating a social media content calendar. Register here for "Building a Buzzworthy Business with Social Media": https://bit.ly/3dZajnQ
Bruse has a long history of successful, award-winning businesses in multiple fields and has over 12 years of experience in marketing. In addition to operating Hello Woodlands, she currently helps businesses and individuals with SEO, marketing, and graphic design.
The seminar was the second in a three-part marketing series, each of which delves into specific aspects of marketing. The series began September 16, 2022 with a presentation on digital marketing. The public may attend one or all of the events. Learn more about the trio of free seminars here: www.hellowoodlands.com/hello-woodlands-founder-to-host-series-of-free-small-business-seminars.
The seminars are hosted by the newly-opened SHSU SBDC in The Woodlands, located at 3380 College Park Dr., Suite 101. Learn more about the new SHSU SBDC Woodlands location and how the SBDC helps small businesses here: www.hellowoodlands.com/shsu-small-business-development-center-no-cost-resources.
Sources: Jennifer Bruse, SHSU SBDC