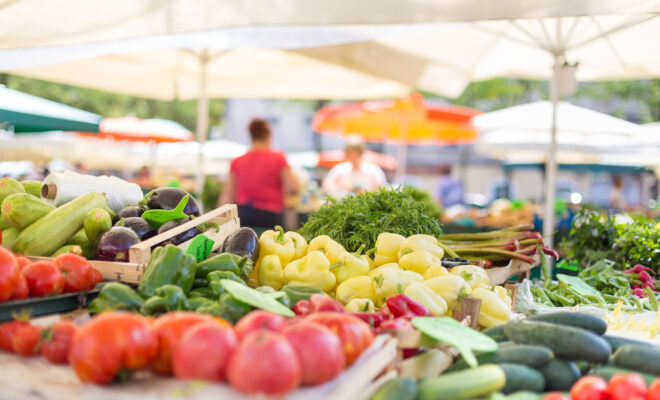 Events
Local Artisan & Farmers Markets 2022
By |
Enjoy the outdoors and support small businesses by heading to one of our local artisan and farmers markets.
Wednesdays
City Place Farmers Market – At City Place Plaza, located at 1250 Lake Plaza Drive, Spring, TX 77389, shop organic and locally-grown fruits and vegetables, grass-fed meats, pasture-raised eggs, artisan cheeses and foods, fresh baked goods and juices, specialty prepared food, plants, natural pet treats & more. The lively, family-friendly happening also includes engaging crafts, entertainment, and "kidpreneur" elements. The market is held the third Wednesday of every month from 11 am to 2 pm. Learn More
Thursdays
[UPDATE: MONTGOMERY SIP-N-STROLL FARMERS MARKET IS CLOSED AS OF OCTOBER 2022] Montgomery Sip-n-Stroll Farmers Market – Enjoy fantastic handmade products, produce, and beverages supporting local vendors and businesses in beautiful historic downtown Montgomery. The market held Thursdays from 4:30 – 7:30 pm at 14326 on Liberty Street in Montgomery. Learn More
Sip, Shop and Stroll in Conroe – Come to downtown Conroe for the Sip, Shop and Stroll! Retail shops are open late with light bites and drinks, and bars and restaurants have live music and food and drink specials. The market with local vendors and food trucks is open from 5:00 – 10:00 pm, on the 4th Thursday, on Main Street in downtown Conroe. Learn More
Saturdays
The Woodlands Farmers Market – The Woodlands Farmers Market is open rain or shine, every Saturday from 9:00 am – noon, and is home to vendors offering locally grown produce, grass fed beef, Texas handmade artisan cheeses, goat cheese, sustainably cultivated coffee, local honey, breads & pastries, no sugar-added baked goods, prepared tamales, Indian cuisine & Mediterranean food, gluten-free options, and seasonal products, in addition to live music. The market is located at 7 Switchbud Place, in The Woodlands (in the parking lot of the Grogan's Mill Shopping Center). Learn More
Montgomery Farmers Market – Montgomery Farmers Market brings together a select group of naturally-oriented farmers, ranchers, and food manufacturers from all over the North Houston region into a collective of vendors that are intent on one thing – providing the purest and most nutritious foods possible to our local community. The market is open every Saturday of the year (barring inclement weather and some holidays), at 300 C B Stewart Dr. in Montgomery from 9:00 am to noon. Learn More
Artisans Market at B.E. Winery – Stroll through vendor booths filled with homemade edibles and unique handmade items, while sipping on some of B.E. Winery's award-winning wines. There's no cost to attend, so come out and support your local vendors. Markets are held on property from noon to 6:00 pm once a month. Learn More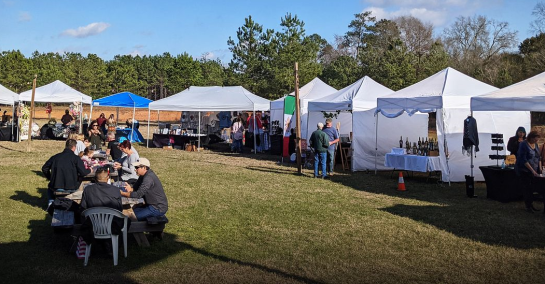 Margaritaville Artisans Market – Make your way over to Margaritaville Lake Resort, Lake Conroe and shop until you drop! Over a dozen local artisans and vendors will set up booths and sell their creations in Palm Court outside the resort lobby. Don't miss out on this seasonal event – markets end October 8! The market is free to attend and open to members, resort guests, and the general public. Learn More
The Farmers Market on Tamina – Founded in 2016, this market is central to Montgomery, Conroe, Spring, Tomball, and The Woodlands, located at FM 1488 & FM 2978 within the Westwood subdivision. The market has between 35-50 vendors each Saturday, a signature complimentary cocktail each week, and a family friendly vibe. Markets are held every Saturday from 9:00 am – 1:00 pm at 32907 Tamina Road in Magnolia. Learn More
Lone Star 1st Saturday – Venture down to Lone Star 1st Saturday where everything is homemade, handmade, or homegrown. Nestled under the trees of the Old Community Center in Montgomery, this market is held on the first Saturday of every month from 9:00 am – 2:00 pm. Bring the family (or your well-behaved furry friends) to this crafters market to shop antiques, boutiques, and uniques! Stay all day and play in Montgomery Historic District – explore Texas History, and visit nearby businesses from cafes to wineries and wellness centers to mini golf. Learn More
Main Street Market – The Main Street Market is a farmers and artisan market, held every Saturday in downtown Conroe from 9 am to 1 pm rain or shine. Shop and support local vendors, farmers, makers, chefs and artists! Learn More
Sundays
Conroe Sunday Market – Kroger 336 North hosts Conroe Sunday Market – a little bit farmer, a little bit flea, a little bit craft and a little bit of all the things you love, want and need! Stop by anytime between 11 am and 4 pm. Learn More
Magnolia Farmers & Artisans Market – At Magnolia Farmers & Artisans Market, you can find a variety of farmers, artisans, beekeepers, canners, chefs, crafters, leatherworkers, woodworkers, quilters, seamstresses and costuming experts, jewelry makers, glass artists, candle makers, painters, candy makers, crocheters, bakers, and more. Participants are required to either grow or make the products they sell. Many also offer custom work. The mobile vet is at the market the 1st Sunday of every month and leashed pets are welcome anytime. The market is open from 11:00 am to 3:00 pm and is held in the white fenced field at the intersection of FMs 1488 & 1774, right next to Walgreens in Magnolia. Learn More
Champagne & Chocolate Art Walk + Gallery Show – Come sip champagne, nibble on chocolates and stroll through open artists' studios at The Bella Bottega to see behind the scenes and check out available works. Make sure to head down to Ardest Gallery to see their latest exhibit. Learn More
Rayford Sunday Market – Head to the Imperial Oaks Shopping Center at 2301 Rayford Road for food, fun, and shopping. The market brings together a collection of artisan crafters, small businesses, community sponsors, and businesses for an afternoon of shopping, fundraising, and entertainment. Markets are from 11:00 am – 4:00 pm. Learn More
Tomball Farmers Market – Tomball Farmers Market is a registered nonprofit and works as a cooperative effort of local families dedicated to providing the highest quality food and handmade products to the community. Visitors will find fresh local produce, culinary herbs, garden fresh veggies, the freshest olive oil, raw honey, old fashioned jellies, salsas, relishes, homemade soaps, lotions, hand made crafts and much more. The market has a vast selection of pasture raised beef, pork, chicken and lamb that is never given antibiotics steroids or hormones. The Tomball Market is held every Saturday, 9:00 am – 1:00 pm at 205 W Main St. in Tomball. Learn More
Updated November 23, 2022 at 3:36 pm.