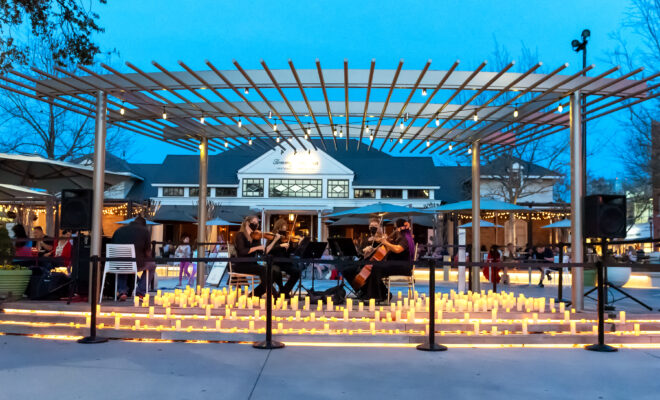 entertainment
Local Valentine's Day Events 2022
By |
February is the month of love! From a candlelight concert, to a love-themed swan boat ride, to a Valentine's Day shopping event, there's a local activity for everyone to enjoy. Here are 10 ways to celebrate Valentine's Day in The Woodlands area.
February 3 – Tour the "Seductions" February group exhibition at Glade Gallery in the company of the artists followed by a champagne toast and hors d'oeuvres. Prominent artists from near and far exhibit their works acknowledging the upcoming Valentines season and love. Subject matters covering desires, fascinations, temptations, and guilty pleasures are presented in this luxe gallery space which contains its very own seductive cocktail bar. The exhibit will be ongoing for the month of February. Learn More: "Seductions" Art Exhibit
February 7 – Create a personalized eCards on Canva for Valentine's Day! A thoughtful eCard is sure to bring a smile to your loved ones' faces. Join Ashley Martin for a virtual computer class from the South Branch Montgomery County Regional Library that will guide you through using Canva.com to create and send eCards via email, text message, and social media. This program requires prior registration. No supplies needed. Learn More: Valentine's Day Canva eCards
February 10 – Stop by The Glade at 5:30 p.m. for a last minute Valentine's Shopping Sip and Shop featuring local artisans and boutiques. Taste great wines carefully selected by the gallery's sommelier, and enjoy live music with pianist Joe Burlison. Free admission. Learn More: Valentine's Sip and Shop Happy Hour
February 11 – The Glade Gallery will host an unforgettable evening filled with love and music performed by Tianna Hall and the Houston Jazz Band. Enjoy a three-course prix fixe dinner carefully curated by Executive Chef Nelson Padron, handcrafted cocktails, and a sommelier curated wine list. Tianna Hall is a Grammy© recognized vocalist based in Houston, Texas. Learn More: Valentine's Tunes with Tianna Hall and the Houston Jazz Band
February 12 – The Conroe Symphony Orchestra, under the direction of Guest Conductor Ms. Darla McBryde, presents Love Story February 12 at 7:30 p.m. at Mims Baptist Church, just in time for Valentine's Day. Love Story celebrates the timeless theme of love with a span of melodies such as Romeo and Juliet Overture by Piotr Ilyich Tchaikovsky, Where Do I Begin? from Love Story by Francis Lai, Somewhere in Time by John Barry and many more. Learn More: Love Story by the Conroe Symphony Orchestra
February 12 – Enjoy live music and a three course meal at a special Valentine's show with Marc Broussard at Dosey Doe – The Big Barn. David Grace opens at 7:30. Learn More: Marc Broussard Valentine's Show
February 12 & 13 – Share the love this Valentine's Day and enjoy a candlelight concert in the park with Divisi Strings. There will also be a Valentine's Day-themed photo op February 11 through 14 featuring a pink telephone booth decked out with flowers and a balloon garland, along with heart-shaped and LOVE signage. Learn More: Divisi Strings Candlelight Concert
February 13 & 14 – Bring along your significant other (or best friend), and experience a Valentine's themed swan boat ride event on Valentine's Day. There's something enchanting about seeing a graceful swan boat surrounded by beautiful lights under the night sky. Non-alcoholic beverages and treats will be provided. Swan boats can fit 2-4 people. All participants must be 16 years or older. Pre-registration is required. Learn More: Valentine's Swan Boat Ride
February 14 – Decorate cupcakes this Valentine's Day at the South County Regional Library starting at noon. The event takes place in the first floor meeting room and is designed for ages 18 and up. Learn More: Valentine's Day Cupcake Decorating
February 14 – The Glade is hosting a very special Valentine's Day dining and musical event that promises to be everything an evening like this should be. Setting the mood will be an excellent variety of culinary fare presented by Executive Chef Nelson Padron, handcrafted cocktails, and a sommelier curated wine list. Common Ground Band, led by Houston's own Gene Keen and Dan Huber from Las Vegas will be performing a special program of romantically themed music in all styles, featuring the most recognized and desired songs from stage and screen. Learn More: Valentine's Dinner and Concert with Gene Keen and Common Ground Band
Discover more places, activities, and things to do on the Hello Woodlands Calendar, and don't for get to check out Hello Woodlands' 31 Things To Do in February.