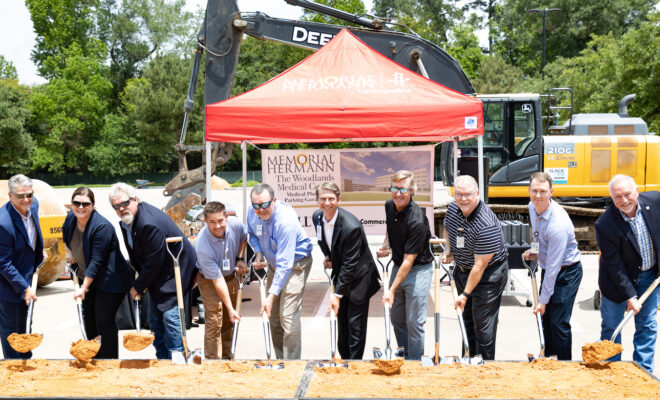 Photo Credit: Rod Prado
Health
Memorial Hermann The Woodlands Medical Center breaks ground on 5th Medical Plaza and 4th Parking Garage
By |
On Monday, May 15, 2023, Memorial Hermann The Woodlands Medical Center held a groundbreaking ceremony for the fifth medical plaza and fourth parking garage located at the northeast section of The Woodlands campus.
Representatives from Memorial Hermann, JLL, Austin Commercial, and Powers Brown Architecture were present at the ceremony and are working together to make the new projects at Memorial Hermann The Woodlands Medical Center a reality.
The fourth parking garage will have just over 1,000 parking spaces and the fifth medical plaza will have 135,000 sq. ft. of medical space.
View photos from the groundbreaking ceremony on the Hello Woodlands Facebook page:
During the ceremony, Justin Kendrick, Senior VP & CEO of Memorial Hermann The Woodlands Medical Center and Memorial Hermann Northeast Hospital, shared, "We're so incredibly excited for yet another groundbreaking ceremony that we all get to celebrate together. This comes right off the heels of our South Tower expansion, which was a $250 million investment in the community, and multiple Memorial Hermann GoHealth Urgent Care offerings – two here in The Woodlands, one out in Magnolia, one up in Willis in addition to our primary care office building that recently opened up right down the road off Research Forest and Grogan's Mill. We are incredibly humbled that this community and region continues to put their trust in us. And this project really represents our ability to continue to build out the infrastructure for this campus, by adding over 1,000 parking spaces and more medical office building space that we know will be pretty full pretty quickly. But again, we appreciate the community trusting us with their care and the incredible partnership with everyone standing here that all brings it together and makes this dream a reality."
AJ Breneman, Partner of Powers Brown Architecture, the architect firm for the two projects, shared in an interview with Hello Woodlands, "We've had a working relationship with Memorial Hermann for a number of years now mainly with the medial office buildings that have gone across their different campuses throughout the Greater Houston area. The campus here was in need of some expansion. I know parking has been a daily struggle and they also needed some lease space for physicans, so it made sense that this campus received this expansion – the new medical office building as well as the new parking garage."
We asked Breneman: As the architect, what is different in this particular project? Is there anything that you are personally excited about, to see your vision come to life?
"For this particular campus, I think – as opposed to working on other campuses – that the amount of natural beauty and vegetation that already exists here. For us it's been challenge, but it's also been a fun challenge to work with. We know that not only preservation but also replacing what we've had to take away is part of the project development. That's been kind of neat for us to have that extra challenge on this campus in particular. In the end, I think it will be truly rewarding to see how this particular project will blend in seamlessly, not only from the built environment but also from the natural vegetation as well."
What is the space in the interior like?
Breneman answered, "So this is going to be a shell leasable space. Really the scope of this project is the exterior, all the extra ground work, but the scope on the interior is pretty limited to the main lobby spaces and restroom spaces. So everything else will be shelled and ready for tenants to come in and finish out their spaces in the project."
What do you see differently in this particular building in this project versus what already exists?
"Well that's kind of an interesting question because the point of this project is to be an extension of the campus, so we want it to blend in not as something 'oh that's the brand new one, it doesn't quite fit in, obviously that's different.' The goal here was to put another project on campus that felt like it belonged in the existing architecture of the campus, built and – like I said – natural vegetation as well."
"The Memorial Hermann team, the project management team in JLL, working with the city and The Township has been a great experience. Everyone's been very receptive and I think everyone as a whole has been very excited about this project to get going," Breneman concluded.
Just following the groundbreaking ceremony, heavy construction equipment was on site and ready to start working on the new projects. The estimated date of completion of the parking garage is in one year, May 2024, and the new medical plaza in 2025.
Advertisement