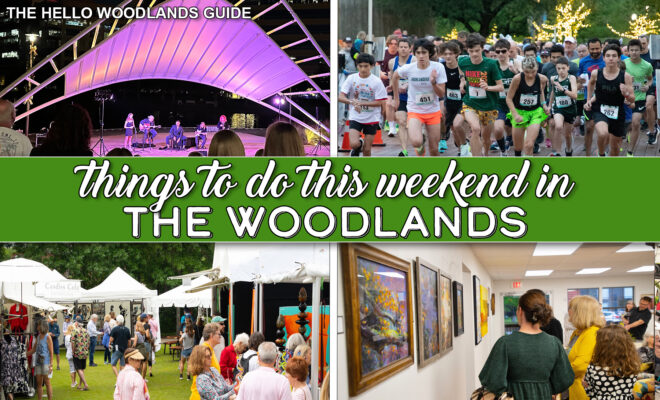 Art & Culture
Things to Do in The Woodlands Area This Weekend, Aug. 4-6
By |
Looking for something to do in The Woodlands area this weekend? Discover local events including Houston Restaurant Weeks with local restaurants, an interactive light show, a grape stomp festival, a boutique pop up market, and more!
Friday, August 4, 2023
Experience Shoal (Ongoing)
Shoal is an ongoing, experiential artwork featuring a choreographed, interactive light show. Located on Restaurant Row in Hughes Landing, this is the latest addition to one of the largest outdoor collections in the country. Shoal features 750 individual orbs of light suspended in air and programmed to seamlessly flow in mesmerizing movement to sound. Learn more at www.thewoodlands.com/shoal.
Houston Restaurant Weeks (Aug. 1 – Sept. 4)
Houston's most anticipated foodie event of the year, Houston Restaurant Weeks, is 35 days of delicious meals and super deals raising necessary funds for the Houston Food Bank. An extensive list of the most popular restaurants will participate and serve specially priced, multi-course prix fixe menus for brunch ($25), lunch ($25), or dinner ($39 or $55), available for dine-in and take-out. Learn More. Find a list of local participating restaurants here: www.hellowoodlands.com/local-restaurants-participating-in-houston-restaurant-weeks
Family BINGO Night
Every first Friday of the month, The Woodlands Township hosts fun-filled family BINGO night. Prizes awarded for good BINGOs. Snacks will be provided on a first-come, first-served basis. Pre-registration is required. BINGO night is held at The Recreation Center at Rob Fleming Park from 6:30 – 8:30 p.m.. The fee is $5 per person. Learn More
Live on the Lawn
Enjoy live music on the lawn at Central Park in Market Street with Sarah Kelly Music School from 7:30 – 9:30 p.m., on Friday nights. Blankets and lawn chairs welcome. Learn More: Live on the Lawn at Market Street
Saturday, August 5, 2023
Big Top Boutique Pop Up
The Big Top Boutique Pop Up offers a wide selection of exhibitors bringing the very best in boutique clothing, accessories, shoes, home decor, furniture, gourmet food, dips, sauces, art, yard decorations, holiday items, and so much more! There is a little bit of everything and something for everyone! Prices range from as little as $5 and up to $2,000 and beyond. The pop up will be held at Hyatt Regency Conroe, 1001 Grand Central Parkway, Conroe, TX 77304 from 9:00 am – 5:00 pm. Learn More
Grape Stomp Festival
It's grape harvest season in Texas, so gather your family and friends to jump into the grape stomp barrel with at Bernhardt Winery! This fun experience is available to adults and kids! Enjoy live music with Southern Disposition band from 1:00 – 5:00 pm and local eats from Mary Jane's Kitchen food truck. Visitors are also welcome to bring lawn chairs or picnic blankets to find a space on the lawn to listen to live music! The event is from noon – 6:00 pm at Bernhardt Winery, 9043 County Rd 204, Plantersville, TX 77363. Learn More
End of Summer Teen/YA Picnic Party
By popular demand the Tomball Community Library is hosting an indoor picnic! The End of Summer Picnic Party is for ages 12-21. Meet in the teen room, then go to another part of the campus for the picnic. This is a rain or shine indoor event, so no need to worry about the weather! The picnic will be held from 2:00 – 4:00 pm at Tomball Community Library, 30555 Tomball Pkwy, Tomball, TX 77375 inside Lone Star College. Learn More
Back to School at Loblolly Market
Loblolly Market is filled with local artisans and vendors where you will find something for everyone! There will be inside shopping in the Faith Building of Rose Hill Methodist Church on the right side of the road. Grab your family & friends and support small business. Free admission and parking. The first 25 customers will receive a swag bag. Shop from 11:00 am – 4:00 pm at Rose Hill Methodist Church, 1022 Rosehill Church Rd, Tomball, TX 77377. Learn More
Sunday, August 6, 2023
Sunday Sounds
Enjoy complimentary concerts on Sundays at CityPlace Plaza. On August 6th Richard Saldivar Duo will be performing jazz and pop selections. Sunday Sounds is from 2:00 – 4:00 pm at City Place Plaza & Park, 1250 Lake Plaza Drive, Spring, TX. Learn More
Cars & Coffee for a Cause
The Woodlands Car Club car enthusiasts gather at Market Street the first Sunday of each month from 6:30 – 10:00 am, to show off special vehicles, and provide a fun and creative way to give back to our community. The club collects coins/change to donate to Market Street's "Change for Charities" program that benefits nonprofit organizations in Montgomery County. The public is welcome. Learn More
Plan Ahead: Upcoming Events
Rock the Row (July 6 – Aug. 10)
Rock the Row Summer Series begin July 6! Experience Hughes Landing on scenic Lake Woodlands with live music! Rock the Row features local and regional bands playing a variety of favorites from pop and rock to country, Thursday evenings from 7:00–9:00 pm. Learn more
The Platinum Wine Vault Luxury Tasting (Aug. 11)
Enjoy an award-winning selection of fine wines from all over the world paired with amazing award-winning chef-inspired culinary dishes at The Platinum Wine Vault Luxury Tasting on Friday, August 11, 2023 from 6:30 – 9:00 p.m. at Bayway Cadillac of The Woodlands. Learn More
YMCA Kids Duathlon (Aug. 12)
The YMCA Summer Race Series for Kids/Teens Presented by Texas Children's Hospital The Woodlands continues this summer! The 3rd and final race in the series is the 2nd Annual YMCA Kids Duathlon Presented by Texas Children's Hospital The Woodlands on Saturday, August 12, 7:30am at the Holcomb Family YMCA. Designed for all fitness levels, especially 1st Timers, youth, ages 7-15, are invited to Bike/Run for a CAUSE. Registration ends August 9. Boys and girls will compete separately in their age groups. The top three finishers, male and female, in each age group will receive a special award. All participants will receive a goodie bag, T-shirt and finisher medal. Post race festivities will include music, awards ceremony, refreshments, face art, bubble station, and there will be concessions available to purchase. Register Today
Art to Lunch (Aug. 18)
Join Ardest Gallery for an exclusive tour of the current art exhibition "Abstraction" led by Ardest Gallery Director Julie Verville at 11:00 am. Then, enjoy a pre-fixed menu at neighboring restaurant Amerigo's Grille. Preset menu: $22 pp. Choice of: Soup du Jour or House Salad; Homemade Lasagna; House Selection red and white wine available for $5 glass. Reservations recommended as space is limited. RSVP to julieverville@ardestgallery.com or directly with Amerigo's Grille.
---
Check back on Hello Woodlands' Calendar Page and the monthly 31 Things to Do list for more events as they come up!
Have an event coming up or want to highlight your business? You can sponsor one of these popular weekend guides! By sponsoring a guide, your company name (organization or event) and logo will be included on the featured photo of the article published on the Hello Woodlands website. Your company name will also be included within the article along with a paragraph sharing more about your business with your logo and a link to your website. Email info@hellowoodlands.com for more information.