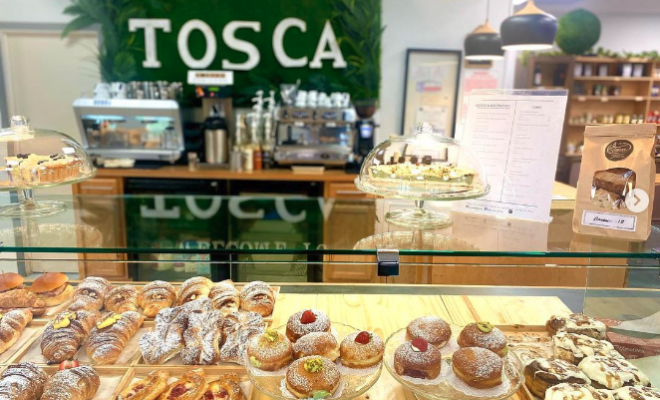 Business
Tosca Italian Gourmet Plans Woodforest Restaurant
By |
MONTGOMERY, TX – Woodforest's Pine Market will soon welcome another tenant when Tosca Italian Gourmet opens this fall.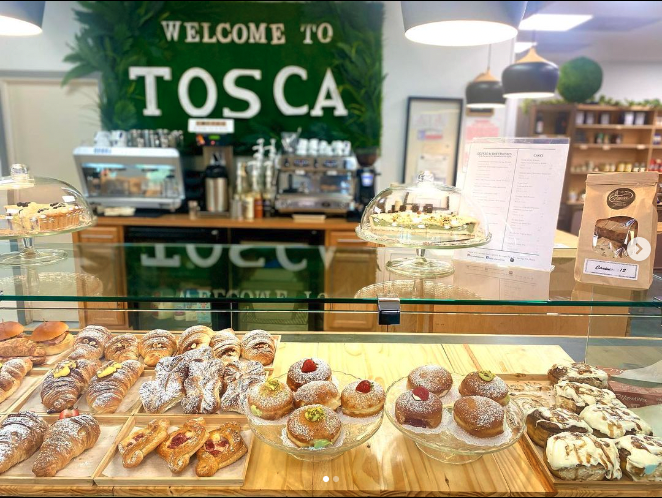 The first Tosca Italian Gourmet opened in The Woodlands in January 2022. A second location in Cypress is slated to open in the spring. Pine Market will be the restaurant's third location.
"We have many customers who live outside The Woodlands and who travel a long way to visit us," said Romina Marchisio, store manager for Tosca Italina Gourmet. "So we decided to meet their requests."
Tosca Italian Gourmet is a locally-owned bakery founded by the Schiavo family who wanted to bring Italian food culture to an area where they felt it was not easy to find authentic Italian cuisine.
The name Tosca is a callback to the landscape, wine, and traditions of Tuscany. Tuscan products are not the only items on the menu.
"The menu of Tosca Italian Gourmet is based on traditional Italian recipes," Marchisio said. "Italian food culture is very diversified and made of thousands of different combinations of the same ingredients depending on regions and local traditions."
Customers will find an array of menu items, including pastries, breads, salads, sandwiches, pizzas, coffee, cakes, gelato and specialty items. Take-home family meals will also be available.
Pine Market is located at 791 Fish Creek Thoroughfare in Montgomery. The 40,000-acre retail center is anchored by Harvest Market and features 30 businesses, including Sugar Sugar, Wister's Bar & Grill, Wo Sushi Fusion, Clean Juice, Grab N Go Tacos and Kustom Kart Pros. More businesses are slated to open this year, including Bespoke Cigar Lounge and Echoed Arts.
Homes in Woodforest are priced from the $300,000s to more than $1 million. Learn more at www.woodforesttx.com. For details on Pine Market, visit www.pinemarkettx.com.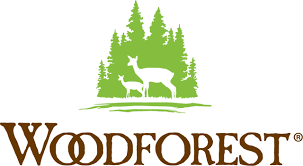 Woodforest, a project of Johnson Development Corp., is a 3,000-acre master-planned community surrounding Woodforest Golf Club, one of the top-ranked private golf courses in the Houston area. The development offers a broad array of housing choices and prices — luxury homes, patio, townhomes, and custom homes priced from the $300,000s to more than $1 million — targeted to lifestyle-oriented buyers. Woodforest is slated for more than 5,000 homes and a full complement of amenities, retail and commercial properties. One of the nation's top-selling master-planned communities, Woodforest is five miles north of The Woodlands and six miles south of Conroe. Convenient access just seven miles west of Interstate 45 is provided by Fish Creek Thoroughfare, a major north/south thoroughfare connecting Conroe in Montgomery County and Tomball in Harris County. For more information, visit www.woodforesttx.com or call 936.447.2800.
Johnson Development is a nationally recognized, award-winning residential and commercial land development company. Now celebrating 48 years, the company has set the standard for successful master-planned communities in Houston, Atlanta, Austin, Dallas-Fort Worth and other markets around the country. Johnson Development's impressive collection includes the Houston-area communities of Riverstone, Sienna, Woodforest, Cross Creek Ranch, Grand Central Park, Veranda, Harvest Green, Imperial, Edgewater, Cross Creek West, Jordan Ranch and Tuscan Lakes. The company also is developing Viridian and Trinity Falls in Dallas-Fort Worth, Lake Arrowhead in Atlanta, and Bryson in the Austin-area. An affiliate of Johnson Development — Johnson Development Services — manages development of boutique communities within the Johnson portfolio, including Amira and Candela. For more information on Johnson Development, visit www.johnsondevelopment.com.