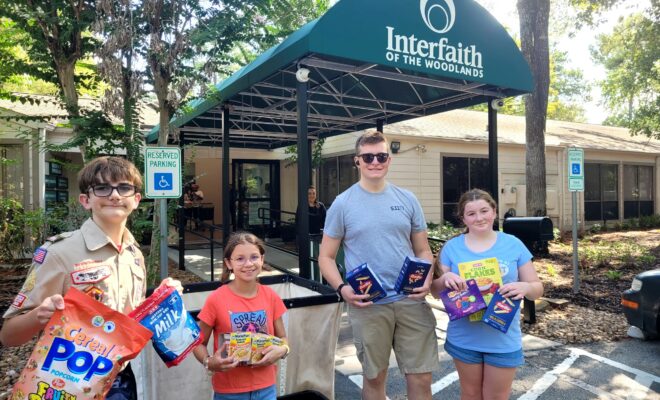 Events
7th Annual 21 Kind Acts Day Honors Grant Milton #21, U.S. Army Specialist Jarrett Kotalik
By |
THE WOODLANDS, TX – Since 2017, Reed Kotalik, an Eagle Scout with Troop 777, has motivated and inspired family, friends, fellow Scouts, and members of our local area to join him in 21 Kind Acts Days on August 3 of each year. That day is significant for Reed as it is the birthday of his friend, Grant Milton.
Grant collapsed during a state football playoff game following a traumatic brain injury in 2016. His jersey was number 21. While he survived, his injuries left him unable to speak and bed/wheelchair bound as a quadriplegic. The life of Grant and his family changed in an instant.
Over the years that have followed, Grant moved between hospitals and rehab facilities. Soon after the tragic event, Reed, his family, and friends would visit him. Reed's most treasured memory of those visits was when he was able to fish with Grant (at a pond behind a rehab center while they shared a pole). Grant's mom, Patty Milton, helped facilitate those visits until she passed away in January 2020.
Reed Kotalik, now 13 years old, was diagnosed with Cerebral Palsy at age five. At the age of eight, Reed published a book, Running with Reed Be a Better Somebody. Two years later, he authored a second book, Challenge Yourself. While Cerebral Palsy affects movement, muscle tone, posture, and Reed's vision, he refuses to let it define him and he uses his influence to inspire others. All he wants to do is help other people overcome their own challenges. Reed is a National Ambassador for the Make LemonAide Foundation for Cerebral Palsy.
August 3, 2017, was the first 21 Kind Acts Day. When Reed wrapped up the first event, he asked everyone to "Do something nice for someone else today and think of my friend, Grant." His message continues to be the same. Each year on August 3, Reed selects 21 beneficiaries based on connections to Grant and Patty. Since the inception of the annual celebration for Grant, 126 nonprofits have benefitted from 21 Kind Acts Days, including food pantries at Interfaith of The Woodlands, and St. Anthony of Padua, Canopy Cancer Survivor Center, Meals on Wheels Montgomery County, local first responders, children in foster care, senior care programs, and school children in the surrounding area.
This year's 21 Kind Acts Day had added meaning with the sudden death of U.S. Army Specialist, Jarrett Kotalik, a member of the troop family, an Eagle Scout, and Reed's brother. Jarrett had a longstanding commitment to the 21 Kind Acts Days. He assisted Reed with the first three 21 Kind Acts Days in 2017, 2018, and 2019. Jarrett also took leave and traveled home from his military base to help prepare for the 2021 event when Reed was finishing his Eagle Project to benefit foster children served by the Rainbow Room.
"Jarrett's unexpected passing on July 10, 2023, has deepened Reed's resolve to indefinitely continue our 21 Kind Acts Days," said Dawn Kotalik. "We believe that his memory will leave on as Reed, our family, and Scouts from Troop 777, Troop 1777, Pack 777, Crew 112, and Ship 777 join to continue this legacy of faithful service."
Due to the generosity of those who attended Jarrett's recent memorial service and the Troop 777 Scouts who have been gathering supplies since mid-July, the 2023 21 Kind Acts Day is the best yet as the event honored both Grant and memorialized Jarrett.
Beneficiaries selected this year were:
Interfaith The Woodlands – Food Pantry and Little Library
Food Pantry at St. Anthony of Padua Catholic Church
Lamar Elementary Little Library
Irons Jr. High Little Library
Canopy Cancer Survivorship Center
Make Lemonaide Foundation for Cerebral Palsy
The Woodlands Fire Department – 3 Stations
Montgomery County Sheriff's Department
Meals on Wheels Montgomery County
Rainbow Room of Montgomery County
Reach One Teach One – provided school supplies to 200 kids in Cleveland ISD
Esprit School Little Library
Helped supply first aid kits for 400 kids backpacks in Conroe and Tomball ISD
Trinity Episcopal Church ministries
McCullough H.S.
The Woodlands H.S. Band
Wreaths Across America
All Ears Listening and Language Center (serving those with hearing impairments)
South County Community Center (helping local senior citizens)
If you are able, please consider donating to the Make Lemonaide Foundation for Cerebral Palsy. Reed serves as their ambassador and this cause was near to Jarrett's heart. www.makelemonaide.org/news/in-memory-of-u-s-army-spc-jarrett-n-kotalik.
Videos from previous 21 Kind Acts Days Grant Milton
21 Acts of Kindness for Grant Milton