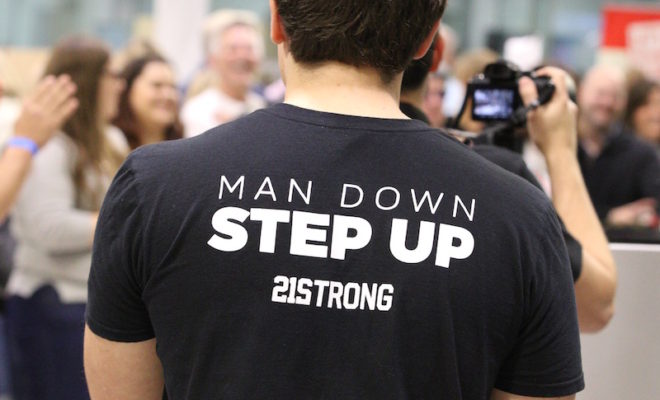 Calendar
NFL Players, Friends, Schoolmates Support 21 Strong Foundation
By |
"A Night of 21 Strong" event took place on Thursday, February 2 at Mercedes-Benz of The Woodlands to raise funds for Grant Milton through the 21 Strong Foundation. Well attended by former and current NFL players, friends and schoolmates of Grant Milton, and members of the community, the event included a cocktail party, silent auction with sports memorabilia, and impromptu live auction of Super Bowl tickets.
Gordy Bunch, Chairman of The Woodlands Township, kicked off the evening of inspiration, hope and support with Bob Milner, co-owner of Mercedes-Benz of The Woodlands, who shared his thanks and importance of the community's support for Grant Milton, the 21 Strong Foundation, and our local players and students.
Read more about the MBOTW Supports #21 Campaign for Grant Milton
Grant Farley, a senior at The Woodlands High School and founder of the 21 Strong Foundation, shared with the crowd his inspiration to start the foundation. 21 Strong Foundation was founded to directly benefit local high school football player Grant Milton and has expended its mission to provide support and resources to student athletes throughout Texas that have suffered catastrophic in-game injuries. Local high school senior Grant Milton suffered a brain hemorrhage during a playoff game in Waco, Texas on November 26, 2016.
Guest speaker retired NFL Detroit Lions player Reggie Brown shared his story including football career, injuries, recovery, and life after football. Brown shared an inspiring message that, "Miracles do happen. It might take a miracle to get Grant back on his feet, back at normal daily life, but they do happen. Just like they told me I had a 2% chance of surviving, less than 1% chance of walking again, but I am standing before you now."
A live musical performance by two-time Grammy nominee Tauren Wells wowed the crowd, got attendees dancing, and ended the evening on a high note.
View more photos and videos from A Night of 21 Strong on the Hello Woodlands Facebook page!
To learn more about 21 Strong Foundation and how to show your support, visit 21StrongFoundation.org.