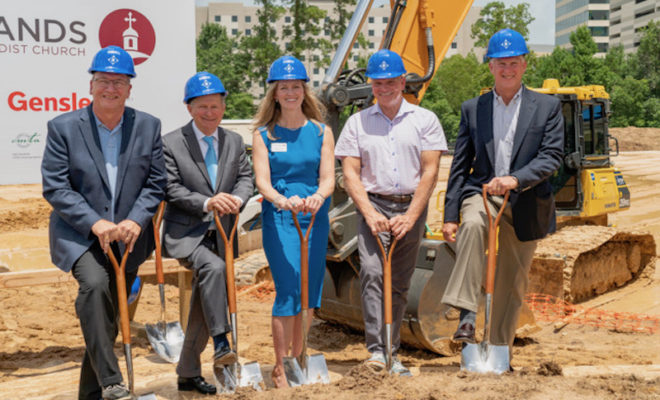 News
The Woodlands UMC Breaks Ground on REACH Project
By |
THE WOODLANDS, TX – The Woodlands United Methodist Church (The Woodlands UMC) celebrated the beginning of construction for their REACH Capital Campaign with a groundbreaking ceremony on July 15, 2018.  The congregation met with pastors and dignitaries on the grounds of the church following the 11:00 a.m. church services to join together in a service of celebration and prayer. After a welcome and opening prayer, Rep. Kevin Brady joined the ceremony and shared a few words with those in attendance. Dr. Edmund Robb III, pastor of The Woodlands UMC, led the readings as pastors and staff of the church turned spades of dirt to signify the beginning of the building project.
The Woodlands UMC is celebrating their 40th anniversary as a church family so building and expanding the facilities seems to be a meaningful way to mark this historic accomplishment. All through the history of the church, the membership has made it a priority to add the space necessary to accommodate their growing and thriving membership. As a large church that is involved in the life of the community, they recently found themselves once again in need of more space for children's facilities as well as additional space for meetings and activities.
Through the REACH Campaign the church raised $30,000,000 with a plan to alleviate space concerns and provide the church the needed facilities to keep up with the growing demands of a vibrant congregation and community. Additionally, the church will be building a multi-use worship facility for the campus they have established in the Woodforest area, The Church at Woodforest. Missions outreach is another important aspect of the REACH campaign with a portion of the money raised being donated towards specific mission projects around the world.
Celebrating the REACH Groundbreaking was just the first step in a longer process of moving dirt, pouring concrete, raising walls and finally, welcoming families, visitors and the community to the new facilities.