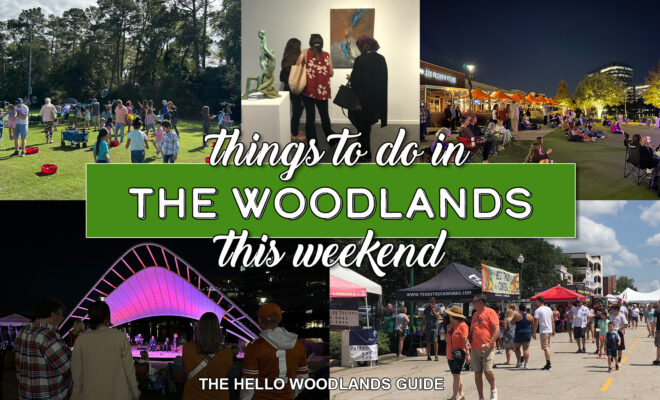 entertainment
Things to Do in The Woodlands Area This Weekend, March 17-19
By |
Looking for something to do in The Woodlands area this weekend? Hello Woodlands has you covered! Here's a list of things to do the weekend of March 17-19, including St. Patrick's Day activities, the Greater Conroe Arts Festival, a Spring Boutique, and more!
Friday, March 17, 2023
St. Patrick's Day Activities
Find local ways to celebrate here: www.hellowoodlands.com/local-st-patricks-day-events-2023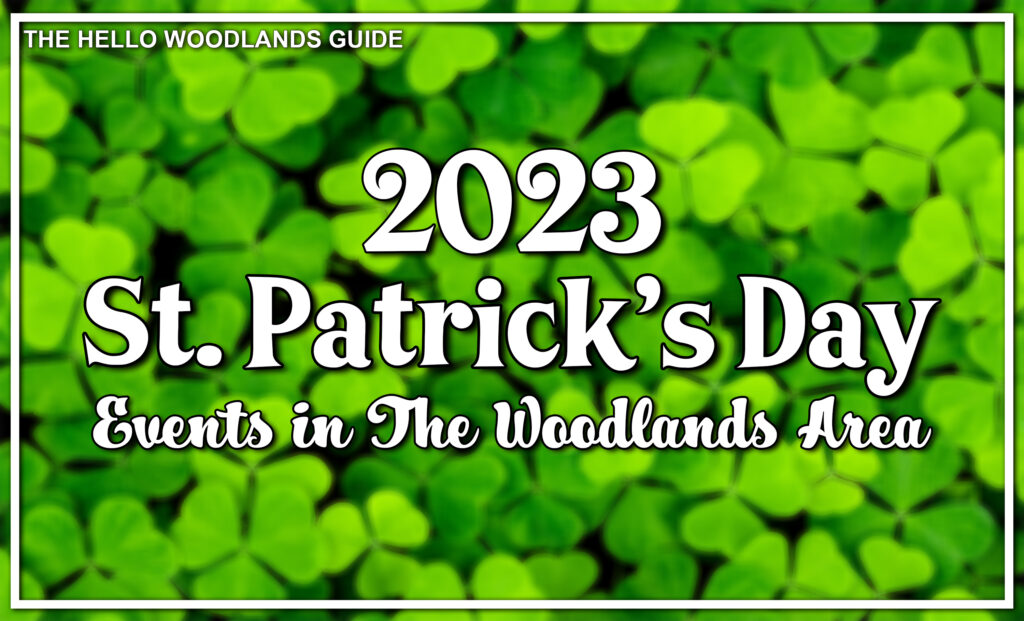 Spring Break Activities
Finish up Break Spring Break this weekend with fun, family-friendly events! Find out what's happening in The Woodlands here: www.hellowoodlands.com/local-spring-break-activities-2023
Jurassic Quest (March 17-19)
Jurassic Quest is the world's largest, most popular dino event with unique and exciting experiences for the whole family. Observe the herd of life-sized animatronic dinosaurs including Apatosaurus, Spinosaurus, T-Rex and an incredible 50-ft long Megalodon! Jurassic Quest will be at the Lone Star Convention Center Friday 9 am – 8 pm, Saturday 9 am – 8 pm, and Sunday 9 am – 5 pm. Learn More
Wisconsin Lutheran College Choirs Sacred Concert Program
The Wisconsin Lutheran Choir and Chamber Choir of Wisconsin Lutheran College, under the direction of Dr. James A. Nowack, will perform a free concert at Good Shepherd Lutheran Church (9191 Cochran's Crossing Drive) at 7:00 p.m. The performance is part of the choirs' 2023 Texas Concert Tour. Learn More
Saturday, March 18, 2023
Scuderia Exotic Car Show
Come out to enjoy the Scuderia Exotic Car Show at Market Street on the third Saturday of every month from 8:00 a.m – 11:00 a.m. Learn More
Spring Boutique
Do you need some new spring décor or Easter gifts? Stop by Wesley Hall in The Woodlands Methodist Church Saturday, March 18 and Sunday, 19 from 9 a.m. – 1:30 p.m. and purchase beautiful items created by The Woodlands Methodist Church Craft Circle for their Spring Boutique. All proceeds support our missions partners serving around the world. Learn More
Introduction to Wilderness First Aid
Introduction to Wilderness First Aid is a free presentation that will contrast the differences between Urban First Aid and the First Aid required when definitive care is more than 30-minutes away because of severe weather or remote location. *Note: This is not a certification course. The course is held from 9 to 11 a.m. at the Rob Fleming Recreation Center. Ages 14+. Learn More
Park Watch – Alden Bridge
Park Watch is an event designed to create a proactive community effort to resolve resident issues, concerns, criminal activity, and to deter future crimes in the park and the surrounding areas of the neighborhood. The Alden Bridge Park Watch will be held at Bluff Creek Park from 10 am to noon. Learn More
Greater Conroe Arts Festival
Hosted by the members of the Greater Conroe Arts Alliance, the Greater Conroe Arts Festival is a FREE and fun event for the whole family featuring a kids art village, live music, art demos, plein air painters, street chalk artists, fine art vendors, food trucks, Main Street market vendors, a Lego build along, and so much more! The festival will take place at Founder's Plaza in Conroe from 10:00 a.m. to 4:00 p.m. Learn more at GreaterConroeArtsAlliance.com or visit the Facebook page here.
Soggy Doggy Swim Day
Calling all dog lovers! Bring your dog for a splash in the pond, doggy crafts, trick competitions, and fetching games! All pets must be on a least while not swimming and up-to-date on shots. Pre-registration required. Fee: $10 per dog; $5 each additional dog. Soggy Doggy Swim Day is at Creekwood Park from 10 am to noon. Learn More
Art & Lit
Join Village Books on Saturday, March 18 at 2 pm for Art & Lit! Your little artists will create artwork inspired by the book "The Dot!" Learn more by stopping by Village Books located at 9955 Woodlands Parkway Suite F, calling (281) 771-8462, or visit myvillagebooks.com.
Waterway Nights
Enjoy live music by local and regional performers in the picturesque setting of Waterway Square at Waterway Nights from 6:30 – 8:30 pm. Taking place in the spring and summer, Waterway Nights makes for an eventful night out in The Woodlands Town Center. Coolers, picnic baskets, blankets and lawn chairs are permitted. Glass is prohibited. All entertainment is weather-dependent and subject to change. Learn More
Sunday, March 19, 2023
Fly Casting Group Lesson
This class will cover basic casting fundamentals and provide a groundwork for understanding fly rods and reels, basic types, and other components of fly fishing. The Fly Casting Group Lesson is held at Rob Fleming Park Pond on March 19 from 1 to 4 pm. Ages 14+. Learn More
Camp Fair 2023
The annual Camp Fair event at The Woodlands Mall from 12 to 4 p.m. is free and allows parents & guardians speak to reps from all different kinds of camps (day, overnight, academic, sports, arts, adventure, and more) to find out which one is right for your kids. Specials and discounts available from select camps. Music, activities & giveaways! RSVP to enter giveaways. Learn More
Concert in the Park
Concert in the Park is a free family tradition of music and fun for all ages held at Northshore Park from 5:30 - 7:30 p.m. Coolers, picnic baskets, blankets and lawn chairs are permitted. Learn More
Check back on Hello Woodlands' Calendar Page and the monthly 31 Things to Do list for more events as they come up!
Have an event coming up or want to highlight your business? You can sponsor one of these popular weekend guides! By sponsoring a guide, your company name (organization or event) and logo will be included on the featured photo of the article published on the Hello Woodlands website. Your company name will also be included within the article along with a paragraph sharing more about your business with your logo and a link to your website. Email info@hellowoodlands.com for more information.