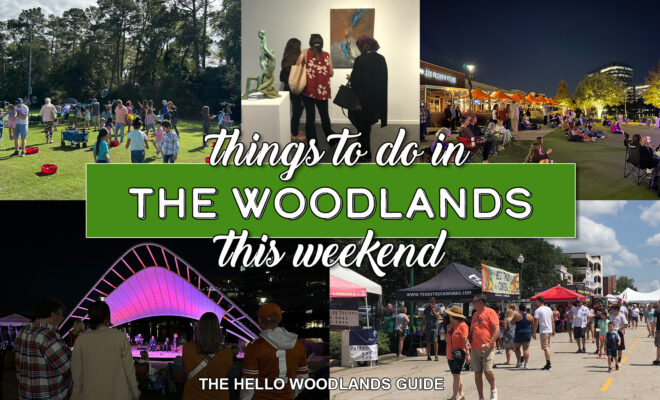 entertainment
Things to Do in The Woodlands Area This Weekend, March 3-5
By |
Looking for something to do in The Woodlands area this weekend? Hello Woodlands has you covered! Here's a list of things to do the weekend of March 3-5, including the Montgomery County Home & Outdoor Living Show, a family BINGO night, a starlight swan boat ride, and more!
Friday, March 3, 2023
Starlight Swan Rides
Enjoy a spectacular Friday evening on the upper level of The Woodlands Waterway! Cruise in the comfort of a swan pedal boat while you take in the sights and sounds of nighttime on The Waterway. The Starlight Swan Rides begin after sunset, departing from Riva Row Boat House. Pre-registration required. Swan boats fit up to four people; adults must be present. Learn More
Family BINGO Night
Bring your family and friends to this fun-filled monthly BINGO night, held from 6:30 - 8:30 p.m. at The Recreation Center at Rob Fleming Park. Prizes awarded for a good BINGO! Pre-registration required. Fee: $5 per person. Learn More
Live on the Lawn
Enjoy live music on the lawn at Central Park in Market Street with Sarah Kelly Music School from 6:30 – 8:00 p.m. on Friday nights. Blankets and lawn chairs welcome. Learn More
United Way Women Who Rock Luncheon
Pull out your leather jackets and ripped jeans and get ready to rock with United Way Women Who Rock! United Way Women Who Rock salutes extraordinary young parents in our community and empowers them to continue their education through the Women Who Rock Child Care Scholarship, which underwrites child care and resources for deserving young parents who are committed to pursuing post-secondary education. The luncheon is held at The Woodlands Waterway Marriott Hotel & Convention Center from 11:30 am to 1:30 pm. Learn More
Saturday, March 4, 2023
Montgomery County Home & Outdoor Living Show (March 4-5)
The Montgomery County Home and Outdoor Living Show helps you to find home goods, seasonal decor, artisan furniture, products and the right professionals for any type of home improvement or DIY project you have, all under one roof on Saturday, March 4 and Sunday, March 5 at the Lone Star Convention & Expo Center. The Montgomery County Home and Outdoor Living Show is the only event of its kind in the Montgomery County area encompassing featuring special guest appearances and over 100 exhibitors with the latest in-home products and services on the market. Learn More
The Woodlands Marathon, Half Marathon & 10k
Cheer on runners at The Woodlands Marathon, Half Marathon & 10k! The races begin at Town Green Park/Lake Robbins Drive at staggered times. Friends, family and spectators line the streets at various cheer zones to encourage runners along. Participants will have the opportunity to run for charities in The Woodlands Charity Challenge. Learn More. Get information on the traffic impact here: www.hellowoodlands.com/traffic-impact-for-the-woodlands-marathon-saturday-march-4.
Miles for Meals 5K/10K Walk Run
The 7th Annual Miles for Meals 5K/10K Walk Run, "Run to E-Race the Waitlist," will be held at B-52 Brewery in Conroe beginning at 9:00 am with a family-friendly after party. The fundraiser allows family members, friends, and community partners to better the lives of Homebound Seniors by supporting Meals on Wheels Montgomery County, whose mission is to deliver nutritious meals, provide transportation, and caring connections to local homebound seniors. Learn More
The Lone Star Jeep Invasion (March 4-5)
Come meet and purchase from many of your favorite merchandisers focusing solely on Jeeps of all varieties at the Lone Star Jeep Invasion held at the Montgomery County Fairgrounds. Vendors will have merchandise available for sale and order, not just products for display. Learn More
Holi Festival
The Holi Festival, presented by The Hindu Temple of The Woodlands, will feature live music, dancing, food booths, and the beautiful Holi Color Run! The event will be held from 11:00 a.m. to 3:00 p.m. Learn More
Craft Beverage Fest
The 2023 Craft Beverage Fest features breweries, distilleries, live music, and the St. Vincent Blessing of the wines. The event will be held at Heritage Place, 500 Collins St, Conroe, TX 77301 from 11:00 a.m. to 7:00 p.m. Learn More
CASA Speaks 4 Kids Gala
The 2023 CASA Speaks 4 Kids Gala will be held at Margaritaville Lake Resort – Lake Conroe starting at 6:00 p.m. This year's theme is "Pretty in Pink." Come in Pretty in Pink attire and enjoy an unforgettable after party that will transport you to the 80's with live entertainment by The Spazmatics! Learn More
Sunday, March 5, 2023
Cars & Coffee for a Cause
Come check out amazing vehicles at Market Street on the first Sunday of the month from 6:30 – 10:00 a.m., organized by The Woodlands Car Club. Learn More
Concert in the Park
Concert in the Park is a free family tradition of music and fun for all ages held at Northshore Park from 5:30 - 7:30 pm. Coolers, picnic baskets, blankets and lawn chairs are permitted. Learn More
St. Patrick's Day is coming up! Find local ways to celebrate here: www.hellowoodlands.com/local-st-patricks-day-events-2023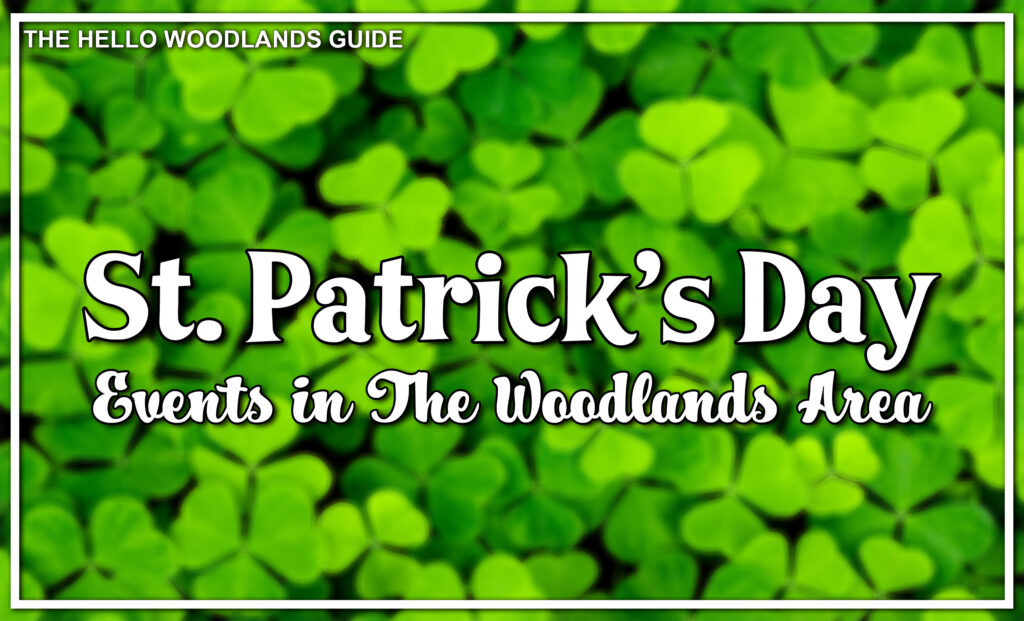 Check back on Hello Woodlands' Calendar Page and the monthly 31 Things to Do list for more events as they come up!
Have an event coming up or want to highlight your business? You can sponsor one of these popular weekend guides! By sponsoring a guide, your company name (organization or event) and logo will be included on the featured photo of the article published on the Hello Woodlands website. Your company name will also be included within the article along with a paragraph sharing more about your business with your logo and a link to your website. Email info@hellowoodlands.com for more information.