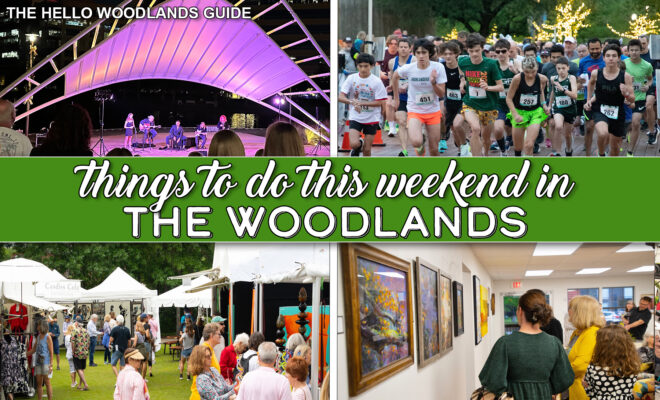 Art & Culture
Things to Do in The Woodlands Area This Weekend, Oct. 6-8
By |
Discover things to do in The Woodlands area this weekend, October 6-8, including the Memorial Hermann 10 for Texas race, Trinity Episcopal Church's Blessing of the Animals, concerts at The Cynthia Woods Mitchell Pavilion, Creekside Park West Fall Festival, Starlight Swan Rides, the Montgomery Quilt Walk, Grand Central Park's Sip & Shop, Artist Reception at The Woodlands Arts Council, Community Assistance Center's Duck Race, Meals on Wheels of Montgomery County's Great Pumpkin Shoot, and more!
Friday, October 6, 2023
Kendra Gives Back Event benefitting Canopy Cancer Survivorship Center
On October 6 from 4:00 – 6:00pm, Kendra Scott at Market Street will donate 20% of your purchase to Canopy Cancer Survivorship Center at the Kendra Gives Back Event, or shop online October 6-7 using the code GIVEBACK-EQTCQ at checkout.
Canopy is a cancer survivorship center on the campus of Memorial Hermann The Woodlands Medical Center. Canopy is open to men and women, no matter where you were treated, and for any kind of cancer. If your life has been impacted, whether you were the patient or the caregiver, you have a safe haven at Canopy. There are many more events throughout October, so check out the calendar and learn how to join here.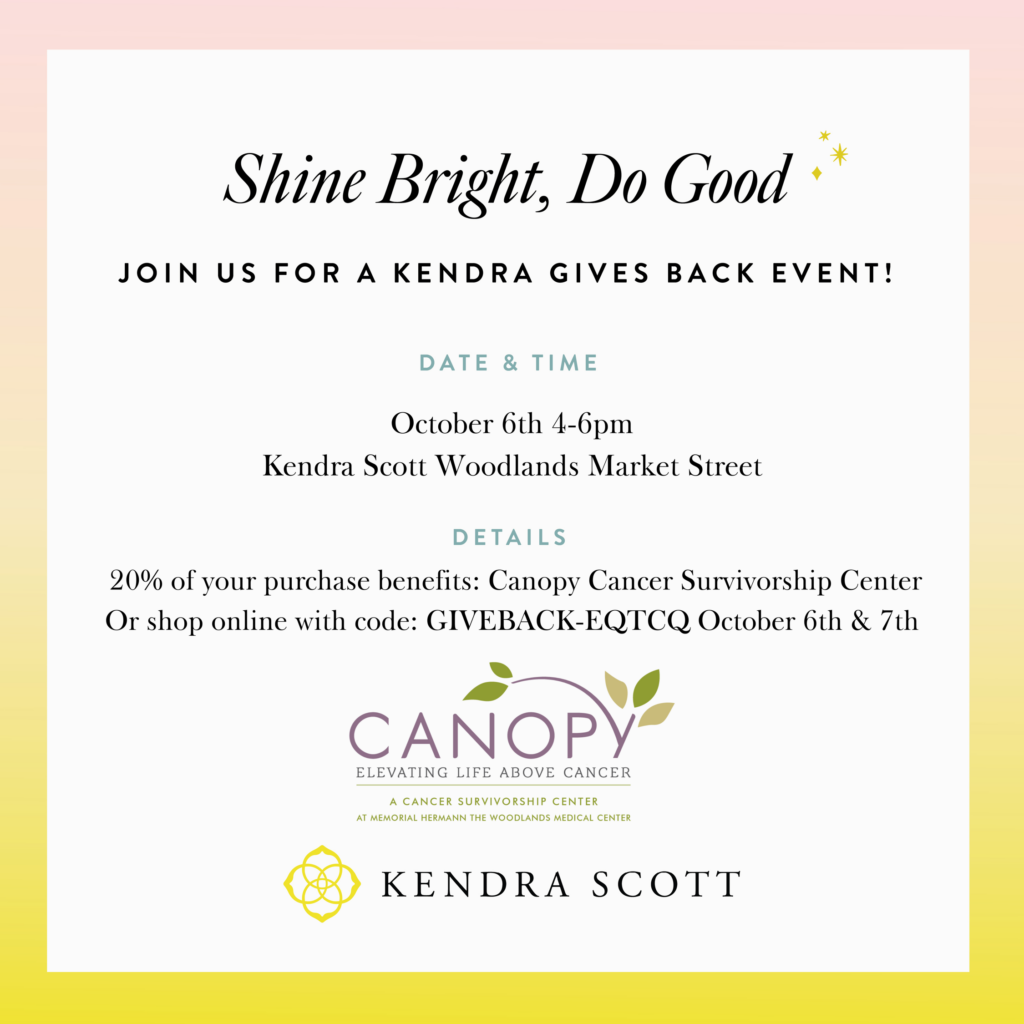 YMCA Run Thru the Woods Tickets on Sale
Tickets are on sale now for the 34th Annual YMCA Run Thru the Woods Presented by Huntsman on Thanksgiving Morning, Thursday, November 23, 2023! First race starts at 7:30 a.m. Start/Finish Line located in front of The Cynthia Woods Mitchell Pavilion at 2005 Lake Robbins, The Woodlands, TX 77380. Register Here
The Great Pumpkin Shoot
Meals on Wheels of Montgomery County invites you to come out for a fun day of shooting clays, breakfast, lunch, raffles, adult beverages, and awards for the best and worst shooters at the 8th annual Great Pumpkin Shoot. Meals on Wheels' mission is to foster the independence and dignity of homebound seniors by providing nutritious meals, transportation and caring connections. The event will begin at 9:00am at Able's Gun Club, 357 FM 1791, Huntsville, TX 77320. Learn More
Instrument Petting Zoo
Join the Mitchell Library for an interactive, hands-on musical experience! Children of all ages will be able to see, hold, and play a variety of musical instruments. This is a come and go event from 1:30 – 3:30pm. Patrons will be admitted to the program as capacity allows. The George & Cynthia Woods Mitchell Library is located at 8125 Ashlane Way, The Woodlands, TX 77382. Learn More
Family BINGO Night
Join The Woodlands Township for a fun-filled BINGO night with your family and friends at The Recreation Center at Rob Fleming Park from 6:30 to  8:30pm. Prizes awarded for good bingos. Light refreshments will be available for purchase. Due to the event selling out, pre-registration is highly recommended! Learn More
Starlight Swan Rides
Starlight Swan Rides are a spectacular Friday evening on the Upper Woodlands Waterway. Riva Row Boat House will be open extended hours for this program so that you can take a journey down the lit up waterway on a swan pedal boat from 7:30 – 8:30pm. Learn More
Montgomery Quilt Walk (Oct. 6-7)
Quilts, Quilts, Quilts! There are going to be quilts everywhere in downtown Historic Montgomery TX as well as the historic church located at 309 Pond Street. Known as the Old Methodist Church, it is currently occupied by the Living Savior Lutheran Church which is partnering with the Quilt Walk to make the sanctuary the background to display dozens of amazing quilts! Learn More
Chevelle and Three Days Grace
The Cynthia Woods Mitchell Pavilion presents Chevelle and Three Days Grace live on stage at 7:00 pm. Gates open at 6:15 pm. Learn More
Live on the Lawn
Enjoy live music on the lawn at Central Park in Market Street with Sarah Kelly Music School from 6:30 – 8:00pm on Friday nights. Blankets and lawn chairs welcome. Learn More
Experience ELLE Pop-Up
Join Experience ELLE with Tiffany Lassiegne, Live Worship, The Word, and Prayer on Friday, October 6 at 7pm at HeBrews Coffee The Woodlands! Beverages and food will be available for purchase. Learn More
Saturday, October 7, 2023
Creekside Park West Fall Festival
It's Fall Y'all, let's celebrate at the Creekside Park West Fall Festival and FREE Pumpkin Patch Event! Enjoy a pumpkin patch, live DJ, rock climbing wall, family games, and more! One free pumpkin per family while supplies last. The festival will be held at Creekside Park West, 26543 Kuykendahl Road, The Woodlands, TX 77375 (Next to Cinepolis Luxury Cinemas) from 11:00am – 3:00pm. Learn More
Sip & Shop
Join Grand Central Park for their Sip & Shop event on Saturday, October 7th from 11am to 4pm. There's a little something for everyone and a whole lot of fun to be had at The Lake House during Sip & Shop! More than 100 small business entrepreneurs will be showcasing unique jewelry, boutique clothing, art, gourmet food, furniture, decorations and more. Houston Tap Truck will supply alcohol beverages for purchase so you can sip while you shop. Food trucks will be on hand with yummy treats for purchase. Free parking is available at 336 Marketplace, 227 S. Loop 336 W. Conroe, TX 77304. Stop by and be prepared to shop 'til you drop! Learn More
Bracelet Making Party at Ardest Gallery
Ardest Gallery, a local fine arts gallery curated by Gallery Director Julie Verville, represents nearly 40, top Texas 2D and 3D visual artists. In addition to its core artists, the gallery will host ongoing events such as monthly group art shows, Coffee Talk with an Artist, Art to Lunch in partnership with local restaurants, poetry readings, musical performances, and art classes/workshops for all ages and skill levels. Ardest Gallery is located at at 25200 Grogan's Park Drive, The Woodlands, TX 77380. On Saturday, October 7 from 10:00am to noon the gallery is hosting a Bracelet Making Party with Fern Home & Fashion. Learn More
enJOY Live Bible Study
Join Experience ELLE LIVE and Virtually on Saturday, October 7 at 1 p.m. at HeBrews Coffeehouse – The Woodlands for an enJOY Bible Study led by Tiffany Lassiegne. Learn More
"Threads of Joy" Opening Reception at The Woodlands Arts Council
Artist Ivy Jensen will be at The Woodlands Arts Council for the opening reception of "Threads of Joy." Celebrate her joyful works of art from 1:00 – 3:00pm at The Woodlands Arts Council, 9450 Grogans Mill Rd. Ste. 160, The Woodlands, TX 77380. Learn More
Memorial Hermann 10 for Texas 10-mile race, 3.1 Armadillo Run 5K and One 4 Texas Kids' Fun Run
The Memorial Hermann 10 for Texas 10-mile race, 3.1 Armadillo Run 5K and One 4 Texas Kids' Fun Run begin at 7 a.m. at Northshore Park. The Memorial Hermann 10 for Texas is a USA Track and Field (USATF) sanctioned event with a certified 10-mile course. The race will conclude with a Texas-sized Post Race Party featuring live music, great food, beverages and more! Learn More
Community Assistance Center Duck Race
The 16th Annual CAC Duck Race is a family-friendly community fundraising event benefiting Community Assistance Center (CAC). This year, a new record high of 10,000 rubber ducks will tumble, splash, bob, and slosh down the lazy river at Margaritaville Lake Resort, Lake Conroe, racing to the finish line to win "QUACK"tacular prizes for their adopters! Proceeds from this fun-filled special event will support CAC programs which provide immediate basic needs assistance with food, clothing, utilities, rent/mortgage payments and case management services promoting long term solutions and stability for our Montgomery County neighbors experiencing financial hardships. Learn More
N. Harris/Montgomery County Walk to End Alzheimer's
Across the nation, the Alzheimer's Association Walk to End Alzheimer's is full of flowers, each carried by someone committed to ending this disease. Join other supporters at the N. Harris/Montgomery County Walk to End Alzheimer's. The walk starts at 8:00am at Town Green Park, 2099 Lake Robbins Dr, The Woodlands, TX 77380. Learn More
Montgomery Fall Fest
Enjoy historic downtown Montgomery at the Montgomery Fall Fest featuring live music, vendors, food trucks, and a kids zone with a petting zoo. Montgomery Fall Fest will feature live music from Josh Ward, Jason Allen, The Huser Brothers Band, The Lowdown Drifters, Jason Cassidy and Jeff Canada. The festival begins at 2:00pm at 20100 Eva St, Montgomery, TX 77356. Learn More
Halloween Pickleball Tournament
The Halloween Pickleball Tournament is a friendly pickleball tournament with a Halloween theme from 8:00am - noon at Falconwing Park, 5610 Rush Haven Dr., The Woodlands, TX 77381. All levels welcome and court assignments will be based on skill level. Costumes encouraged! Ages: 18+. Fee: $20 Resident; $25 Non-Resident. Learn More
Spooktacular at Tomball Depot Plaza
Grab the family and your Halloween costumes and join the City of Tomball at Spooktacular to kick off Halloween fun at Tomball Depot Plaza! There will be games, bounce houses, face painters, food, music, and a pumpkin photo booth. Festivities start at 4:00 pm but when dusk approaches the Depot will be filled with witches to watch Hocus Pocus. Bring your chairs, blankets, and snacks. The movie begins at dusk (approximately 7 pm). Learn More
Texas Renaissance Festival (Oct. 7 – Nov. 26)
Since 1974, there has been a magical kingdom about an hour north of the Houston area, where guests can step through the gates and enter an enchanted world filled with kings and queens, knights and nobles, fairies and elves, pirates and peasants, and other fanciful delights. The Texas Renaissance Festival spans 8 weekends from October 7 to November 26, plus Thanksgiving Friday, from 9:00 a.m. – 8:00 p.m. Learn More
Fall Into Fun Fest
Fall Into Fun Fest, presented by North Houston Moms, will feature a bounce house, face painting, rock wall, trackless train, stage entertainers, music, food, and more. The day will bring families and local small businesses together for fall fun while fostering connection in the community. The festival will be held from 10:00am – 2:00pm at Heritage Place, 500 Collins St, Conroe, TX 77301. A portion of all proceeds will go toward Angel Reach. Learn More
Denim & Diamonds Gala benefitting Abundant Harvest
The Denim & Diamonds Gala benefitting Abundant Harvest will be an unforgettable night hosted by emcee Robert Boudwin, formerly known as "Clutch" for the Houston Rockets. Enjoy a dessert dash, live & silent auctions, and dinner prepared by Chef Joe Macri. Don't miss this amazing opportunity to have a blast and make a difference at the same time! You'll be helping veterans with PTSD and hungry families in our community. Dress up in your best denim or cocktail outfit. The gala will be held from 6:00 to 10:00pm at Trinity Episcopal Church​'s Butler Hall, 3901 S. Panther Creek Drive, The Woodlands, TX 77380. Learn More
P-6 Farms Fall Festival (Sept. 30 – Nov. 5)
Capture stunning fall photos amidst picturesque landscapes, savor food and desserts, and treat yourself to adult beverages while you explore the farm's festive offerings. From pumpkin picking to kids' activities to strolling through vibrant flower fields, there's something for everyone to enjoy. P-6 Farms is located at 9963 Poole's Road, Montgomery, Texas 77356. Learn More
TerrorFest: Horror Experience & Convention (Oct. 7-8)
Experience spine-chilling excitement with Conroe's 2nd annual horror convention, TerrorFest! Battle of the Bands, costume contest, selfie stations, escape rooms, haunted house, celebrity signings, gaming goom, special FX workshops, macabre artists, vendors, and more await you at Southern Star Brewing Co., 3525 N Frazier St, Conroe, TX 77303. Learn More
Fall Festival at St. Ignatius of Loyola Catholic Church (Oct. 7-8)
The free fall festival at St. Ignatius of Loyola Catholic Church features food, fun, games, bingo, shopping, a live auction, music, silent auction, raffle, and more. St. Ignatius of Loyola Catholic Church is located at 7810 Cypresswood Dr, Spring, TX 77379. Learn More
Sunday, October 8, 2023
Trinity Episcopal Church's Annual Blessing of the Animals
To help commemorate the Feast Day of St. Francis of Assisi, Trinity Episcopal Church is hosting their annual Blessing of the Animals beginning at 1:30 p.m. in the courtyard with the blessing at 2:00 p.m. Animals of all sizes are invited. Operations Pets Alive will host a small-scale adoption event and The Woodlands Township Dog Walking Watch will be represented as well. Donations of old towels and pet food will be accepted. Learn More
National Night Out Neighborhood Parties
Each year, residents of The Woodlands are asked to lock their doors, turn on outside lights and spend an evening outside with neighbors. Neighbor knowing neighbor is one of the most effective ways to prevent crime. Local law enforcement and The Woodlands Fire Department will briefly visit with residents of many of the neighborhoods that register their parties with the Township. Learn More
Shinedown
The Cynthia Woods Mitchell Pavilion presents Shinedown with Papa Roach and Spiritbox live onstage at 6:50 pm. Gates open at 5:30 pm. Learn More
Plan Ahead: Upcoming Events
Get your pumpkin patch pictures and find the perfect pumpkins this Fall! Find out where to go here: www.hellowoodlands.com/pumpkin-patches-in-the-woodlands-area-2023
Rock the Row (Oct. 5 – Nov. 9)
Experience Hughes Landing on scenic Lake Woodlands with live music Thursday evenings! Rock the Row features local and regional bands playing a variety of favorites from pop and rock to country. Rock the Row is from 7:00 – 9:00pm. Learn more at www.thewoodlands.com/things-to-do/events
Dinner for Justice (Oct. 12)
Join Community Christian Legal Aid on Thursday, October 12 for an extraordinary evening of fine dining and make a difference in the lives of those who desperately need access to free legal assistance. Dinner for Justice, an exclusive dinner celebration and fundraiser for Community Christian Legal Aid, will been held at The Woodlands Country Club starting at 6:00 p.m. Individual tickets to the event are $250.00 and funds raised support our neighbors in getting access to the justice system. The event will also include a live and silent auction. Sponsorships available. Learn More
Pasaporte Hispano – Una Noche Unida (Oct. 12)
Pasaporte Hispano – Una Noche Unida is a casual gala event that welcomes everyone to come and rejoice in the diversity and vibrancy that define our community. Held at the stunning Madera Estates in Conroe, get ready for an evening filled with joy, music, dancing, and delectable cuisine. The purpose of the Montgomery County Hispanic Chamber is to advance the growth, success & prosperity of the Hispanic business community. For more information and to RSVP for upcoming events, visit www.mchchamber.org.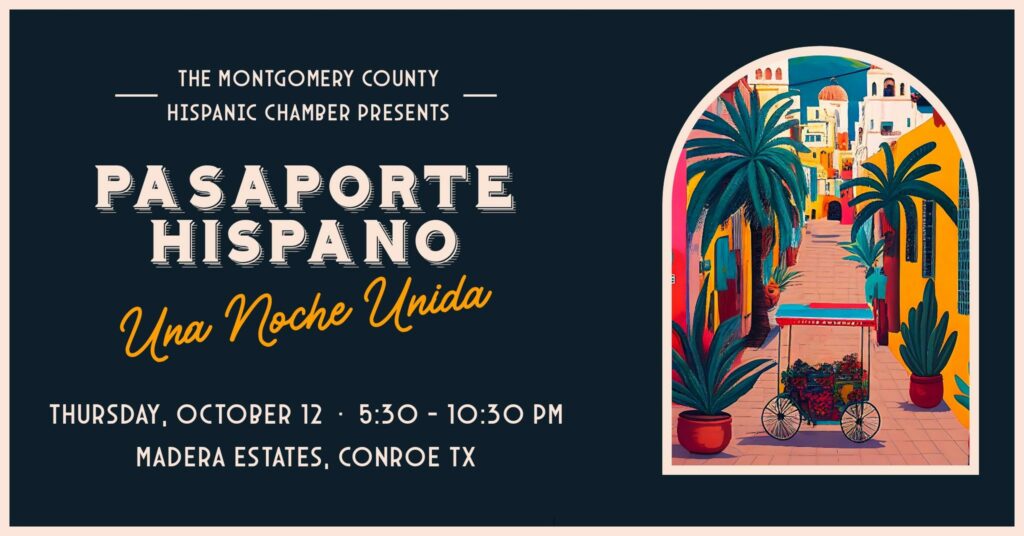 Learning Express The Woodlands Grand Re-Opening Weekend (Oct. 14 & 15)
Get ready for a weekend full of amazing activities including character meet-and-greets, arts and crafts, face-painting, balloon artists, and free treats and giveaways. Learning Express will also be offering 30% OFF of one item during their Grand Re-Opening Weekend! Learning Express The Woodlands is located at 8000 Research Forest Dr, Ste 140, The Woodlands, TX 77382 and open Monday through Saturday 10:00am to 6:00pm and Sunday 10:00am to 5:00pm. Learn More
Hocus Pocus Pops (Oct. 20)
Around here, Hocus Pocus Pops might be an even bigger deal than Halloween itself! There's all the trick-or-treating and kiddos in costumes and ghastly guys and ghouls…plus the haunting Houston Symphony in all its sinister splendor. Expect creepy classics like character pictures, the Halloween Express and, of course, the Goblin Parade to make their return. There will also be some scary surprises in store just for you and your family! Gates open at 6:00pm, Show begins at 7:30pm. Learn More
Marriage and Parenting Conference (Oct. 21)
Marriage Ministry will host a community-wide Marriage and Parenting Conference on Saturday, October 21, from 9:30am to 1:30pm at The Woodlands Methodist Church. Leading local experts will present TED-style mini lectures covering topics such as social media, prepping your kids for dating and more. Cost is $25 per person, and breakfast and lunch are provided. Learn More
Worship In The Park (Oct. 21)
The Miracle City Collective, in partnership with Mobilize Montgomery and dozens of local churches and businesses, are proud to present Worship In The Park, a free night of praise and prayer featuring an awesome collection of worship artists from Montgomery County.
Worship in The Park features a free picnic dinner from 5:00 – 6:00pm, followed by a beautiful evening of praise and prayer from 6:00 – 8:00pm at Heritage Park Amphitheater in historic downtown Conroe. This event has been designed to celebrate all that God is doing in Montgomery County and will also feature a Ministry Fair showcasing local non-profits, a Prayer Wall, and a unique moment where we will be lifting up all of our elected officials and pastors serving here in Montgomery County. Sponsor or make a donation to the event here. Learn more about the event at godblessmoco.com.
Cochran's Crossing Village Association Fall Festival (Oct. 22)
Everyone is welcome to the annual FREE Cochran's Crossing Village Association Fall Festival! Activities include: Strolling Entertainment, Petting Zoo, Face Painters, Cookie Decorating, Candy, Bounce Houses, Rock Wall, Carnival Games, Trackless Train, Fall Photo Ops, Live Performances, Vendors, Crafts, Giveaways, Explore a Fire Truck, Meet Public Safety Officers, and so much more! The fall festival will be held from 1:00-4:00pm at Shadowbend Park, 4995 Lake Woodlands Dr, Spring, TX 77382. Learn More
Agave on the Amalfi (Oct. 26)
Join Sorriso Italian Kitchen for an unforgettable evening at Agave on the Amalfi! Get ready to indulge in a night filled with delicious food, unique tequilas, and great company. Chef Jonathan will prepare a delicious 5-course dinner to pair with tequilas and mezcals! This event will take place on Thursday, October 26, 2023 at Sorriso Italian Kitchen on The Waterway. There are two seatings: 6:00pm and 8:30pm. Learn More
Check back on Hello Woodlands' Calendar Page and the monthly 31 Things to Do list for more events as they come up!
Have an event coming up or want to highlight your business? You can sponsor one of these popular weekend guides! By sponsoring a guide, your company name (organization or event) and logo will be included on the featured photo of the article published on the Hello Woodlands website. Your company name will also be included within the article along with a paragraph sharing more about your business with your logo and a link to your website. Email info@hellowoodlands.com for more information.