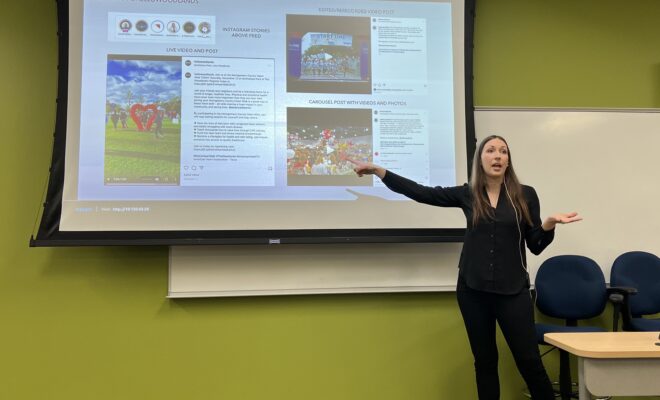 PHOTO BY TIFFANY MARASCIO, HELLO WOODLANDS
Business
Hello Woodlands Founder Presents "Building a Buzzworthy Business with Social Media" Final Seminar in Series
By |
On December 2, 2022, Jennifer Bruse, President and CEO of Hello Woodlands, presented "Building a Buzzworthy Business with Social Media" at the Sam Houston State University Small Business Development Center (SHSU SBDC) – The Woodlands Center, located at 3380 College Park Dr, The Woodlands, TX 77384. The free seminar was specifically geared to small businesses looking to navigate the world of social media. Refreshments were provided by Miguel Lopez of Conganas.
View photos from the event on the Hello Woodlands Facebook page.
This was the final seminar in a series of three. The series included "Digital Marketing Boot Camp," presented on September 16, 2022, and "Storytelling for Business," presented on October 7, 2022. "Building a Buzzworthy Business with Social Media" was designed to be utilized as either a stand-alone class or as part of the series. Registration was at-capacity for all three classes.
"Social media is an important tool, but it can be frustrating and intimidating at first," explained Bruse. "I created these seminars to help small businesses avoid the time and cost of learning on their own. I work with small businesses every day, from Hello Woodlands advertisers to marketing clients. As a small business owner myself, I feel privileged to be a part of a this supportive community. Sharing what I have learned about marketing over the years is one way I can give back."
"Working with the SHSU SBDC has been a wonderful experience," added Bruse. "I look forward to partnering with them in the future on more seminars."
In the class, Bruse discussed ways for small businesses to decide which social media platforms to use. She also focused on best practices in creating a social media content calendar and gave specific examples and ideas to apply to different social media platforms. Additionally, Bruse shared effective strategies for small business owners to promote and market their business using social media to reach their target audience.
Learn more about the trio of free seminars here: www.hellowoodlands.com/hello-woodlands-founder-to-host-series-of-free-small-business-seminars.
All seminars were hosted by the newly-opened SHSU SBDC in The Woodlands, located at 3380 College Park Dr., Suite 101. Learn more about the new SHSU SBDC Woodlands location and about the many programs the SBDC offers small businesses at no cost: www.hellowoodlands.com/shsu-small-business-development-center-no-cost-resources.
Sources: Jennifer Bruse, SHSU SBDC