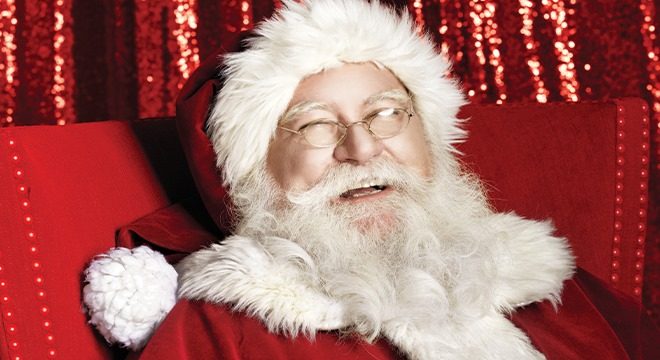 entertainment
Local Christmas Activities
By |
It's time for all things Christmas! Get Santa pictures, build gingerbread houses, go on a flashlight candy cane hunt, kayak for presents, go ice skating, and more! There are plenty of things to do now and over the Christmas break.
December 11-13 – Virtual Jingle Bell Run. Get your jingle on at the MOST FUN & FESTIVE holiday fun-run around – all to battle the #1 cause of disability! Though the Arthritis Foundation's 2020 Jingle Bell Run is going virtual, don't let that stop you from jingling. Join the original festive race for charity from anywhere! Whether you want to run your favorite 5K route, challenge yourself to something new or get moving on your treadmill, you can strut your stuff and feel good about doing good. Every runner will receive an exclusive Jingle Bell Run short sleeve t-shirt, unique medal, and sticker for your water bottle or laptop! Learn more about Community Honorees, Roger & Natalie Goertz, by visiting their team page: https://events.arthritis.org/team/goertz.
December 12, 13, 19 & 20 – Breakfast with Santa. Santa Claus himself returns for a magical morning at The Woodlands Resort! The whole family will enjoy a festive breakfast menu while little ones can visit and take photos with Santa in a safe, contactless holiday setting. Tables will be set with social distancing in mind, and are available both indoors and outdoors. Limited capacity due to restrictions, so make your reservations early! Learn More
December 12 – Santa's Morning Jingle-A Holiday Experience. Santa is making a very special stop at The Woodlands Children's Museum with a few special guests. Gather the family for a sing-a-long toe-tapping live music performance with TCA Touring Children's Musician Joe McDermott. Delight in your children's anticipated visit with Santa, while elves take their photo and place it in a holiday-themed frame. Enjoy a unique snow play area and pose for pictures with Olaf. Be sure to participate in the one of a kind Christmas art projects, in the Muse Art Bar, that are sure to be treasured. Enjoy coffee and hot chocolate bar and special treats from the Candy Bar and a special gift bag from Santa's workshop. As you leave, be sure to get your takeaway breakfast goodies that include warm mini donuts, fresh fruit, yogurt, and juice. Learn More
December 12 – The Toby Powell Conroe Christmas Celebration. The Toby Powell Conroe Christmas Celebration will take place in downtown Conroe, Sat, Dec 12 from 11:00 a.m. – 4:00 p.m. The free holiday festivities include pictures with Santa, two snow slides, trackless train, carousel, petting zoo, live nativity scene, food and craft vendors. All the festivities begin at 11:00 a.m. with The Kiwanis Club Christmas Parade beginning at 1:00 p.m. through downtown. Learn More
December 12 – Winter Wonderland. Enjoy a free family Christmas event including a live nativity with live animals, petting zoo, real snow, a visit from Santa and more fun family activities. The event takes place in the heart of downtown Tomball, across 2920 from HEB, in the same parking lot as The Nook and the VA Clinic at Real Life Texas church. Additional parking available behind the VA Clinic. Learn More
December 12, 17, 18 & 19 – Flashlight Candy Cane Hunt. Come out to Terramont Park for a Flashlight Candy Cane Hunt! Be sure and bring your flashlight and your camera. Ages: 5 and older. Pre registration is required to attend this event. Learn More
December 12 & 13 – It's Snowing at The Butler House. Get ready for two days of fun and snow for everyone! Each seating will be for 2 hours of snow sledding, buffet, crafts, and holiday market. First seating starts at 10:00 a.m. and ends at noon, then staff sanitizes and cleans up. Second seating starts at 1:00 p.m. and ends at 3:00 p.m. Reservations required. Learn More
December 12 & 19 – Tomball's Historic Train Museum Holiday Opening. The Depot museum has been decorated for Christmas with a sleigh full of elves, holiday trains, wreaths, and more. The seven foot tall Lionel Christmas tree is hung with railroad holiday ornaments and has a model train at its base that passes through a landscape of vintage boxed Lionel sets. Learn More
December 13 – Feliz Navi-Dog. Bring your furry friend out to Bear Branch Dog Park for a treat hunt and holiday fun! Pre registration is required and space is limited. Learn More
December 13 – Night of Carols. Join The Woodlands United Methodist Church for a Night of Carols on Sunday, December 13, 2020 from 6:00 – 7:00 p.m. at The Woodlands UMC Fairway. Learn More
December 16 & 19 – Mrs. Claus' Gingerbread House Workshop. Enjoy special family time decorating individual gingerbread houses, while visiting with Mrs. Claus, delighting in Christmas story time and creating and lacing gingerbread men. Learn More
December 17 – Grand Chanukah Celebration and Menorah Lighting. This year's event, celebrating the eighth and final night of the Jewish holiday, kicks off at 5:00 p.m. with a special guest Rogers Park, the country's only Hasidic folk-rock band. The entertaining and award-winning band from Chicago features a blend of folk and rock with a mix of original songs and parodies. Led by Rabbi Mendel Blecher, the lighting of a nine-foot, seven-branched menorah will take place at 5:30 p.m. with additional musical entertainment from Rogers Park following the ceremony until 6:30 pm. Learn More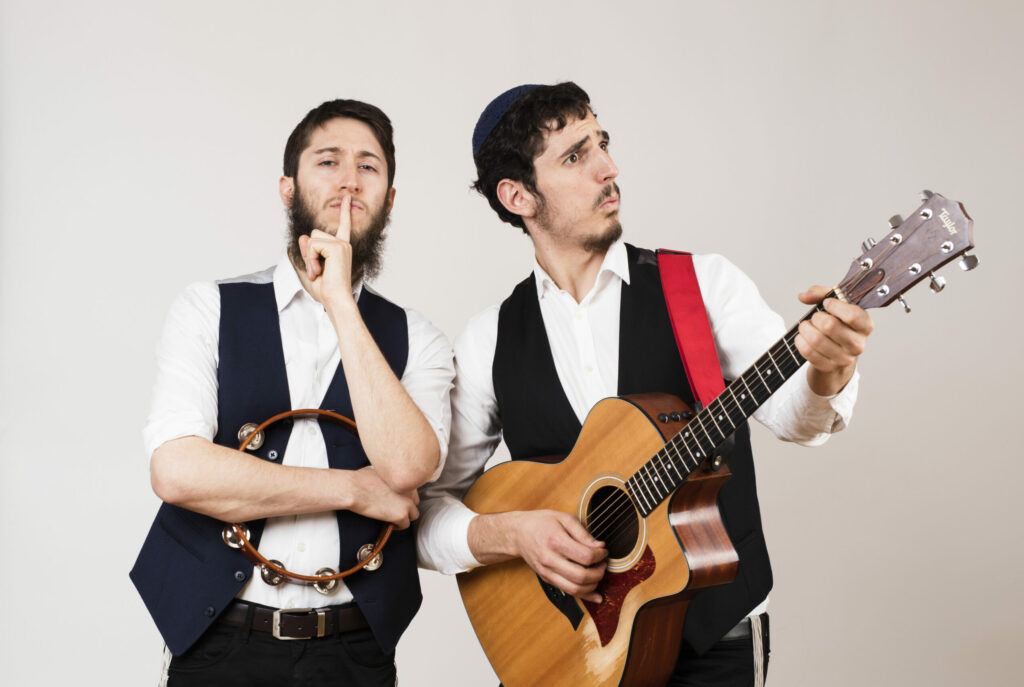 December 18 – Tees the Season Holiday Putt-Putt. Come out to Bear Branch Rec Center for a new holiday tradition – Tees the Season Holiday Putt-Putt! Families will work their way through our holiday decorated putt-putt course. The event will be held under the covered outdoor basketball court pavilion, rain or shine. Make sure to bring your camera for pictures with Santa! Recommended for ages 5 and up. Pre-registration is required and space is limited. Learn More
December 18 – Family Christmas Movie – Experience the funny, heart-warming tale of How the Grinch Stole Christmas at Family Movies on Plaza – Wednesday, December 18 with showtime at 6:00 p.m. The film's reclusive star will be on site for a rare photo opportunity, and admission and popcorn are complimentary. Space is limited. Reservations required. Learn More
December 18 – Let it Snow Family Christmas Event. Join The Church at Woodforest for Let It Snow, a family Christmas event, on Friday, December 18, 2020 from 2:00 p.m. to 5:00 p.m. This outdoor family event brings snow to Woodforest. There will be crafts, Santa, snacks, and snow. The event will be held at The Church at Woodforest at the Woodforest Sports Field located at 700 Fish Creek Thoroughfare, Montgomery, TX 77316. Learn More
December 18, 20 & 27 – Jingle Boats. Don't miss out on your chance to paddle for presents out on Lake Woodlands! This fun family adventure will have you wishing for a kayak under the tree this holiday season. All children must be accompanied by an adult. Regular Riva Row boat house rules apply.Pre-registration is required and space is limited. Learn More
December 19 – Elves & Arrows. Get an introduction to archery with a holiday twist! The first hour will be instruction for beginner archers and the second hour will be archery and holiday games. The program is held at the archery course located at the Recreation Center at Rob Fleming Park. Preregistration is required. Limited spots available. Learn More
December 19 – Gingerbread House Making. Build and decorate a gingerbread house with gum drops, peppermints, frosting and more! Parent participation required. Recommended for ages 5 to 15 years old. Pre-registration is required and space is limited. Learn More
December 19 – Arts in the Park featuring Holiday in The Woodlands. Points North Theatre, in conjunction with The Woodlands Township and The Woodlands Jazz Orchestra, is proud to present Arts in the Park featuring Holiday in The Woodlands, an original 1940s USO-style musical revue. Take a journey back in time with this musical extravaganza – which is free and open to the public – as you enjoy an evening filled with song, dance, live Big Band music, and even authentic commercials from The Greatest Generation. The Woodlands Jazz Orchestra will feature a 45 minute pre-show concert of big band music and swinging Christmas carols beginning at 5:00 p.m. Learn More
December 22 – Rockin' Around the Christmas Tree Concert. The Rockin' Round the Christmas Tree concert, featuring a number of favorite Christmas tunes on the saxophone from the popular David Caceres Band, will take place from 3:00 – 6:00 pm on December 22 at Market Street. Learn More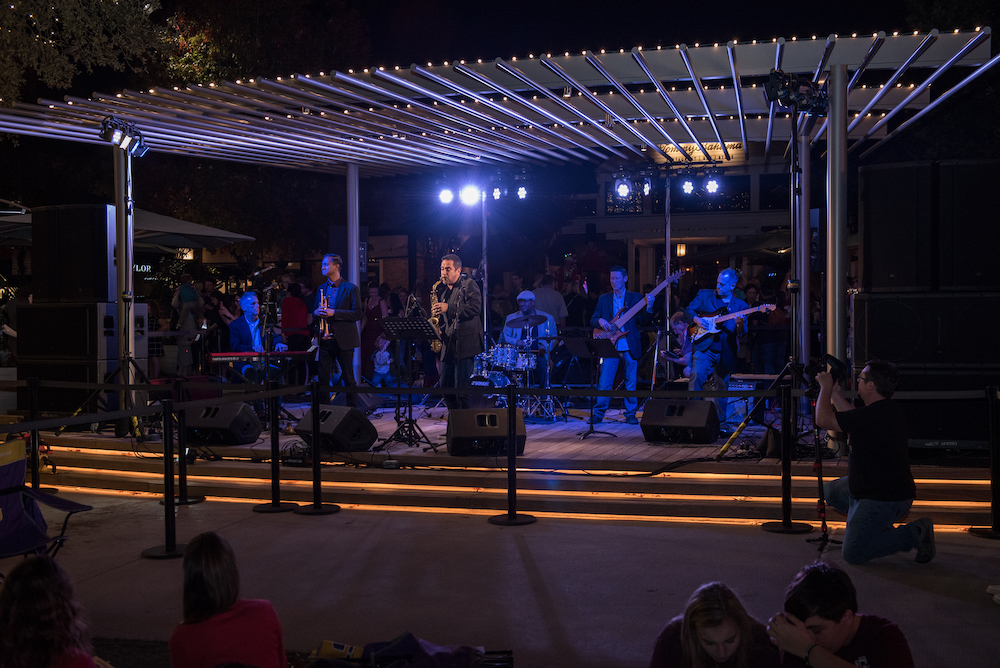 December 23 – Olaf photo opportunity and meet and greet. Olaf, the friendliest snowman in Arendelle, is outgoing and loves all things summer. He is sincere and good-natured and loves being asked to come to The Woodlands Children's museum to visit with all the young visitors and their families. Learn More
December 29 – Le Theatre de Marionette's Peppermint Twist Puppet Show. Be amazed by Le Theatre de Marionette's most popular holiday performance Peppermint Twist featuring a dancing snowman, dancing mice and penguins, a teddy bear that juggles, and, of course, Santa Claus at The Woodlands Children's Museum. Learn More
Events throughout the month of December
Christmas Lights in The Woodlands area. The Woodlands area has some truly impressive and creative Christmas light displays, and several are even coordinated to music. Get in the Christmas spirit by visiting these amazing Christmas light destinations! Learn More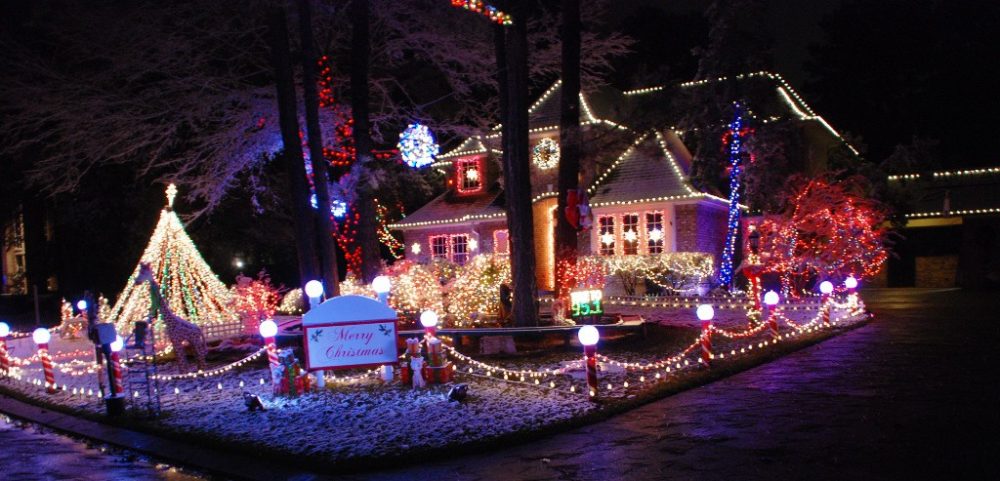 Art Bench Scavenger Hunt. The Woodlands Arts Council has created an Art Bench Scavenger Hunt, where participants can win prizes while experiencing the beauty of The Woodlands and its public art. Enjoy this self-paced, outdoor, family friendly activity while taking in some of the interesting, thought-provoking, and fun art benches around The Woodlands. This socially distanced event encourages art appreciation and engagement. Learn More
Santa Pictures at The Mall. The Woodlands Mall is offering in-person and virtual Santa experiences. Learn More
Santa Pictures at Market Street. Santa Claus is thrilled to be back at Market Street this year in a beautiful Santa's workshop-themed setting located next to Tory Burch. Santa's set is specially designed so that he and his young guests remain at a safe distance. Reservations must be made in advance. Learn More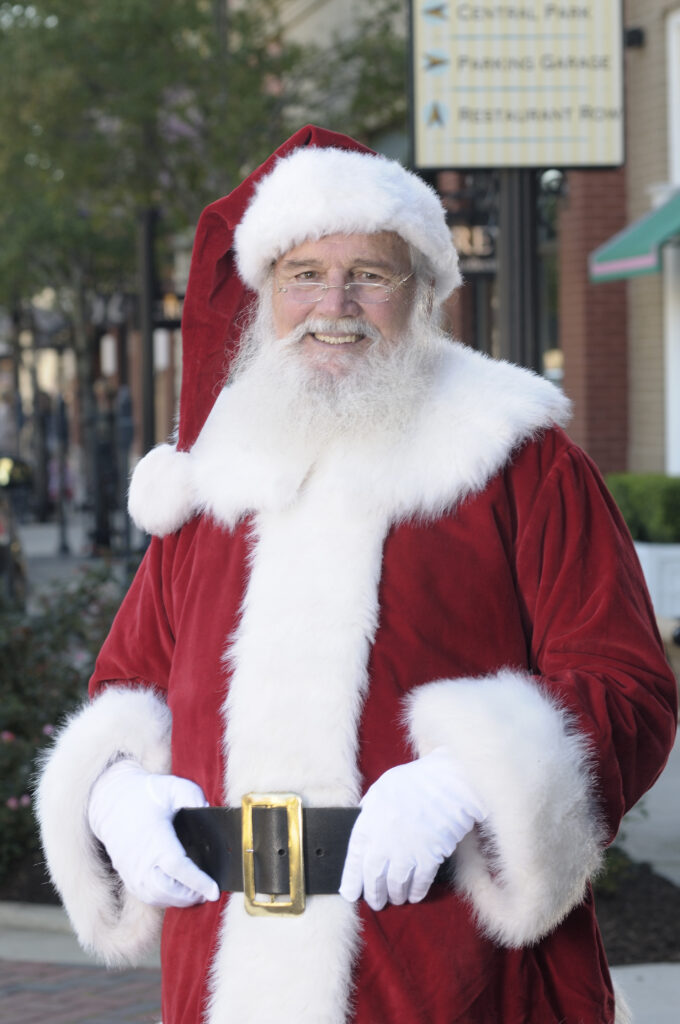 CityPlace Gingerbread Village. A super-sized, fantasy version of the holiday classic, the installation is anticipated to expand each year. From the CityPlace Plaza, guests will wind around a path dotted with oversized candy canes, popsicles, and gumdrops and cross under an entrance guarded by two gingerbread men before arriving at a raised clearing featuring cookie trees, a 16-foot high house and 12-foot windmill. Learn More
Market Street in Lights. Throughout the holiday season, the Christmas tree's synchronized light and musical display will dazzle as it "performs" daily every hour on the hour, beginning at 5:00 p.m. through 9:00 p.m. Learn More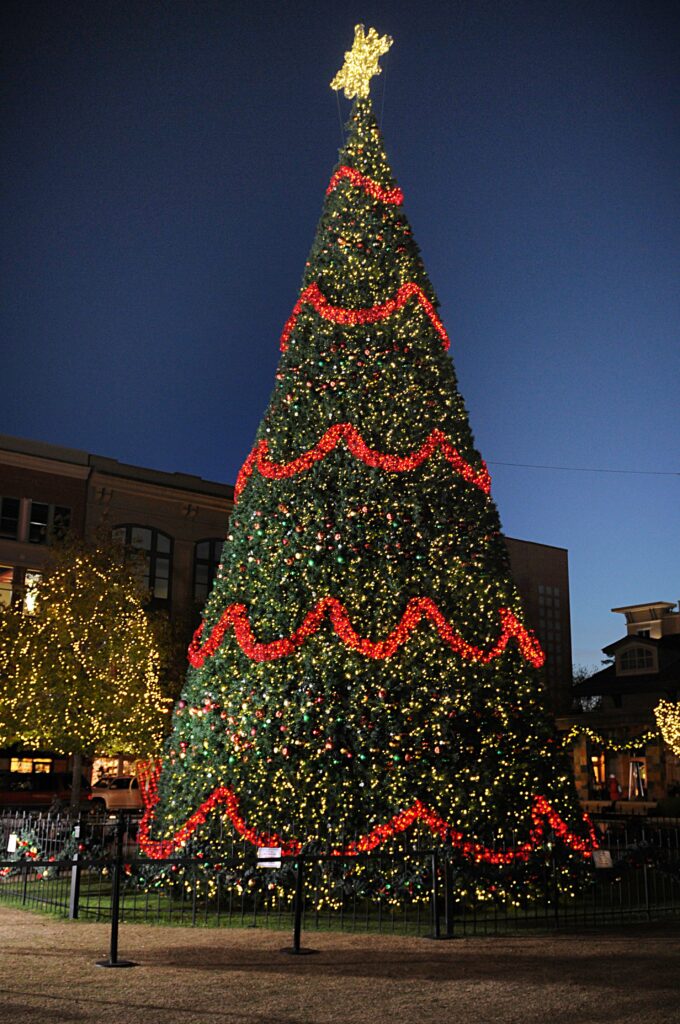 The Grinch's Grotto: Photos with the Grinch. Each party will have a private meet and greet experience with The Grinch with some special surprises at The Woodlands Mall. All groups will receive a holiday photo with The Grinch in front of a perfectly playful Grinch catch phrase to help capture the essence of 2020. With over 12 catch phrases to choose from, you can customize your own Grinch holiday memory. Plus all groups will receive special holiday giveaways. Learn More
Santa Pictures at The Outlets at Conroe – The Outlets at Conroe are offering pictures with Santa until December 24. Learn More
Santa Pictures in Old Town Spring – Head to the quaint setting of Old Town Spring to visit The Santa Express. Santa sits in a huge Chippendale Chair in the beautifully decorated Santa Express house for photographs. All kids get a candy cane after their visit, after telling Santa what they have on their Christmas lists. Letters to Santa are hung on the walls so he won't forget the wishes. Photos are processed on-site and are ready for pick up shortly. Pets are welcome. Learn More
The Ice Rink at The Woodlands Town Center. The facility, located near the north gate entry of The Cynthia Woods Mitchell Pavilion and the intersection of Lake Robbins Drive and Six Pines Drive, features ice skating in a main room with lighting, a state-of-the-art sound system, tables for parties and concessions. Please note Ice Rink operations have been modified to accommodate more stringent cleaning procedures, provide social distancing for guests in accordance with CDC guidelines and comply with local orders regarding building capacity. All visitors will be screened prior to entry and temperature checked. Masks are required for entry, but may be removed when skating. Learn More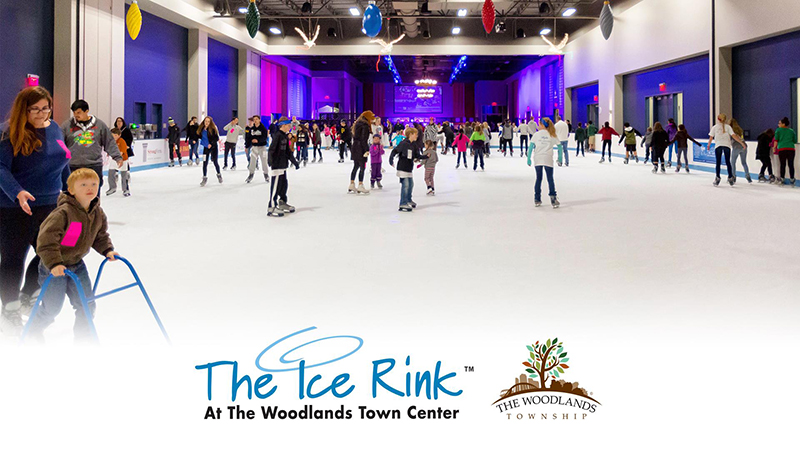 View more events and holiday happenings this December in our 31 Things To Do guide and on the Hello Woodlands Calendar!