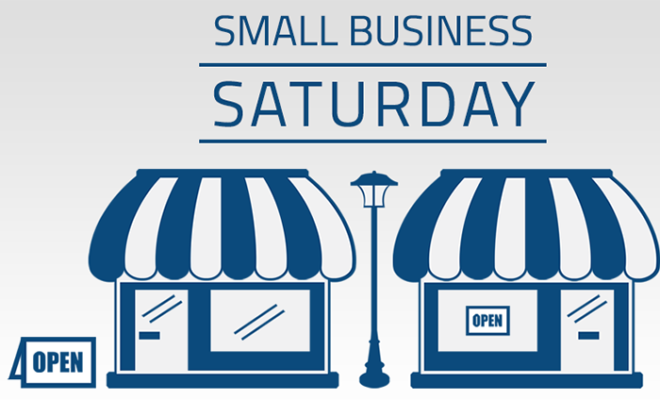 Lifestyle
Local Small Businesses to Support on Small Business Saturday
By |
Saturday, November 24, 2018 is Small Business Saturday! Join us throughout the holiday season by celebrating and supporting small businesses and all they do for our community. The owners are our friends and neighbors, and they give our community its personal identity. Shopping at these small businesses supports our entire local economy.
2nd Avenue Clothing Resale – This boutique is resale clothing store in The Woodlands. The shop accepts and carries clothing in a wide range of sizes, from XS to 2X.
31 Roots – 31 Roots is a modern-vintage inspired boutique offering pieces that are feminine, authentic, classic, affordable, light, and fashion-forward. Available at Tumbleweeds & Notions, local events, and at local trunk shows.
A.S. is Designs – Based in Conroe, A.S. is Designs is a one-of-a-kind home decor and furniture small business that turns reclaimed wood into your new custom treasure. The shop makes everything from the games you play to the table you play them on, and more! They take pride in contributing to a cleaner environment and preservation of history by only using reclaimed wood in all of its products.
ART Gallery 314 – This gallery showcases artwork from local artists in Old Town Spring and hosts painting classes. Art Gallery 314 has art advisors will help you find the perfect pieces of art for your home or business in addition to private showings for collectors that can be scheduled upon request.
The Artwerks – Local artist Melissa Polomsky sells her handmade colorful art, floral fabrics, vibrant decor, and handcrafted jewelry in this shop.
Bits and Bobs – Bits and Bobs gives old things a new story and life by using vintage/antique bits to craft assemblage jewelry and pieces mixed with soldered glass techniques, and a little bit of leather and copper thrown in for good measure.
Blackwood Gun Club – For men and women alike, Blackwood is a place for new and experienced shooters to practice their skills in a fun, safe, and educational environment. Being outdoors, they are able to offer trap shooting, sporting clays, pistol, rifle, and everything in between. The rifle range offers shooting up to 200 yards, and its pro shop houses firearms and accessories from reputable manufacturers. You can even take your Texas CHL class here.
Caffe di Fiore – Purchase a gift card for an experience-based gift, or just come in for a break from shopping. Caffe Di Fiore offers authentic traditional Mexican cuisine with a casual dining atmosphere.
Advertisement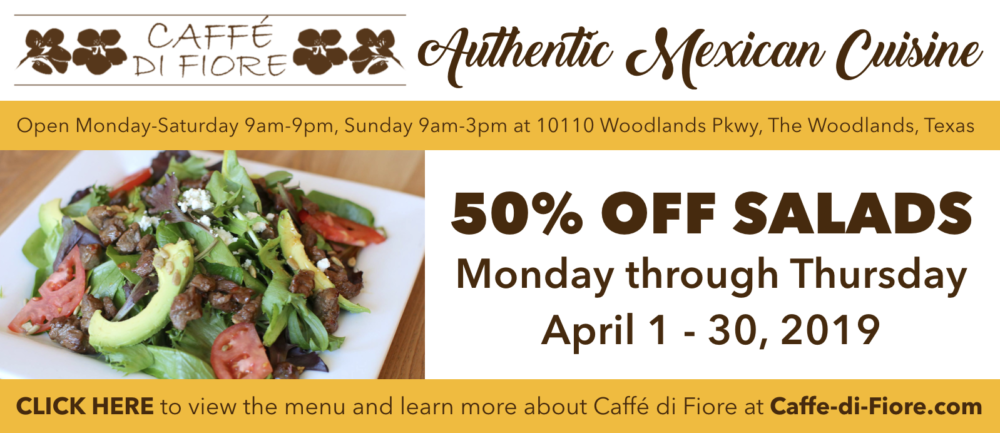 Branding Iron Custom Goods – A shopping option for men, Branding Iron Custom Goods offers leather goods, screen printing, embroidery, and much more.
Brownlee Jewelers – Established in 1932 by the Brownlee Family, Brownlee's is a full service retail jewelry store that offers many valuable services such as: jewelry and watch repair, jewelry design and custom work, appraisals, class rings, engraving, watch batteries installed while you wait and much more.
Danny's Trix & Kix – Danny's Trix & Kix is a year-round costume superstore with holiday costumes, accessories, and more.
Envy Wine Room & Boutique – This premier sip and shop wine bar with boutique is located in historical Old Town Spring.
Fern Fashion & Home – Drawing in her degree in Fashion Merchandising and Design and inspiration from nature, owner Cecille Wright uses natural beads, cording and stones to create jewelry pieces that have character and style.
Glade Gallery – Profiling artistic practices bound against the conventions of figurative art, Glade Gallery highlights the diversity within contemporary art in The Woodlands.
Good Books in the Woods – This bookstore stocks used, out of print, rare, and collectible books. In addition to a brick & mortar store, Good Books in the Woods sells books from its online store. Good Books in The Woods also pays cash for collectible books.
Hot Line Pepper Products – For products with amazing flavor profiles with endless possibilities for cooking and eating, Hot Line Pepper Products has you covered.
Howdowdownson Games – Howdowdownson Games is owned by a local husband and wife team that create games and toys that enhance children's social skills and confidence by connecting them in a world that they enjoy and understand.
Jen Loves Paper – Jen Loves Paper is a stationery boutique with paper goods, invitations, gifts and more. Local Woodlands mom Jennifer McDonald creates one of a kind keepsakes and party gear.
Joann Grace Designs – Joann Grace Designs creates high quality personalized blankets, pillow cases, and towels.
Katz's Deli – This deli is a nice change of pace with its authentic New York cuisine. Take a break from the holiday baking to experience something a little different.
Macaw Confections – Macaw Confections only uses dark premium chocolate, which makes their product dairy free and vegan. Their chocolate is perfect for daily indulgence and ideal for holiday gift giving, corporate gifts, hostess gifts, real estate gifts and teacher gifts. Purchase their products and 3D chocolate ornaments at a local farmers market or on their website.
Mancave Toyz – What started as a woodworking hobby refinishing furniture and building dining tables turned into a business that uses all kinds of wood to create unique items.
Mei Mei's Designs – Mei Mei's Designs Creates one-of-kind outfits perfect for your child's or grandchild's 18″ dolls.
Memory Joy –  Save the memories, get rid of the clutter with this shop's custom and personalized products created to store your memories in a simple & unique way.
Mercy House – For a colorful and charitable way to buy gifts or purchase items for yourself, Mercy House has a wide selection of handmade items perfect for anyone. Mercy House is locally owned and sources fair trade handmade goods from all over the world. In addition, Mercy House offers volunteer opportunities for kids which is an option for a family volunteering experience during the holidays.
New Danville Shop – Shop for a cause at the New Danville store online and its Jazzy Junque resale shop. Each purchase supports New Danville, a self-sustaining, master-planned, integrated community where adults with intellectual and developmental disabilities can live, learn, work, and grow emotionally, socially, and spiritually with their non-disabled peers. The store is run and managed by good-hearted, community volunteers who want to make a difference in Montgomery County.
Pie Town Cafe – Pie Town Cafe creates pies made from scratch, desserts, lunch, bakeware and gifts.
Piney Rose – Piney Rose specializes in wedding and event florals, and prides itself on every detail from the smallest petal to the overall look and design of the venue. The florist delivers flowers locally for special occasions such as birthdays, anniversaries and holidays.
Right Next Door Designs – Right Next Door Designs helps locals fall in love with their homes through beautiful decor & design. In addition to selling home decor items, you can schedule an appointment with Right Next Door Designs for an interior design consultation.
Rockin' Llama Company – This rockin' boutique carries handmade baby and toddler fashion & accessories inspired by grunge music and attitude.
Royal Street – Royal Street is a women's apparel boutique offering a well-edited collection of designer apparel and accessories for women.
Sentry Self Storage – A storage unit is the gift of decluttering your house! This is also a great way to support local other than purchasing physical items.
Seychelles Med & Laser Spa – Seychelles offers a friendly atmosphere while providing the most advanced aesthetic and cosmetic procedures in a comfortable and relaxing setting. The med spa uses the most advanced treatment techniques and equipment to maximize results and to ensure the safety of its clients.
Advertisement
Stick'em Up Baby – Stick'em Up Baby offers handcrafted, unique ways for parents to cherish their children's milestones from pregnancy to graduation. It also offers t-shirts, gifts for moms, ornaments, blankets and more.
Texas Sweet Tees – This adorable shop offers Texas handmade happiness in a tee for every woman that wants southern comfort and style.
View this post on Instagram
The Rancher's Daughter – In addition to the eclectic selection of home accessories and gifts, The Rancher's Daughter is home to over 70 different Texas wineries and represents over 200 different Texas wines calling itself "Texas' Only Texas Only Wine Shop."
The Texas Gypsy – The Texas Gypsy carries homemade bath products using the finest oils, richest butters, and only essential oils in their carefully crafted essential oil blends.
Tumbleweeds & Notions – Nestled in Alden Bridge, this local shop is full of gifts, decor, and whimsy. It also carries many items that can be personalized in partnership with local embroidery business Sam & Lucy.
Twisted Cotton Boutique – Twisted Cotton Boutique is a Texas online boutique with the latest fashion trends and timeless pieces including modern, boho, western, and chic apparel that won't break your budget.
Walking Tots – This family owned children's shoe store in The Woodlands offers almost 50 brands children's footwear for children of all ages in sizes ranging from Toddler 3 to Youth 6. Walking Tots was created out of a need for a local "sit and fit" store that would consult parents on the proper shoe fit for their individual child's needs. Walking Tots offers numerous high quality shoe brands and the company has made giving back to local organizations a priority.
Victory Pie Company – Victory Pie Company takes a portion of all profits from its' fresh handmade artisan pies and supports veterans as well as widows and orphans of veterans, so you can order your pie knowing you are doing good in your community. The local eatery serves made from scratch savory and sweet pies. In addition to pies, the cafe offers a full breakfast and lunch menu.