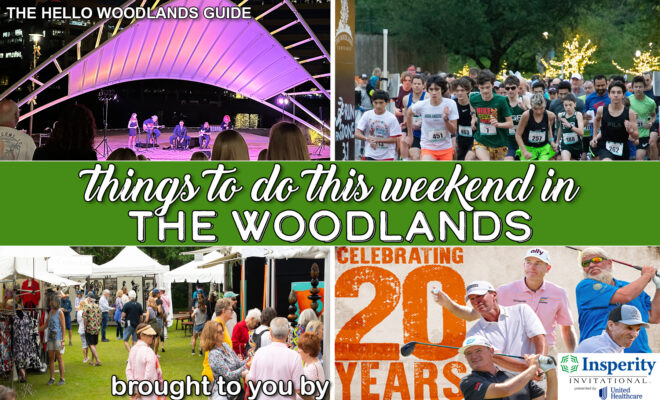 entertainment
Things to Do in The Woodlands Area This Weekend, April 28-30
By |
Looking for something to do in The Woodlands area this weekend? Hello Woodlands has you covered! Find out what's happening the weekend of April 28-30, including the Insperity Invitational, YMCA's Dancing with The Woodlands Stars, New Danville's Spring Thing, HTX Whiskey Weekend, and more! The April 28-30 weekend guide is brought to you by the Insperity Invitational.
Friday, April 28, 2023
Insperity Invitational (Open to Spectators April 26-30)
Celebrating 20 Years of Golf Greats! The Insperity Invitational is an official PGA Tour Champions event held April 24-30 (open to spectators beginning April 26) featuring 78 of the best PGA TOUR Champions players at The Woodlands Country Club Tournament Course. Free admission on Friday, April 28, Saturday, April 29, and Sunday, April 30! Learn more at www.insperityinvitational.com.
Spring Thing
Join New Danville for their premier fundraising event, Spring Thing, at The Woodlands Resort! Enjoy the Market of products made with the assistance of New Danville clients (Wranglers) and an event to honor the Lynne and Steve Charbonneau family for the their commitment to New Danville. The special keynote speaker is Rory Feek, singer, songwriter, storyteller, author…and loving dad to special needs daughter, Indiana. Check the special Spring Bling raffle! Your support inspires New Danville's Vision 2025. The Market will open at 10:30 a.m. and the Lunch and Program will begin at noon. Learn more and purchase tickets today at www.Spring-Thing.org.
YMCA Dancing with The Woodlands Stars
Join The Woodlands Family YMCA for the 8th Annual YMCA Dancing for a CAUSE with The Woodlands Stars at 6 pm at The Woodlands Waterway Marriott! This unique fundraiser is family-friendly and features 13 local leaders and community members as the live dance entertainment. The evening includes a buffet dinner, cash bar, live and silent auction, photo booth, dancing, and much more. Learn More
Art for Healing Exclusive Art Exhibition Kick Off Event
Join us at Seychelles Med & Laser Spa from 10:00 am to 5:00 pm for the Art for Healing Exclusive Art Exhibition Kick Off Event benefiting the PTSD Foundation of America! Enjoy complimentary food and drink and early access to May Specials, meet local artists and veterans, plus raffles and prizes. Proceeds from art sold will benefit the PTSD Foundation of America. Learn More
HTX Whiskey Weekend (April 28-29)
City Place will host the second annual HTX Whiskey Weekend featuring several events, including the Chef's Table, Whiskey 101 w/ Rebecca Creek, A Perfect Pour Light and Refreshing Part 1, A Perfect Pour Stirred and Booze Part 2, A Taste of City Place, and Whiskey Under the Stars. City Place is located at 250 Lake Plaza Drive, Spring, TX. Learn More
Glow in the Park
Have you ever wondered how fun a climb would be at night? Take a family night to new heights at Texas TreeVentures with a 3-hour experience as lights illuminate the course from below offering a totally new perspective! All children (ages 6-12) require an adult (18+) to climb with them one-on-one. Ticket purchase required for all Adult Supervisor climbers. Times are 7-10 pm & 8-11 pm. Ages 6-12 only offered on the earliest time slot of each night. Tickets are $60 per person regardless of age. Learn More
Live on The Lawn
Enjoy live music on the lawn at Central Park in Market Street with Sarah Kelly Music School from 6:30 – 8:00 p.m., on Friday nights. Blankets and lawn chairs welcome. Learn More
Tiffany in Concert at Dosey Doe
Dosey Doe – The Big Barn presents Tiffany live onstage at 8:30 p.m. Doors open at 6:30 p.m. Ticket price includes three course meal. Learn More
Saturday, April 29, 2023
A Night at the Opera Gala
Join The Woodlands Christian Academy for A Night at the Opera! This year's Auction & Gala is chaired by Amy and Tony Torres and will take place at The Woodlands Waterway Marriott. Funds raised from this event will allow Woodlands Christian to equip future leaders – intellectually, creatively, physically and socially for the glory of Jesus Christ. Learn more and purchase tickets at www.bit.ly/TWCAANightattheOpera.
Independent Bookstore Day
Independent Bookstore Day is THIS SATURDAY! April 29th is a full day of discounts, giveaways and events at Village Books! 10:00 a.m. to 11:00 a.m.: 20% off all books INCLUDING sale books that are already 40% off! 11:00 to 11:30 a.m.: The Book End Challenge! Many of you don't know that Oso has a twin! Guess who is who and if you are correct, you will receive 10% off your book purchase! (New books only.) Noon to 5:00 p.m.: The WHEEL OF THE DEAL – spin the famous wheel of the deal for discounts and giveaways! 1:00 p.m.: Author Reading and Art & Lit Project for "The Postcard Project." (Author reading is free, the art project is $10 payable to the artist.)
Village Books is located at 9955 Woodlands Parkway Suite F in The Woodlands. Learn more about Village Books at myvillagebooks.com.
Jazz Fest
Swing over to Grand Central Park for smooth jazz showcasing Houston's most exciting and innovative local artists, including Bayou City Funk and Raquel Cepeda. Complementing the performances will be a Second Line Parade led by the Boomtown Brass Band, a balloon artist, face painters, food trucks, and more. Bring your picnic blankets or lawn chairs and get ready for a good time! Jazz Fest will be held from 1:00 – 4:00 pm at The Lake House. Learn More
Great Texas Birding Classic
The Great Texas Birding Classic is an annual competition held across Texas to determine which team can identify and count the most birds during a specific window of time. This is the biggest birdwatching tournament in the state and The Woodlands Township has registered a team in the 'Big Sit' category. All ages are invited. Learn More
The Woodlands Township's Emergency Preparedness Event
Residents and businesses of The Woodlands are invited to drop in to the annual Emergency Preparedness Event from 10:00 am to noon at The Woodlands Township, 2801 Technology Forest Blvd. At the event, you will learn how to prepare for a hurricane or any emergency, get information and handouts from community organizations and agencies that will help in the event of an emergency, pick up giveaways, handouts, and door prizes, and kids can participate in activities related to preparedness and safety. Learn More
Open Water Swim Day, First Timer's Clinic & Complimentary Race Clinics
Practice for your upcoming triathlon with an Open Water Swim Day, First Timer's Clinic, and Complimentary Race Clinics at Northshore Park. Open Water Swim Day is from 8 to 10 a.m. Walk-up registration welcome. First Timer's Clinic: Race Review & Open Water Swim Practice is from 8 to 10 a.m. This course educates triathletes in the fundamentals of completing sprint-distance triathlons. Participants will learn swim, bike, run, transition techniques, and maps, as well as checklist for race day. Includes Open Water Swim Day. Pre-registration is required. Finish Strong Coaching Pre-Race Meetings take place at 8:30 and 9:30 a.m. Finish Strong Coaching will be offering informative Q&A Sessions during Open Water Swim. Everyone is encouraged to attend a Pre-Race Meeting, especially first-time triathletes. The meetings are not long, focus on safety, and give competitors a chance to ask questions. The meetings will conclude with a brief transition overview including how to properly rack your bike and improve transition times. Learn More
World Tai Chi Day
The 14th Annual World Tai Chi Day in The Woodlands is the longest running World Tai Chi Qigong Day gathering in Southeast Texas. The gathering, hosted by Tai Chi Martial Arts, will be at The Rob Fleming Recreation Center, 6464 Creekside Forest Drive, The Woodlands, TX from 9:00 a.m. to noon. The public is invited to attend free workshops and demonstrations throughout the day. Everyone present can join the qigong and tai chi group practice. Learn More
Sterling Ridge Village Association Fishing Festival
The 8th Annual Sterling Ridge Village Association Fishing Festival will be held at Pepperdale Park, 17 N. Pentenwell Cir., from 9:30 a.m. to noon. Kids and adults gather together and spend a morning fishing and enjoying nature. There will be awards for biggest fish and most fish caught in three age groups. Learn More
Peel For A Purpose Crawfish and Music Festival
Join Boots for Troops at the 3rd Annual Peel For A Purpose Crawfish and Music Festival at Show Sports Farm in Magnolia, TX from 1:00 – 8:30 pm. The family-friendly event will have bouncy houses, live music, and non crawfish food options available. $1 per pound of crawfish sold will be donated back to Boots For Troops. Learn More. Find more crawfish festivals & boils here: www.hellowoodlands.com/local-crawfish-boils-festivals
Painting on the Lake
Have you ever wanted to paint on a kayak and capture a nice day on canvas? If you are looking for inspiration, or a new hobby, this unique experience is for you! The activity is from 9 to 11 a.m. and kayaks depart from Riva Row Boat House, 2101 Riva Row, The Woodlands, TX 77380. $40 per person, single (one-person) kayak. Pre-registration is required. Learn More
2023 Over The Edge Rappelling Event
Camp For All will host its annual 2023 Over The Edge fundraiser and rappelling event with fundraisers rappelling over the edge of 9950 Woodloch Forest Tower. Camp For All is a local nonprofit that transforms the world for children and adults with challenging illnesses or special needs. Partnering with more than 65 other nonprofit organizations, Camp For All delivers a barrier-free camp experience for approximately 10,000 campers each year. Learn More
Camp Terramont (April 29-30)
Get away without leaving The Woodlands at Camp Terramont! Camp out and enjoy crafts, games and outdoor activities. Dinner, breakfast, snacks, and all activities included, just bring your tent and sleeping bags! Preregistration required. Check-in at noon Saturday at Terramont Park. All Ages. Learn More
Veterans Mudbug Jamboree (April 29-30)
Grab the family and come down to 206 Magnolia Street in Old Town Spring for the first annual Veterans Mudbug Jamboree. Celebrate, shop, drink, eat, and listen to live music on April 29th from 11:00 am – 8:00 pm and April 30th from 11:00 am – 6:00 pm. There will be 30 vendors, 4 bands, face painting, balloon artists, and more. Free entry! Donations and proceeds from crawfish sales are being sent to the Institute for Peer Support of Veterans. Learn More. Find more crawfish festivals & boils here: www.hellowoodlands.com/local-crawfish-boils-festivals
Sunday, April 30, 2023
Beauty and the Beast Jr.
Teora Music School presents Beauty and the Beast Jr. at 3 p.m. and 5 p.m. at the McCullough Junior High School Auditorium. The award-winning animated film and stage play comes to life in this romantic and beloved take on the classic fairytale. Disney's Beauty and the Beast Jr. features some of the most popular songs ever written. Buy tickets today and bring your family to this Disney favorite starring young actors from our community. Purchase tickets at www.teoramusic.com/product-category/spring-musicals. McCullough Junior High School Auditorium is located at 3800 S Panther Creek Dr, The Woodlands, TX 77381.
Helping Hearts Community-Wide CPR fair
The Gulf Coast Division of the Greater Houston American Heart Association is putting on a community-wide CPR Fair at Market Street from 1 to 3 p.m. Certified instructors and volunteers will be on hand to provide hands-only CPR information sessions with live demonstrations. First responders will be present to answer any additional questions and share why hands-only CPR is vital. Participants will receive hands-only CPR training along with a plethora of educational booths for healthy hearts and mind related activities. The event is free and open to the public. Register today at www.heart.jotform.com/230675656650058.
Great Scot!
The Woodlands Symphony Orchestra returns to The Cynthia Woods Mitchell Pavilion Event Center with their wildly imaginative themed concert: Great Scot! The orchestra performs music reminiscent of Scottish folk tunes with Felix Mendelssohn's Scottish Symphony followed by film scores from movies celebrating the rich history of Scotland such as Braveheart, Outlander, How to Train your Dragon, and Skyfall. The concert starts at 6:00 p.m. Doors open at 5:00 p.m. Learn More
Tomball Lions Club Car Show
The 29th Annual Tomball Lions Club Car Show will be held at Tomball High School from 8:00 am to 4:00 pm. General admission is FREE. Bring the family! There will be music by JD the DJ and BBQ & beverages. All years, makes, and car clubs are invited. There will be multiple classes, 41 categories, 13 "Best of" awards, chairman awards, and Best of Show. Learn More
Conroe Kidzfest
Conroe Kidzfest is a free fun event in downtown Conroe from 10 am – 4 pm featuring inflatables, water inflatables, a toddler play area, petting zoo, giant slide, rockwall, face painting, concessions, crafts, shopping booths, and so much more! Learn More
Tamina Day Celebration
Join the Tamina community in celebrating its history at the Tamina Day Celebration. Invite family and share stories of our rich ancestors' histories at Tamina Community Park beginning at 3:00 pm. There will be spiritual music and a picnic, with a special performance by the Oak Ridge North High School Band dedication of the song "Tamina" and the composer. The author of The Ground On Which I Stand will have a photo exhibit and sign book autographs. There will be games and a BBQ food truck. Learn More
Plan Ahead: Upcoming Events
Cinco de Mayo Celebrations
Get ready to fiesta! Celebrate Cinco de Mayo in The Woodlands area with tacos and tequilas at a golf tournament, family and pet friendly events, a Tejano Two Step street dance event, and more! Discover local events here: www.hellowoodlands.com/local-cinco-de-mayo-events-2023.
Jewels performed by The Houston Ballet (May 5)
The Houston Ballet is pleased to present George Balanchine's Jewels, three distinct works creating a unified evening of dance, often hailed as the first plotless full-length ballet. With Boni's Dance Studio performing in the plazas beforehand, free lawn and mezzanine seating and The Pavilion's family-friendly environment, this is the perfect opportunity to introduce your kids to the dazzling world of Ballet! Learn more at https://bit.ly/HBJewels.
Outrun Hunger 5k Run/Walk & 1k Color Dash (May 7)
The Outrun Hunger 5k Run/Walk & 1k Color Dash benefits the Montgomery County Food Bank. Choose from the timed 5k Trail or the 1k Color Run! The event will be held from noon to 3:00 p.m. at The Lake House at Grand Central Park, 1039 Lake House Dr, Conroe, TX 77304. Your registration fee provides up to 200 meals for those facing hunger. Learn more and register today here.
The April 28-30 weekend guide is brought to you by the Insperity Invitational. A PGA TOUR Champions event, the Insperity Invitational presented by UnitedHealthcare features the 78 of the best PGA TOUR Champions players at The Woodlands Country Club Tournament Course. Past champions include Larry Nelson, Jay Haas, Mark McNulty, four-time winner Bernhard Langer, John Cook, Fred Couples, Brad Faxon, Fred Funk, Esteban Toledo, Ian Woosnam, John Daly, Scott McCarron, Mike Weir and Steven Alker. For more information about the Tradition of Excellence at the Insperity Invitational, visit www.insperityinvitational.com.
---
Check back on Hello Woodlands' Calendar Page and the monthly 31 Things to Do list for more events as they come up!
Have an event coming up or want to highlight your business? You can sponsor one of these popular weekend guides! By sponsoring a guide, your company name (organization or event) and logo will be included on the featured photo of the article published on the Hello Woodlands website. Your company name will also be included within the article along with a paragraph sharing more about your business with your logo and a link to your website. Email info@hellowoodlands.com for more information.