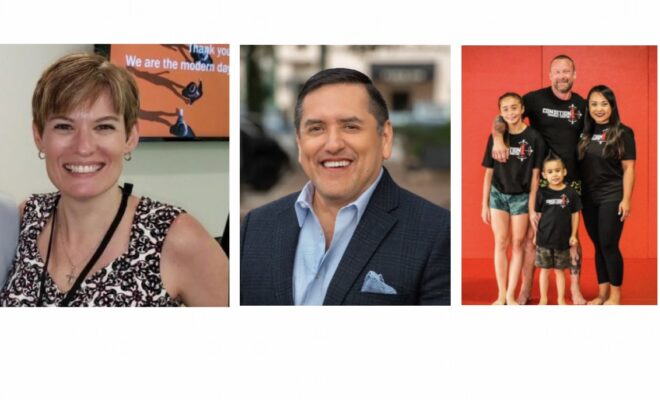 Business
VEL Institute Awards Local Veteran, Entrepreneur, & Leader for Exemplary Service and Dedication to Community
By |
THE WOODLANDS, TX – The VEL Institute recently announced the recipients that will be recognized at the Legacy Awards dinner on November 10.
The VEL (Veterans, Entrepreneurs, and Leaders) Institute invites the community to celebrate the recipients and their accomplishments at the 6th annual Legacy Awards Dinner. The dinner takes place on Thursday, November 10th, at the Augusta Pines Country Club starting at 6pm. The event serves as VELs largest fundraising event of the year wherein they honor one veteran, one entrepreneur, and one leader.
This year, the award recipients are:
Elizabeth Greever, VEL Board member, said "These three individuals exemplify the characteristics of an exemplary leader, impacting their community with the work that they do, and are passionate about personal and professional development."
Rebecca Cary, this year's recipient of the Leadership Award, shared "I am so excited to be a recipient for this year's Leadership award from the VEL Institute. Being recognized as a community leader is such a high honor as I strive to be an example to the men and women that I encounter every day."
This year VEL has renowned speaker Stephen Mackey joining as the Keynote Speaker at the dinner. The keynote speech topic will be "Championship Character: How and Why Character Wins in Life and Business." As a keynote speaker, Mackey has an uncanny ability to connect with audiences of all backgrounds through humor, timeless wisdom, and an infectious energy. Drawing upon the lessons learned as a coach and entrepreneur, the people he meets, and the teams he serves, Mackey helps businesses build better teams; school districts serve their students; and teams and organizations across disciplines reach their goals and impact their community.
VEL is dedicated to the personal and professional development of Veterans, from those who are transitioning from military life to civilian life and those who want to rise in their organizations or start their own business. We provide this personal and professional development through community integration of the Entrepreneurs & Leaders. We have Keynotes, Lunch & Learns, and Courses that are for Veterans, Entrepreneurs, and Leaders alike. We provide opportunities for connection and growth through each of these avenues.
Supporting VEL means you are providing opportunities to veterans to participate in these programs free of charge. You are helping us pay for our speakers, lunches, courses, and operations. You are allowing Veterans, Entrepreneurs, and Leaders to integrate and grow together.
To find out more, email info@velinstitute.org or visit our website at velinstitute.org. To register and purchase tickets for the Legacy Awards dinner, visit www.2022LegacyAwards.eventbrite.com. To become a sponsor, visit velinstitute.org/sponsorship-opportunities.
This event is sponsored by EverSan Cooper, SM Baker Holdings, Mandorla Partners, Bellwether Concepts, Reveille Networking Group, Old Glory Financial, Heart of Houston Homes, Conganas, and Katie Holditch.