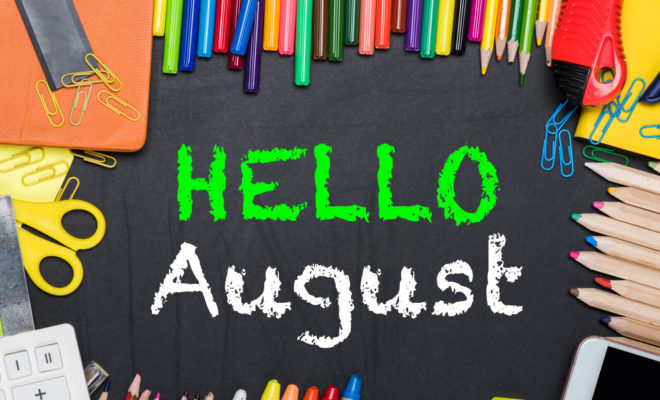 Art & Culture
31 Things to Do in August 2023
By |
Hello Woodlands' "31 Things To Do" monthly guide highlights events, activities, and things to do this August in The Woodlands and Montgomery County area PLUS ways to give back and support local. Be sure to check back on Hello Woodlands for updates and events!
AUGUST 2023
FEATURED EVENTS
August 2023 – Classes and Programs at Canopy Cancer Survivorship Center – Canopy is a cancer survivorship on the campus of Memorial Hermann The Woodlands Medical Center. Canopy is open to men and women, no matter where you were treated, and for any kind of cancer. If your life has been impacted, whether you were the patient or the caregiver, you have a safe haven at Canopy. Events are virtual, in person, and hybrid, and include the Breast Cancer Support Group, The Keyes Ingredients healthy nutrition class, Gentle Barre, Bible Study, and more! Learn More
Every 2nd Tuesday at 12pm – Caregiver Support Group
August 10 1:30pm – Look Good Feel Better Live! Virtual Workshop
August 10 5-6:30pm – H-E-B Chef Cooking Connections – Date Night
August 16 12pm – Cancer Education Lecture Series – Cognition & Memory: Coping with "Chemo-Brain"
Every 3rd Tuesday at 2pm – Coping with Changes Grief Education
August 24 at 1pm – Cancer Support Group
August 2023 – Classes and Events at Ardest Gallery – Ardest Gallery, a local fine arts gallery curated by Gallery Director Julie Verville, represents nearly 40, top Texas 2D and 3D visual artists. In addition to its core artists, the gallery will host ongoing events such as monthly group art shows, Coffee Talk with an Artist, Art to Lunch in partnership with local restaurants, poetry readings, musical performances, and art classes/workshops for all ages and skill levels. Ardest Gallery is located at at 25200 Grogan's Park Drive, The Woodlands, TX 77380. Learn more and view upcoming events and classes at https://www.ardestgallery.com/
August 2 – National Coloring Book Day at 10 a.m. – 2 p.m.
August 9 & 12 – Bracelet Making Party with Fern Home & Fashion
August 18 – Art to Lunch at 11 a.m. in the Gallery – RSVP to julieverville@ardestgallery.com or directly with Amerigo's Grille.
August 19 – 5 Minute Pen & Ink Portraits with Jeff Lung
August 19 – Children's Book Reading & Signing with Artist & Author Lauren Luna
August 25 – Drinks & Doodles with Artist Jeff Lung
August 26 – National Dog Day at 10 a.m. – 2 p.m.
August 26 – Paint your Pet with Eric Sundin 10 a.m. – 12 p.m.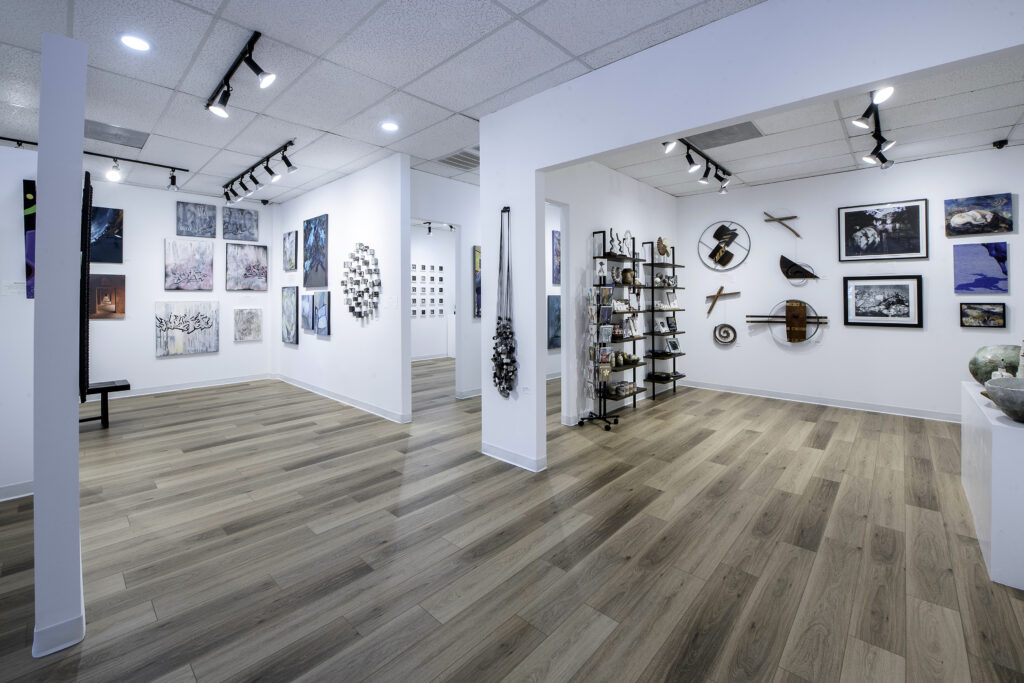 July 6-August 10, 2023 – Rock the Row Summer Series – Experience Hughes Landing on scenic Lake Woodlands with live music! Rock the Row features local and regional bands playing a variety of favorites from pop and rock to country Thursday evenings from 7 – 9 p.m. Coolers, picnic baskets, blankets and lawn chairs are permitted. Glass is prohibited. All entertainment is weather-dependent and subject to change. Learn more at https://bit.ly/RocktheRow2023.
Visit Now! Shoal by Squidsoup in Hughes Landing – Shoal is an ongoing, experiential artwork featuring a choreographed, interactive light show. Located on Restaurant Row in Hughes Landing, this is the latest addition to one of the largest outdoor collections in the country. The Shoal can be enjoyed daily from 9 AM – Midnight, with an energizing wave of activity between 8 PM – 9 PM. Learn more at https://www.thewoodlands.com/shoal/
THINGS TO DO
Anytime – Volunteer, Make a Donation, or Get Involved in a Local Nonprofit Organization! – Learn more about nonprofit organizations in Montgomery County by reading our "Nonprofit of the Month" interviews here.
Wednesday–Sunday – Local Farmers and Artisan Markets – Visit a local market in Montgomery County! Learn more about The Woodlands Farmers Market, Farmers Market on Tamina, Tomball Farmers Market, Main Street Market, and more. Discover local markets here: www.hellowoodlands.com/farmers-artisans-markets-in-the-woodlands-area-2023.
August 2023 – Tickets on sale for Signatures Author Series – The John Cooper School Fine Arts Council announced that Alka Joshi, the New York Times bestselling novelist of The Henna Artist, is the keynote speaker for the 19th Annual Signatures Author Series event to be held on December 1, 2023 at The Woodlands Waterway Marriott Hotel and Convention Center. Reservations are on sale at www.johncooper.org/signatures. Early registration for table sponsorships and individual reservations are recommended for the best seating. Learn More
July – August 30, 2023 – App Happy Hour at Scooter's Coffee – Visit local Scooter's Coffee locations (26551 Kuykendahl Rd. and 24527 Gosling Rd.) Monday-Wednesday, 3 p.m. – 6 p.m., and get $1 off all drinks when you pay with the app! Discount cannot be combined with any other offer. Download the app to also get $2 off your first order, Free Birthday Drink, Earn Smiles, and Mobile Order Ahead Promos! Download the app here.
August 1, 2023 – September 4, 2023 – Houston Restaurant Weeks – Houston's most anticipated foodie event of the year, Houston Restaurant Weeks, begins August 1st and runs through Labor Day, September 4th, 2023. That's 35 days of delicious meals and super deals raising necessary funds for the Houston Food Bank. An extensive list of restaurants will participate and serve specially priced, multi-course prix fixe menus for brunch ($25), lunch ($25), or dinner ($39 or $55), available for dine-in and take-out. Learn More
August 1 – August 18, 2023 – Alodia Basketball League Fall 1 Season – Registration is open NOW through August 18 and the season starts the week of August 28! Don't miss out on the highest-rated and longest running (since 2008!) quality basketball leagues in The Woodlands and surrounding areas! Boys and Girls; 1st – 8th grade; Includes 1 Practice a week with optional Skills Training, Games on Saturdays, End of Season Tournament, All-Star Games, and amazing jerseys too. The Woodlands location (and a Tomball location too)! WHY go anywhere else? For more information and to register, visit AlodiaLeagues.com
August 2, 2023 – Conroe Founder's Day – The City of Conroe's rich history is celebrated each year honoring Isaac Conroe at the house of the Historic Isaac Conroe Homestead. The Historic Isaac Conroe House is now housing the City of Conroe's transportation offices, 202 Avenue A, Conroe, TX 77301. The home served as a temporary Montgomery County Courthouse and US Post Office with Isaac Conroe being the Postmaster General. Learn More
August 3, 2023 – Oil & Gas Law for REALTORS® Webinar – The Oil & Gas Law for REALTORS® course with JC Johnson, Attorney of Dorsett Johnson & Swift, LLP, provides a cursory review of oil and gas law; the TREC addendum; and oil and gas leases. The webinar offered by Old Republic Title will be held on August 3 from 10 to 11 a.m. with an optional $10 CE. Register today at https://www.oldrepublictitle.com/growwithus/education/course-detail/?id=844
August 3, 2023 – Reach for Your Star Luncheon – Family Promise of Montgomery County's annual luncheon will feature keynote speaker Luann Riley, a graduate family testimony, raffle for great prizes, and more. Family Promise of Montgomery County is a nonprofit organization that provides resources and support to families with children in Montgomery County that are experiencing homelessness. The luncheon will be held from 11:00 am – 1:00 pm at the Hyatt Regency Conroe. Learn More
August 3, 2023 – Thursday Concert Series at Heritage Park – Find your groove at Heritage Place! Invite your friends, bring the family and relax to a variety of bands in this free concert series held once a month from April thru September. Bring your chairs and blankets. Food trucks will be onsite. Food and beverages may be brought in (no glass containers). Heritage Place is located at 500 Metcalf Street in Conroe. Concerts begin at 7:00 pm. Learn More
August 3, 2023 – Movies on the Lawn – Visit The Woodlands Mall for Movies on The Lawn from 7:00 pm – 11:00 pm. From fan favorites to newer releases, sit back, relax, and enjoy awesome outdoor movie nights and have fun with exciting lawn games the whole family can enjoy! The movie playing August 3 is Shrek 2. Learn More
August 4, 2023 – Family BINGO Night – Every first Friday of the month, The Woodlands Township hosts fun-filled family BINGO night at The Recreation Center at Rob Fleming Park from 6:30–8:30 pm. Prizes awarded for good BINGOs. Snacks will be provided on a first-come, first-served basis. $5 per person. Due to the event selling out, pre registration is required. Learn More
August 4, 11, 18, 25, 2023 – Live on the Lawn – Enjoy live music on the lawn at Central Park in Market Street with Sarah Kelly Music School from 6:30 – 8:00 p.m., on Friday nights. Blankets and lawn chairs welcome. Learn More
August 5, 2023 – Big Top Boutique Pop Up – The Big Top Boutique Pop Up offers a wide selection of exhibitors bringing the very best in boutique clothing, accessories, shoes, home decor, furniture, gourmet food, dips, sauces, art, yard decorations, holiday items, and so much more! There is a little bit of everything and something for everyone! Prices range from as little as $5 and up to $2,000 and beyond. The pop up will be held at the Hyatt Regency Conroe from 9:00 am – 5:00 pm. Learn More
August 6, 2023 – Cars & Coffee for a Cause – The Woodlands Car Club (TWCC) enthusiasts gather at Market Street the first Sunday of each month from 6:30-10:00 am to provide a morning gathering to show off special vehicles within the car community, be a supportive partner with Market Street and the local community, share information about needful non-profit organizations in Montgomery County, and to give back monetarily as well. TWCC collects coins/change to donate to the Market Street "Change for Charities" program that will benefit non-profit organizations in Montgomery County. Learn More
August 11, 2023 – Platinum Wine Vault Luxury Tasting – Enjoy an award-winning selection of fine wines from all over the world paired with amazing award-winning chef-inspired culinary dishes at The Platinum Wine Vault Luxury Tasting on Friday, August 11, 2023 from 6:30 – 9:00 p.m. at Bayway Cadillac of The Woodlands. Learn More
August 12, 2023 – 2nd Annual YMCA Kids Duathlon – The YMCA Summer Race Series for Kids/Teens Presented by Texas Children's Hospital The Woodlands continues this summer! The 3rd and final race in the series is the 2nd Annual YMCA Kids Duathlon Presented by Texas Children's Hospital The Woodlands on Saturday, August 12, 7:30am at the Holcomb Family YMCA, 5201 Imperial Promenade, Spring, TX 77386. Designed for all fitness levels, especially 1st Timers, youth, ages 7-15, are invited to Bike/Run for a CAUSE. Registration ends August 9. Boys and girls will compete separately in their age groups. The top three finishers, male and female, in each age group will receive a special award. All participants will receive a goodie bag, T-shirt and finisher medal. Post race festivities will include music, awards ceremony, refreshments, face art, bubble station and there will be concessions available to purchase. Register Today
August 12, 2023 – Fall Organic Vegetable Gardening Class – Vegetable gardening experts will share their knowledge and expertise in this free, informative class. Learn specific strategies for planting and growing vegetables in the fall—the best season for gardening in southeast Texas. The class is held online from 9:00 am to noon. Registration required. Learn More
August 12, 2023 – Masterpieces Of Cello And Piano – The Pearlformance Concert Series brings a variety of performance art pieces to the Northwest Houston community. Each exhibition cycle, the series features a new selection of artists performing in the intimate setting of The Pearl Fincher Museum.​ On Saturday, August 12, enjoy Masterpieces Of Cello And Piano beginning at 4:00 pm in the museum's main gallery.​ Learn More
August 12, 2023 – Dive in Movie at Bear Branch Pool – Grab your family and friends and head to the Bear Branch Pool to splish splash and relax enjoying the hit Disney movie The Wild Life on the big screen! Fee (Per Person): $5; FREE for Season Pool Pass holders. Gates open at 8 p.m. All Ages. Learn More
August 14, 2023 – Café Con Miguel – Join the Montgomery County Hispanic Chamber from 8-9:30am for the upcoming Café con Miguel event, a monthly series that brings together local leaders and entrepreneurs for an inspiring fireside chat with MCHC President, Miguel Lopez. Featured guest is Bea Gasca, an HR and Social Responsibility expert co-founded the Dalia Empower project and founded Human Endeavor. Join MCHC for an engaging discussion at The Cannon The Woodlands. Expand your horizons, gain valuable insights, and be inspired by Bea's journey and expertise. Learn More
August 17, 2023 – 2023 Empower Senior Citizens Resource Fair – The 2023 Empower Senior Citizens Resource Fair will feature entertainment, prizes, and information for seniors, families, caregivers, and veterans. Designed to empower senior citizens and their loved ones, this expo will be a one-stop event to connect them with invaluable resources. The event will be held from 10:00 am – 2:00 pm at the Lone Star Convention Center. Learn More
August 17, 2023 – Gulf Coast Blood Drive: Salute to First Responders – The Woodlands Township will be hosting a blood drive in honor of first responders at 2801 Technology Forest Boulevard, The Woodlands, TX 77381 from 10:00 am - 2:30 pm benefitting the Gulf Coast Regional Blood Center. Learn More
August 17, 2023 – Trivia Night benefiting Education for Tomorrow Alliance – Join us for an evening of brain-busting fun and friendly competition where guests will be challenged with trivia ranging from biology to pop culture. Each team will attempt to demonstrate their mastery of trivial knowledge in pursuit of the coveted Smarties Cup. Trivia Night will be held at Dosey Doe – The Big Barn beginning at 7:00 pm. Learn More
August 19, 2023 – Scuderia Exotic Car Show – Come out to enjoy the Scuderia Exotic Car Show at Market Street on the third Saturday of every month from 8:00 a.m – 10:00 a.m. Learn More
August 19, 2023 – Invasive Species Workshop – Learn how to identify invasive plants and pests of greatest concern in our area. Ashley Morgan-Olvera, from the Texas Invasive Species Institute, will be the instructor. After training, you can volunteer to remove invasive species from approved sites in The Woodlands Township. The workshop will be held at The Woodlands Emergency Training Center, 16135 Interstate 45 S, Conroe, TX 77385 from 8:30 am – 2:30 pm. Learn More
August 19, 2023 – ART & LIT for Kids – Join Ardest Gallery for a special ART & LIT at Village Books! Students will create colorful elephant designs inspired by the inspiring character Elmer. Each 45 min. class includes a read aloud session and related art activity. Supplies included. Space is limited and pre-registration is required. $10 per child, ages 3-9. This project is supported by The Artist Microgrant from The Woodlands Arts Council. Learn more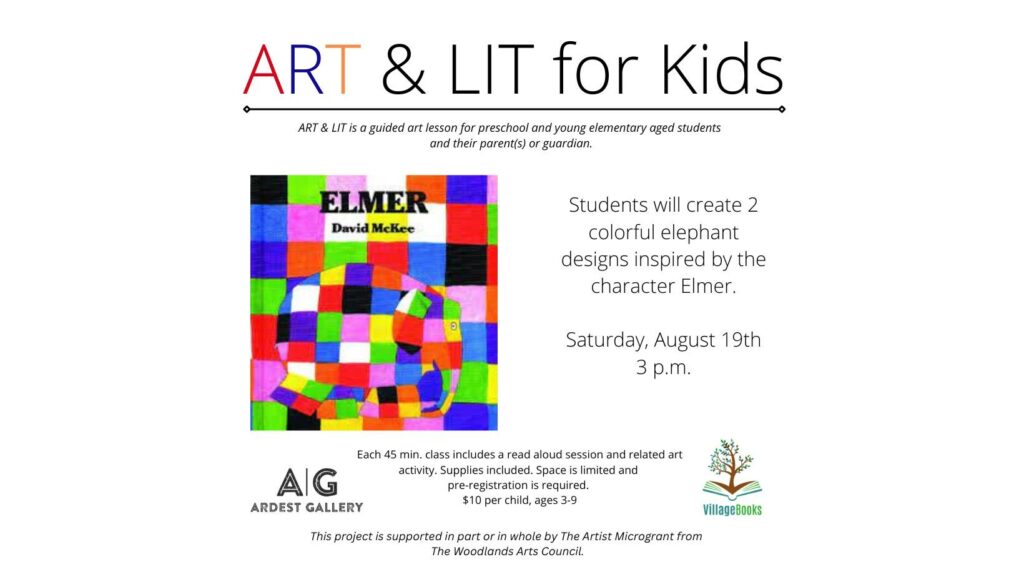 August 19, 2023 – The Woodlands Area Chamber of Commerce Chairman's Ball – This themed event honors the outgoing chairman of the board and welcomes the incoming chairman. Guests can expect an exceptional three-course meal and an exciting evening of dancing and entertainment! Attire is Dress to Theme or Formal. This year's theme is Deep in the Heart of Texas. Cocktail Hour Begins at 6:30 pm. Dinner & Program Begins at 7:30 pm. The Chairman's Ball will be held at The Woodlands Waterway Marriott Hotel & Convention Center, 1601 Lake Robbins Drive, The Woodlands, TX 77380. Learn More
August 24, 2023 – An Evening with Katherine Center – Join Village Books to celebrate the newest romcom from Author Katherine Center, "Hello Stranger," on August 24 at 7-8:30 p.m. For signing, Village Books requests that copies of the book be purchased through Village Books. Books can be pre purchased here. Register for the free event and learn more here.
August 26, 2023 – The Walk The Woodlands – The Walk The Woodlands, benefitting Interfaith of The Woodlands, includes a New York-style runway fashion show featuring designs from Saks Fifth Avenue, as well as a luxury bid board and live auction. The Walk is adding an exciting new element this year as well: a Best Dressed Competition for attendees, where one dollar equals one vote. The eight Community Champions will star in the Runway Finale, leading guests into a one-of-a-kind after party. The Walk The Woodlands will be held from 6:00 pm to midnight at The Woodlands Waterway Marriott Hotel & Convention Center, 1601 Lake Robbins Dr, The Woodlands, TX 77380. Learn More
August 26, 2023 – Lazy River 5k Practice Run – Get ready for the 2nd Annual Lazy River 5K event on September 9th with a practice run! Run or walk against the current (10 laps equals 1 mile). The practice run will be held from 7:00 to 9:00 am at the Rob Fleming Aquatic Center, 6535 Creekside Forest Dr, The Woodlands, TX 77389. Learn More
August 27, 2023 – International Overdose Awareness Day Event – The Montgomery County Overdose Prevention Endeavor (M-COPE) annual International Overdose Awareness Day is a free event for the community to hear from speakers and experts, attend Narcan training (receive free Narcan), take part in the Balloons of Hope and Peace, walk through M-COPE's Texas Memorial Walkway, enjoy a free boxed meal, and take home information from over 30 top resources. The event will be held at WoodsEdge Community Church, 25333 Gosling Rd, Spring, TX 77389, from 4:00 to 8:00 pm. Learn More. Read about Montgomery County Overdose Prevention Endeavor (M-COPE) here.
PET OF THE MONTH
Hello Woodlands, in partnership with Operation Pets Alive, highlights a "Pet of the Month" that features a local dog or cat available for foster and/or adoption in Montgomery County, Texas. Operation Pets Alive is a non-profit, all-volunteer organization striving to elevate Montgomery County to a No-Kill community through innovative programs that raise community awareness, reduce the number of dogs and cats that enter our shelters, and increase the number of dogs and cats that leave our shelters alive.
Meet our Pet of the Month, Mycroft, here.
GIVE BACK
Hello Woodlands' ongoing series "Nonprofit of the Month," featuring Randy Lovelace of Paragon Independent Insurance Agencies, spotlights several of these nonprofits. Learn more about the nonprofits' missions and meet the people behind them here.
SUPPORT LOCAL
The Hello Woodlands Small Business of the Month is brought to you by Miguel Lopez of Conganas LLC and highlights a local small business that serves the Montgomery County community.
Read our interview below with this month's Small Business of the Month, Nebular Films, and owner John Truman, here.
Check out Hello Woodlands' NEW Weekend Guides, keeping you up-to-date on local things to do each weekend. View the latest guide here.
Visit our online calendar, subscribe to our Email Newsletter, follow us on social media at @HelloWoodlands, and check back for a list of 31 Things To Do in September 2023!
Contact us at info@hellowoodlands.com to tell us about events, activities, and more ways we can share about helping our community, supporting local, and things to do in The Woodlands and Montgomery County area.
Thank you for your support!