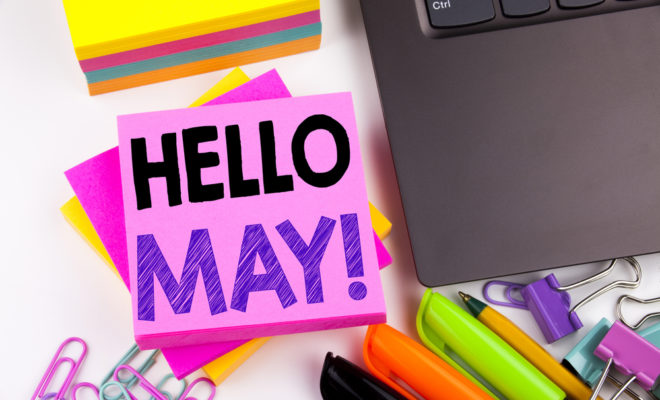 Calendar
31 Things To Do in May
By |
Hello Woodlands' "31 Things To Do" monthly guide highlights events, activities, and things to do this May in The Woodlands and Montgomery County area PLUS ways to give back and support local. Be sure to check back on Hello Woodlands for updates and events!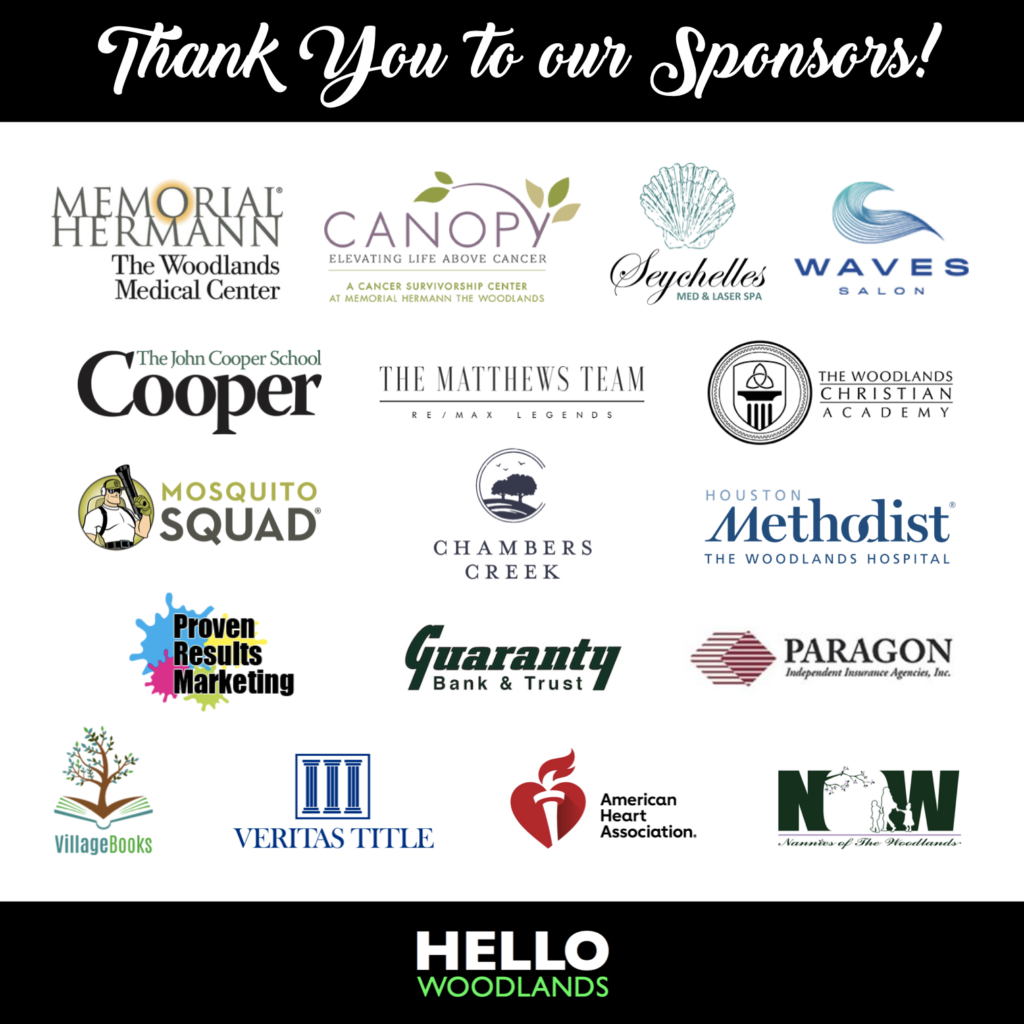 MAY 2022
FEATURED EVENTS
May 2022 – Classes and Programs at Canopy Cancer Survivorship Center – Canopy is open for classes and programs! Canopy is a cancer survivorship on the campus of Memorial Hermann The Woodlands Medical Center. Canopy is open to men and women, no matter where you were treated, and for any kind of cancer. If your life has been impacted, whether you were the patient or the caregiver, you have a safe haven at Canopy. Learn More
NEW! The Book Club is open to new attendees and is now held on the 2nd Wed of each month at 1:30 p.m.
NEW! The Camera Club is open to attendees and will be held on the 2nd Monday of the month at 11 a.m.
May 8, 2022 – Mother's Day Brunch at The Woodlands Resort – Join The Woodlands Resort for Mother's Day Brunch on Sunday, May 8 from 10 a.m. to 3 p.m.! Reservations are required. Please call 281.364.6250 today to make your reservation to enjoy brunch this Mother's Day in The Woodlands Resort in Woodlands Dining Room! Make a Reservation
May 20, 2022 – Montgomery County Go Red for Women® Luncheon – Calling all Queen of Hearts! After more than two years away from in-person luncheons, the American Heart Association, the world's leading nonprofit organization focused on heart and brain health for all, has announced that St. Luke's Health will co-chair their 2022 Montgomery County Go Red for Women® Luncheon to be held in-person at 11 am on May 20, 2022 at The Woodlands Resort. With a Queen of Hearts theme, you do not want to be late for this very important date! Learn More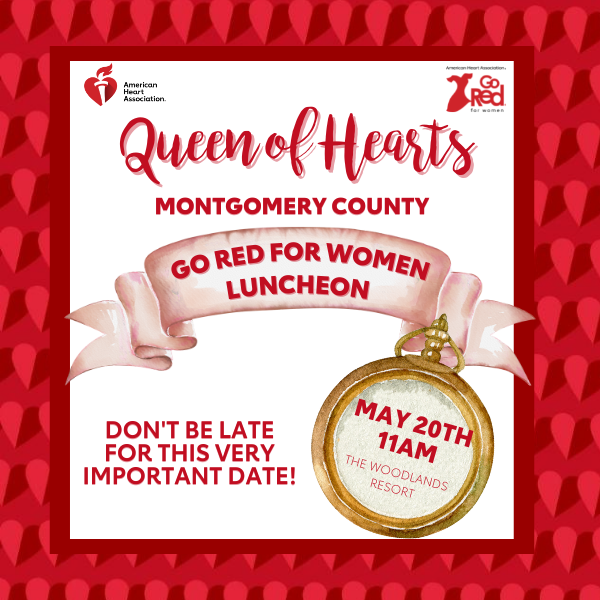 THINGS TO DO
Anytime – Volunteer, Make a Donation, or Get Involved in a Local Nonprofit Organization! – Learn more about nonprofit organizations in Montgomery County by watching our "Nonprofit of the Month" video interviews here.
Thursday–Sunday – Local Farmer's Markets – Visit a local farmer's market in Montgomery County! Learn more about The Woodlands Farmer's Market, Montgomery Sip-and-Stroll Farmer's Market, Tomball Farmer's Market, Main Street Market, and more on the Hello Woodlands Calendar. Learn more
Saturdays from 9am-1pm – Tomball Farmer's Market – The market is open year round at 205 W. Main Street in Downtown Tomball, TX. TFM provides a unique family and pet friendly shopping experience that you cannot find elsewhere. Learn More
Sundays, May 1 & 22 – Gosling Sunday Market – Find fresh produce, crafts, baked goods, food, gifts, service providers, local businesses, and small businesses. Gosling Sunday Market, formerly Woodlands Square Market, is now held at Woodlands Sportsplex, 25251 Gosling Rd, Spring, TX 77389, from 11am – 4pm. Learn More
Saturday, May 7 – Lone Star 1st Saturday – Venture down to Lone Star 1st Saturday – where everything is homemade, handmade, or homegrown. Nestled under the trees of the Old Community Center in Montgomery, this market is held on the first Saturday of every month from 9am – 4 pm. Bring the family (or your well-behaved furry friends) to this crafters market to shop antiques, boutiques, and uniques! Learn More
Saturday, May 14 – Shenandoah Farmers Market – The Shenandoah Farmers Market features a vendor list providing a diverse variety of farm-fresh produce, organic sauces and seasonings, baked goods, grass-fed meat, handcrafted refreshments and even dog treats for those wishing to bring their four-legged friends. Additionally, artisans will be included and will be selling their hand-crafted items. Everything is grown, made, or built locally in Texas. The Market is held monthly at Metropark Square, 8888 Metropark Drive Shenandoah, TX 77381, from 10am – 1pm. Learn More
Sundays, May 15 & 29 – Rayford Sunday Market – The Rayford Sunday Market is held at Imperial Oaks Shopping Center twice a month from 11am to 4pm with food, fun and shopping! Learn More
May 1-31, 2022 – Bike Month in The Woodlands – National Bike Month is celebrated across North America in May, and The Woodlands Township will be celebrating this growing tradition with a myriad of fun events throughout the month, for cyclists of all ages and abilities. The Woodlands Township, with support from Bike The Woodlands Coalition, will host a variety of planned activities and events throughout the month of May. Learn More
May 1, 2022 – The Woodlands Symphony presents "Out of this World" – Join the Woodlands Symphony for music that is "Out of this World" at The Woodlands Methodist Church. Artistic Director Darryl Bayer plans to unite the classical world of music with the universe of sci-fi, space, and fantasy fans in this uniquely designed concert of movie soundtracks. The program begins at 6:00 p.m. with doors opening at 5:30 for general admission seating. Learn More
May 4, 2022 – Painting on the Lake – Have you ever wanted to paint on a kayak and capture a nice spring day on a canvas? If so, this program is for you! If you are looking for inspiration, or a new hobby, come join us in this unique experience. All necessary equipment will be provided. All children must be accompanied by an adult. Pre-registration is required. Learn More
May 5 & 12, 2022 – Market Street Spring Concert Series – Live music at Market Street is back as the Spring Concert Series lineup features artists performing Top 40, jazz, Latin, country, cover favorites and more, every Thursday, March 17 through May 12 from 6:00 – 8:30 p.m. Learn More
May 5, 2022 – Shelter for Shelter – Join community leaders, local businesses, and restaurants to support YES to YOUTH – Montgomery County Youth Services. You'll enjoy an evening of fine food, wine, spirits, entertainment, and fun at the beautiful Mercedes-Benz of the Woodlands' showroom. Event begins at 6:30. Learn More
May 5, 2022 – Free Concert Series at Heritage Place – Find your groove at Heritage Place in Conroe! Invite your friends, bring the family to relax to a variety of bands in this free concert series for all ages held in the months of April thru September. Get comfortable, bring your chairs and blankets. Food, soda and water may be brought in. No alcohol may be brought in. Beer and wine will be sold at the event. Food trucks and Conroe Market Days onsite. Music starts at 7:00pm. Learn More
May 6, 2022 – Women Empowering Women – Interfaith Community Clinic invites you to an intimate conversation with women who are leading the way throughout Montgomery County and beyond. Through their own personal journeys of perseverance and tenacity, panelists will demonstrate that there are unique approaches to overcoming life's obstacles, positively influencing and encouraging event guests. Learn More
May 6, 2022 – 32nd Annual Women of Distinction Luncheon – Let's all grab a surfboard, take charge of the current and ride the wave confidently into 2022 with a celebration of women volunteers who work so hard for our nonprofit community! The Women of Distinction luncheon was formed in 1989 in Montgomery County with the idea to bring light to the volunteer community. Each year, the organizations gather for a luncheon honoring their "Women of Distinction." She is recognized for the numerous hours, unyielding commitment and loyal dedication she has provided their agency. Learn More
May 7, 2022 – Woodforest Bank TRI – This popular annual triathlon offers a beginner-friendly atmosphere, first-rate race management and scenic courses to participants ranging from beginners to nationally ranked triathletes. The USA Triathlon (USAT) sanctioned event takes place from 7 to 11 a.m. at Northshore Park. The sprint triathlon is comprised of a 500-meter open water swim in Lake Woodlands, a 12.8-mile bike course winding through The Woodlands and a 5K run along The Woodlands Waterway. A variety of opportunities are available to participants to prepare for Race Day, making it an ideal first-time race for those who are just being introduced to the sport. Learn More
May 7, 2022 – Rails & Tails Mudbug Festival – The annual Rails & Tails Mudbug Festival in Tomball will be a full day of food, music, vendors, and fun celebrating the tasty crawfish. Gates open at 11. Learn More
May 7 & 21, 2022 – RunKind: Fun Run & Service Project – Get fit & give back! Join Stronger to Serve for a group run/walk followed by a quick service project. All ages welcome. Children must be accompanied by a parent/caregiver. The event takes place at Burroughs Park from 9-11am. Learn More
May 7, 2022 – The Woodlands Chorale Presents: A German Requiem – Johannes Brahms's Ein Deutsches Requiem (A German Requiem) is a titan among the great choral-orchestral masterworks. Join the The Woodlands Chorale in a most exciting performance under the direction of Dr. Mark Marotto with a 40+ piece orchestra and enjoy the beautiful mastery that is Brahms. Learn More
May 8, 2022 – Happy Mother's Day!
May 8, 2022 – The Who – The Cynthia Woods Mitchell Pavilion presents The Who live in concert starting at 7:30 p.m. Legendary rock band The Who have announced a brand new tour for 2022, THE WHO HITS BACK! The iconic band's upcoming North American trek promises to be another rock n' roll knockout, bringing singer Roger Daltrey and guitarist/songwriter Pete Townshend back to U.S. venues two years after their acclaimed MOVING ON! Tour, which wowed audiences with a series of sold-out dates. Learn More
May 12, 2022 – The Matthews Team RE/MAX Legends Blood Drive – Sign up for an appointment at the Blood Drive on Thursday, May 12 from 2pm to 5:30pm located at The Matthews Team RE/MAX Legends, 5910 FM 2920, Spring, TX 77388! All donors will receive an appreciation t-shirt and refreshments. Learn More
May 12-15, 2022 – Bombshell Rally – The 4 day Bombshell Rally event is a family-friendly rally featuring headlining bands, food, vendors, giveaways, custom bikes and cars, prizes, craft & domestic beer, wine, frozen libations and more! Learn More
May 13 & 27, 2022 – Movies in the Park – The City of Conroe is hosting Movies in the Park, a free, family-friendly movie night at Heritage Park from 8:00 – 10:30 p.m. First come, first served available seating, Chairs and blankets encouraged. Concessions are available for purchase-CASH ONLY. You may bring outside food and non-alcoholic drinks, no glass permitted. Learn More
May 13, 2022 – Family Putt Putt & Game Night – Par-Tee on with 9-holes of mini-golf, pickleball matches, basketball free throw competitions, tabletop games and much more! Win prizes and earn bragging rights in challenges suited for all ages. Bring family and friends for a night full of exciting games! Pre-Registration required. Event is held from 6:30 – 8:30 p.m. at Bear Branch Recreation Center. Learn More
May 14, 2022 – Smarter About Sustainability Seminar 2022 – The health of our Woodlands environment depends on good water quality and an intact forest ecosystem. Join local experts to explore the current state of our local environment, potential threats, and opportunities for you to help keep those threats at bay. Topics to be discussed include: the critical role waterways and forests play for our natural and human communities, water quality impacts specific to The Woodlands including pet waste, lawn chemicals and yard trimmings, simple ways each of us can make a big difference individually and through community volunteer efforts such as the Storm Drain Marking Program and the Invasive Species Task Force, and more! Registration is required for this FREE workshop. Learn More
May 14, 2022 – Water Glow – Light up Cranebrook Pool with glow sticks, play games, and enjoy free swim from 6:30 to 8:30 p.m. Pre-registration and parental supervision required. Ages 5 to 12. Learn More
May 16, 2022 – 7th Annual Bridgewood Farms Charity Golf Tournament – Bridgewood Farms is hosting its 7th annual charity golf tournament at Windrose Golf Club. Come out and enjoy the silent auction, lunch, and of course, the golf tournament! Registration beings at 7:00 a.m. and lunch will be served at 1:00 p.m., making it a full day of community fun for all! Learn More
May 19 & 26, 2022 – Rock the Row – Experience Hughes Landing on scenic Lake Woodlands with live music Thursday evenings! Rock the Row features local and regional bands playing a variety of favorites from pop and rock to country during the summer and fall. Coolers, picnic baskets, blankets and lawn chairs are permitted. Learn More
May 21, 2022 – Monster Truck Wars – Enjoy all the fun and high energy excitement of this family-friendly event, featuring giant national TV monster trucks including world famous OUTLAW, 3-time World Champion BEAR FOOT, the unforgettable El OSO LOCO, the legendary BACKDRAFT, and from Tombstone, AZ, SHERIFF! See these superstars as they compete in earth-shaking, ground-pounding, high-flying excitement. Learn More
May 21 & 28, 2022 – Waterway Nights – Enjoy live music by local and regional performers in the picturesque setting of Waterway Square at Waterway Nights. Taking place this summer, Waterway Nights makes for an eventful night out in The Woodlands Town Center. Coolers, picnic baskets, blankets and lawn chairs are permitted. Learn More
May 24, 2022 – Book Launch with Marcus "Garden Marcus" Bridgewater – Join Village Books on Tuesday, May 24, 2022 at 7 p.m. to celebrate the launch of Marcus "Garden Marcus" Bridgewater's new book, How to Grow: Nurture Your Garden, Nurture Yourself! Learn more and register today here. Tiktok influencer Marcus Bridgewater, known as Garden Marcus, has been compared to Bob Ross and Mister Rogers for the genuine warmth, compassion, and enthusiasm he conveys. His unique approach to botany and humanity combines with content grounded in plant care as a metaphor for personal growth. Learn More
May 27, 2022- Sunset Cinema – The Township's NEW Sunset Cinema is a free family movie night at Northshore Park featuring an animated classic with an earth-friendly theme for all ages to enjoy. Blankets, chairs and coolers are welcome. May's movie is WALL-E. Learn More
May 28, 2022 – Artisans Market at B.E. Winery – Stroll through vendor booths filled with homemade edibles and unique handmade items, while sipping on some of B.E. Winery's award-winning wines. There's no cost to attend, so come out and support your local vendors. The Market is open from noon to 6:00 p.m. Learn More
May 29, 2022 – Memorial Day in The Woodlands – Celebrate the official start to summer at the annual Memorial Day event in The Woodlands! The Sunday event pays tribute to all military service men and women who lost their lives while serving the United States. The festival features live music, children's activities, strolling entertainment and more at Town Green Park. The evening concludes with a dazzling fireworks display choreographed to a patriotic soundtrack. Learn More
May 30, 2022 – Memorial Day Observances and Monument Dedications at Montgomery County Veterans Memorial Park – Honor the men and women who gave the ultimate sacrifice while serving in the United States Military. Major Courtney J. Boston, USMC, Sam Houston State Graduate, will be the Featured Speaker. The event takes place at Montgomery County Veterans Memorial Park in Conroe from 11am – noon. Learn More
PET OF THE MONTH
Hello Woodlands, in partnership with Operation Pets Alive, highlights a "Pet of the Month" that features a local dog or cat available for foster and/or adoption in Montgomery County, Texas. Operation Pets Alive is a non-profit, all-volunteer organization striving to elevate Montgomery County to a No-Kill community through innovative programs that raise community awareness, reduce the number of dogs and cats that enter our shelters, and increase the number of dogs and cats that leave our shelters alive.
Meet our Pet of the Month, Bucky! Read more about Bucky here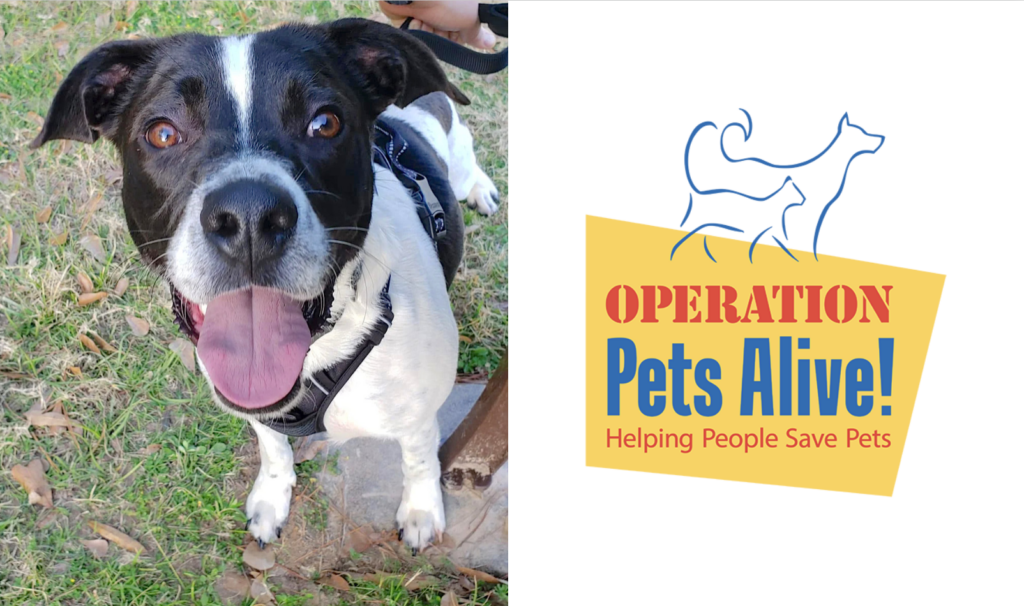 GIVE BACK
Due to the COVID-19 pandemic, nonprofits are in need now more than ever. Organizations are working hard to maintain the quality of care they have always provided to our community.
Hello Woodlands' ongoing series "Nonprofit of the Month," featuring Randy Lovelace of Paragon Independent Insurance Agencies, spotlights several of these nonprofits. Learn more about the nonprofits' missions and meet the people behind them here.
Visit our online calendar, subscribe to our Email Newsletter, follow us on social media at @HelloWoodlands, and check back for a list of 31 Things To Do in June 2022!
Contact us at info@hellowoodlands.com to tell us about events, activities, and more ways we can share about helping our community, supporting local, and things to do in The Woodlands and Montgomery County area.
Thank you for your support!