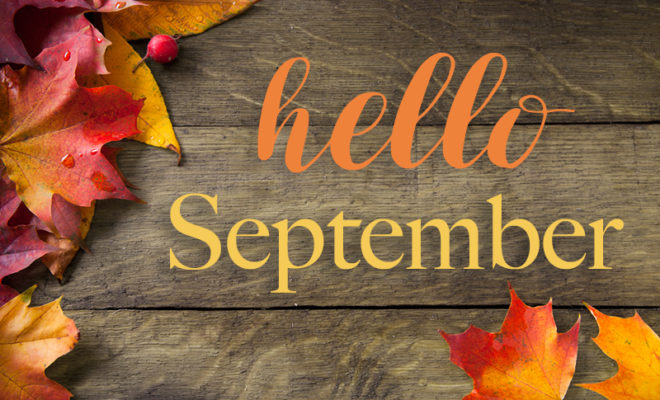 Calendar
31 Things to Do in September
By |
Hello Woodlands' "31 Things To Do" monthly guide highlights events, activities, and things to do this September in The Woodlands and Montgomery County area PLUS ways to give back and support local. Be sure to check back on Hello Woodlands for updates and events!
SEPTEMBER 2023
FEATURED EVENTS
September 2023 – Classes and Programs at Canopy Cancer Survivorship Center – Canopy is a cancer survivorship on the campus of Memorial Hermann The Woodlands Medical Center. Canopy is open to men and women, no matter where you were treated, and for any kind of cancer. If your life has been impacted, whether you were the patient or the caregiver, you have a safe haven at Canopy. Events are virtual, in person, and hybrid, and include the Breast Cancer Support Group, The Keyes Ingredients healthy nutrition class, Gentle Barre, Bible Study, and more! Learn More
September 11 at 12 p.m. – Cancer Orientation for Newly Diagnosed patients and caregivers
September 12 at 2 p.m. – H-E-B Chef Cooking Connections: Taste of Autumn Cooking Class
September 19 at 10 a.m. – Turkish Cooking Class
Every Friday at 10 a.m. – Coffee & Support
September 2023 – Classes and Events at Ardest Gallery – Ardest Gallery, a local fine arts gallery curated by Gallery Director Julie Verville, represents nearly 40, top Texas 2D and 3D visual artists. In addition to its core artists, the gallery will host ongoing events such as monthly group art shows, Coffee Talk with an Artist, Art to Lunch in partnership with local restaurants, poetry readings, musical performances, and art classes/workshops for all ages and skill levels. Ardest Gallery is located at at 25200 Grogan's Park Drive, The Woodlands, TX 77380. Learn more and view upcoming events and classes at www.ardestgallery.com.
Art to Lunch – Friday, September 8th at 11 a.m. – A first look of the "Noun: People, Places, Things" show for local art lovers.
"Noun: People, Places, Things" Opening Reception – Saturday, September 9 from 4-8 p.m. – The new Ardest Gallery exhibition will feature works by Texas artists juried by Sheng Kuan Chung. Learn more here.
Ceramic Wall Tile Workshop with Doni Langlois – September 21 and September 28 5-8 p.m. – Craft with ceramic artist Doni Langlois. Participants will create 2 ceramic wall tiles in this 2 day workshop. Register here.
National Scarf Day – September 27 10 a.m.- 2 p.m. – Silk scarf painting demonstration and trunk show with artist Jill Targer.
Visit Now! Shoal by Squidsoup in Hughes Landing – Shoal is an ongoing, experiential artwork featuring a choreographed, interactive light show. Located on Restaurant Row in Hughes Landing, this is the latest addition to one of the largest outdoor collections in the country. The Shoal can be enjoyed daily from 9 AM – Midnight, with an energizing wave of activity between 8 PM – 9 PM. Learn More
September 2023 – Montgomery County Hispanic Chamber Events – The purpose of the Montgomery County Hispanic Chamber (MCHC) is to advance the growth, success & prosperity of the Hispanic business community. Join us for upcoming events, socials, and workshops! For more information and to RSVP for upcoming events, visit www.mchchamber.org.
9/6 at 9:30-10:30 a.m. – Power/Access to Capital- JP Morgan Learning Series at The Cannon The Woodlands
9/19 at 5:30-7 p.m. – Networking Mixer at The Cannon Fish Creek
9/20 at 9:30-10:30 a.m. – Cashflow – JP Morgan Learning Series at The Cannon The Woodlands
9/28 at 5:30-7:30 p.m. – Waterway Nights at Como Social Club
September 11, 2023 – Patriot Day of Remembrance – Please join The Woodlands Township for a ceremony to honor the brave men and women who tragically lost their lives during the terrorist attacks of September 11, 2001. The ceremony will be held at The Woodlands Fire Department Central Station, 9951 Grogan's Mill Road, from 7:30-8:00 am. Learn More
September 14, 2023 – Blast Off to Space – Join The Cynthia Woods Mitchell Pavilion on Thursday, September 14 for Blast Off to Space with the Houston Symphony! When you think of the classic space scenes captured on film, what do you hear? It's got to be the music – the brilliant music that sends you blazing clear to the other side of the universe. What's better is that this Houston Symphony show, built for your whole family, is about exploring every star and undiscovered planet in our musical galaxy. Buckle up for an outer-space adventure with action-packed music from Star Wars, E.T., The Planets, and more. From the moon to Mars and beyond, this concert will transport your child's imagination to a galaxy far, far away! Gates open at 6:30 p.m., Show starts at 7:30 p.m. Learn More
September 15, 2023 – In the Pink of Health – The 23rd Memorial Hermann In the Pink of Health Luncheon keynote speaker is Elin Hilderbrand, the New York Times' bestselling author of twenty-eight novels, including The Hotel Nantucket. In the Pink of Health changes lives by raising funds to reduce the incidence of breast and ovarian cancer. The luncheon will be held at The Woodlands Waterway Marriott Hotel & Convention Center beginning at 10:00 am. Learn More
September 16-17, 2023 – The 5th Annual Fall Montgomery County Home and Outdoor Living Show – This expo features special guest appearances and over 100 exhibitors with the latest in-home products and services on the market at the Lone Star Convention Center, 9055 Airport Road, Conroe, TX 77303. Home improvement experts share information for any project of your home from walls to roofs, bathrooms, kitchens, closets, ac/heating, windows, and outdoor living. Early Bird Pricing: $7 entry tickets if purchased before Sept 1, 2023. Purchase Tickets
THINGS TO DO
Anytime – Volunteer, Make a Donation, or Get Involved in a Local Nonprofit Organization! – Learn more about nonprofit organizations in Montgomery County by reading our "Nonprofit of the Month" interviews here.
Saturday–Sunday – Local Farmers and Artisan Markets – Visit a local market! Learn more about The Woodlands Farmers Market, Farmers Market on Tamina, Tomball Farmers Market, Main Street Market, and more. Discover local markets here: www.hellowoodlands.com/farmers-artisans-markets-in-the-woodlands-area-2023.
September 2023 – Tickets on sale for Signatures Author Series – The John Cooper School Fine Arts Council announced that Alka Joshi, the New York Times bestselling novelist of The Henna Artist, is the keynote speaker for the 19th Annual Signatures Author Series event to be held on December 1, 2023 at The Woodlands Waterway Marriott Hotel and Convention Center. Reservations are on sale at www.johncooper.org/signatures. Early registration for table sponsorships and individual reservations are recommended for the best seating. Learn More
August 28 – September 22, 2023 – Alodia Basketball League Fall 2 Season Registration – Season starts the week of October 2! Don't miss out on the highest-rated and longest-running (since 2008!) quality basketball leagues in The Woodlands and surrounding areas! Boys and Girls; 1st – 8th grade; Includes 1 Practice a week with optional Skills Training, Games on Saturdays, End of Season Tournament, All-Star Games, and amazing jerseys too. Woodlands location (and a Tomball location too)! WHY go anywhere else? For more information and to register, visit AlodiaLeagues.com
September 2023 – Scooter's Coffee – Visit local Scooter's Coffee locations (26551 Kuykendahl Rd. and 24527 Gosling Rd.) for special events and Spirit Days this September! Download the Scooter's Coffee app to also get $2 off your first order, Free Birthday Drink, Earn Smiles, and Mobile Order Ahead Promos! Download the app here.
Wednesday, August 23rd – Tuesday Sept 26 – Fall Menu begins!
Wednesday, September 6 – Teacher Appreciation Day – Free Drink, Any Size with valid Teacher ID
Tuesday, September 19 6am-7pm – Spirit Day for Creekview Elementary (at Store #305 – 26551 Kuykendahl Rd)
Wednesday Sept 27 – October 31 – 20% of Courage Cookies proceeds are donated to The Pink Agenda
Friday, September 29 – National Coffee Day – Month Long Free Drip Coffee Promo!
September 1, 2023 – Teora Music School's Fall Musical Theatre Program – Sign up today for Teora Music School's Fall Musical Theatre Program that starts on September 1 for ages 11-16. No audition is required! Students will be guided to work on the musical theatre performance which will include solo, duet, ensemble singing, acting, dancing and character development, to point them to their highest potential. Students will gain a sense of confidence allowing them to shine. The program runs from Friday Sep 1, 2023 to Friday Dec 8, 2023. FINAL PRESENTATION Sat Dec 9, 2023 (No lesson/rehearsal on Friday Nov 24, 2023). Days and Hours: Fridays from 5:00 p.m. to 7:00 p.m. Enroll Today
September 2, 2023 – Community Garden Day – Join The Woodlands Township for the annual Community Garden Day at Alspaugh's Ace Hardware of The Woodlands from 10:00am – 2:00pm. Visit with local garden experts about: Organic Lawn Care Tips, Native Plant Resources, Pollinator Habitat Guides, Water Savings For Home and Lawn, and MUCH more! Community Partners include: Native Plant Society of Texas, The Woodlands G.R.E.E.N., Woodlands Water, and Alspaugh's Ace Hardware of The Woodlands. Learn More
September 3, 2023 – Labor Day in The Woodlands – Relax and enjoy the fruits of your labor at Labor Day in The Woodlands with live music, children's activities, strolling entertainment, pie eating contests and more! Updated on August 23, due to drought conditions, there will be no fireworks this year. The celebration will be held at Waterway Square, 31 Waterway Square Place, The Woodlands, TX 77380 from 5:00 - 9:00pm. Learn More
September 4, 2023 – Happy Labor Day!
September 7, 2023 – Judaism: The Soundtrack – Discover the enthralling world of Chasidic melody and its deep spiritual meaning with inspiring visuals, captivating stories, and rousing song, working in harmony with Jewish wisdom to create a spectacular production that will touch the heartstrings and elevate the spirit. The Woodlands Symphony will be playing several melodies when doors open at 7:00 pm and throughout. The performance will be held at Lone Star College – Montgomery, Building H Recital Hall, 3200 College Park Dr, Conroe, TX 77384 beginning at 7:30 pm. Learn More
September 7, 2023 – Thursday Concert Series at Heritage Park – Find your groove at Heritage Place! Invite your friends, bring the family and relax to a variety of bands in this free concert series held once a month from April thru September. Bring your chairs and blankets. Food trucks will be onsite. Food and beverages may be brought in (no glass containers). Heritage Place is located at 500 Metcalf Street in Conroe. Concerts begin at 7:00 pm. Learn More
September 9, 2023 – Emory Glen County Fair – Emory Glen is celebrating the opening of its amenity complex with the Emory Glen County Fair at Emory Glen Alcove Pavilion, 21500 FM 1488, Magnolia, Texas from noon to 4:00pm. A Ferris wheel, chair swings and a bungee jumparoo will be among the carnival rides, and food trucks selling funnel cakes, Kona shaved ice, and more will be on hand. There will also be carnival games, free popcorn, free cotton candy and lawn games. Local artisans will be selling unique gift items. Learn More
September 9, 2023 – Lazy River 5K – Join The Woodlands Township for the 2nd Annual Lazy River 5K event, this year with even more options, including an elite 5k, 1 mile, and 5k! Run or walk against the current (10 laps equals 1 mile). Families are invited to cheer you on as you race! Space is limited. Fee includes registration, free event shirt and a medal upon completion. The Rob Fleming Aquatic Center is located at 6535 Creekside Forest Dr, The Woodlands, TX 77389. Learn More
September 9, 2023 – Kid Fishing Derby – The Kid Fishing Derby is a free fishing event for kids ages 16 & younger held at Carl Barton, Jr. Park from 9:00 am to noon. Register on site the day of the event. You may use your own gear or use a pole and bait from the limited amount of supplies available. Trophies awarded immediately following the final measuring of fish. Stick around for the Kiwanis Kid's Day at the Park from 11:00am-2:00pm at the same location. Learn More
September 15, 2023 – Shootout Hunger – Shootout Hunger is an annual sporting clays tournament benefiting Montgomery County Food Bank. Each year, Shootout Hunger aims to raise awareness and funds to help provide food for hungry children, families, and seniors in Montgomery County. Gather your colleagues, friends, and family members for a fun morning of shooting clays at Blackwood Sporting Co. in Conroe, Texas. The tournament is open to participants of all experience levels. Learn More
September 16, 2023 – Montgomery Music in the Park – Montgomery Music in the Park welcomes music enthusiasts of all ages with engaging performers, a kid zone, and food & drinks. The event will be from 2:00 to 10:00 pm at West Montgomery County Park, 16716 FM 149, Montgomery, TX 77356 Learn More
September 16, 2023 – Woodforest Bank Charity Run – Woodforest National Bank will host the 13th Annual Woodforest Bank Charity Run at Heritage Park in downtown Conroe. This year's race will include a 10K run/walk and a 5K run/walk and the "Barkley Shoe Dash" for kids ages 5-7 and 8-12. After the races, the participants, spectators, and volunteers will enjoy a family-friendly Post Race Party with music, food and beverages, fun jumps, snow cones, and an awards ceremony. Learn More
September 20, 2023 – Coffee with a Cop – Mark your calendars and come join The Montgomery County Sheriff's Office for coffee and fellowship at HeBrews Coffeehouse Woodlands from 7:30-9:30am for Coffee with a Cop. Join Deputies from Montgomery County Sheriff's Office to discuss local matters, build relationships, and drink coffee! Coffee with a Cop provides a unique opportunity for community members to ask questions and learn more about the Sheriff's Office. Learn More
September 21, 2023 – "Vibrant Expressions: Celebrating the Colorful Traditions of Pakistan and the Energy of the American West" – Join us on Thursday, September 21, 2023 from 5 to 8pm for the Opening Reception of "Vibrant Expressions: Celebrating the Colorful Traditions of Pakistan and the Energy of the American West" Art Show featuring art by Cynthia Reid and members of The Woodlands Art League at The Woodlands Art Gallery & Studios located at 208 Nursery Rd. The Woodlands, TX 77380. Learn more at woodlandsartandstudios.com.
September 23, 2023 – GroovFest – GroovFest is an award-winning festival and a flashback to the days of Buddy Holly, the Doors, and the Beatles at the Tomball Depot Plaza. There will be groovy vendors, kids' activities, delicious food, and magical music from the summer of love featuring The Fab 5 and more! Gates open at 11:00 am. Admission and parking are free. Groovfest is held at Tomball Depot Plaza, 201 South Elm, Tomball, TX 77375 from 11:00 am to 6:00 pm. Learn More
September 23, 2023 – Arts in the Park featuring The Woodlands Renaissance Faire – Enjoy a day out with family and friends at Rob Fleming Park! Grab a bite to eat at the food trucks and take a stroll back to Renaissance times while enjoying musical performances at The Woodlands Renaissance Faire. Activities include children's arts and crafts, face painting, local vendors, strolling entertainment, Renaissance themed youth and adult costume contests and much more! Then, on September 30, head back to Rob Fleming Park for Arts in the Park featuring Shakespeare in the Park! Learn More
September 23, 2023 – Boots vs Badges Softball Game – Come enjoy a night of fun watching the Montgomery County Sheriff's Office play against The Woodlands Fire Department at McCullough Jr High Baseball Field, 3800 S Panther Creek Dr. from 7:00 - 8:30 pm. Concessions will be available for purchase. Admission is FREE! Learn More
September 27, 2023 – WISE Conference – The WISE Conference is designed to Inspire, Support, and Empower women in a fun, upbeat networking environment. The 2023 Wise Conference will take place on Wednesday, September 27, 2023 from 9:00 a.m. to 3:00 p.m. at The Peach Orchard. The conference emcee will be Missy Herndon with Interfaith of The Woodlands. Learn More
September 28-30, 2023 – Spark Media Ignite Conference – The 2023 Spark Media Ignite Conference is the premier Christian podcast and communicators conference where creators, innovators, and enthusiasts unite to explore the limitless potential of the collaboration and growth. The conference will be held on September 28-30, 2023 at the Houston CityPlace Marriott at Springwoods Village located at 1200 Lake Plaza Drive, Spring, Texas, USA, 77389. Ignite Your Voice in your Business, Ministry, or Brand! This year's event promises a star-studded lineup of industry experts, including former MTV VJ Adam Curry, Worship with Shane & Shane & Kezia Alford, exclusive networking opportunities, and hands-on workshops designed to elevate your podcast to new heights. Are you ready to embark on an unforgettable adventure? Register today at www.sparkmedia.ventures/spark-ignite
September 28-30, 2023 – 23rd Annual YMCA Dragon Boat Team Challenge – For the 23rd year, teams will race colorful, dragon-headed boats across Lake Woodlands, participate in games and enjoy friendly competition in support of the community-strengthening programs provided by The Woodlands Family YMCA. Learn More
September 29, 2023 – The Woodlands Area Chamber of Commerce Annual Meeting & Awards Luncheon – At the Annual Meeting and Awards Luncheon, The Chamber recognizes loyal members, board members, and team leaders, as well as the recipients of the Community Citizen of the Year, Chamber Volunteer of the Year, Diplomat of the Year, Top Influencer Under 40 and Chairman's Award. The presentation of the awards follows The Chamber's annual report while guests enjoy a seated lunch. Learn More
September 30, 2023 – Texas 90's Fest – The Texas 90's Fest is a country music festival for all ages featuring 90's country artists you know and love! Artists include: Diamond Rio, Pam Tillis, Mark Wills, Andy Griggs, Doug Stone, and Ricochet. All events are rain or shine. The festival begins at noon at Montgomery County Fairgrounds, 9333 Airport Rd, Conroe, TX 77303. Learn More
September 30, 2023 – Woodlands Landscaping Solutions – Come learn how to tap into nature at this FREE garden event! Learn tips and techniques from experts that will make your landscape a water-wise and earth-friendly oasis. Bring questions, leave inspired! The event will be held at Recreation Center at Rob Fleming Park, 6464 Creekside Forest Drive from 9:00 am - noon. Learn More
PET OF THE MONTH
Hello Woodlands, in partnership with Operation Pets Alive, highlights a "Pet of the Month" that features a local dog or cat available for foster and/or adoption in Montgomery County, Texas. Operation Pets Alive is a non-profit, all-volunteer organization striving to elevate Montgomery County to a No-Kill community through innovative programs that raise community awareness, reduce the number of dogs and cats that enter our shelters, and increase the number of dogs and cats that leave our shelters alive. Meet the pets here.
GIVE BACK
Hello Woodlands' ongoing series "Nonprofit of the Month," featuring Randy Lovelace of Paragon Independent Insurance Agencies, spotlights several of these nonprofits. Learn more about the nonprofits' missions and meet the people behind them here.
Meet our Nonprofit of the Month, Lone Star Legal Aid, and read our interview here.
SUPPORT LOCAL
The Hello Woodlands Small Business of the Month is brought to you by Miguel Lopez of Conganas LLC and highlights a local small business that serves the Montgomery County community. Read our interviews with local Small Businesses here.
PLAN YOUR WEEKEND
Check out Hello Woodlands' NEW Weekend Guides, keeping you up-to-date on local things to do each weekend. View the latest guide here.
Visit our online calendar, subscribe to our Email Newsletter, follow us on social media at @HelloWoodlands, and check back for a list of 31 Things To Do in October 2023!
Contact us at info@hellowoodlands.com to tell us about events, activities, and more ways we can share about helping our community, supporting local, and things to do in The Woodlands and Montgomery County area.
Thank you for your support!