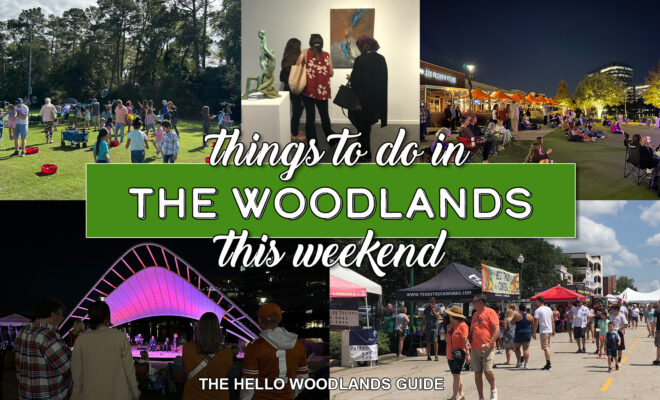 entertainment
Things to Do in The Woodlands Area This Weekend, March 24-26
By |
Looking for something to do in The Woodlands area this weekend? Hello Woodlands has you covered! This weekend, March 24-26, is packed full of fun events, including a backyard throwdown tournament, Easter-themed events, a home show, festivals, and more. Discover over 25 things to do!
Friday, March 24, 2023
Literary PEEPS Challenge (March 24-26)
Vote for your favorite book-themed diorama using PEEPS at Village Books from March 24 to March 26! Businesses, clubs and organizations are flexing their creative muscles by creating a literary PEEPS display to benefit a local nonprofit. The public is invited to vote on their favorite and 100% of donations will go to the winning entry's favorite local nonprofit. Learn more by stopping by Village Books located at 9955 Woodlands Parkway Suite F, calling (281) 771-8462, or visit myvillagebooks.com.
Jeff Allen Comedy Show (March 24 & 25)
See Christian comedian Jeff Allen perform live in the Ruth Auditorium at The Woodlands Christian Academy! Jeff's rapid-fire humor centers on marriage and family and is appropriate for all ages. Jeff has appeared on Dry Bar Comedy, Netflix, Amazon, Huckabee, Pureflix, Showtime, Comedy Central, VH1, and more. He starred in the critically acclaimed film Apostles of Comedy, the syndicated comedy series Bananas, his own one-hour comedy special Happy Wife, Happy Life, and the Warner Bros. comedy film Thou Shalt Laugh. Bring your family out for an evening of laughter and fellowship! Tickets for March 24 | Tickets for March 25
Local Farmers Markets (March 24-26)
Visit a Farmers Market this weekend! View our list of local markets at www.hellowoodlands.com/farmers-artisans-markets-in-the-woodlands-area-2023
Tomball German Heritage Festival (March 24-26)
Come and enjoy the family-friendly ambience of the Tomball German Heritage Festival, a unique music/street festival with multiple stages of live music and an open-air market along with antique shops in the old town area of Tomball. Shop street vendors and enjoy various performances, ride the carnival rides, watch the parade, enjoy the famous "tapping of the keg," and more. An estimated 163 unique and interesting street vendors will line Market and S. Walnut Streets, selling German Heritage items, arts and crafts, and much more. Learn More
Live on the Lawn at Market Street
Enjoy live music on the lawn at Central Park in Market Street with Sarah Kelly Music School from 6:30 – 8:00 p.m., on Friday nights. Blankets and lawn chairs welcome. Learn More
Glow in the Park
Have you ever wondered how fun a climb would be at night? Take family night to new heights at Texas TreeVentures, located in the Village of Creekside, with a 3-hour experience as lights illuminate the course from below offering a totally new perspective! All children (ages 6-12) require an adult (18+) to climb with them one-on-one. Ticket purchase required for all Adult Supervisor climbers. Tickets are $60 per person regardless of age. Learn More
Montgomery County Fair & Rodeo (March 23 – April 2)
The Montgomery County Fair & Rodeo features live concerts, magic shows, animal races, kids' days, a scholarship chili cookoff, golf tournament, livestock auction, non-livestock shows, a scholarship trail ride, and much more. Learn More
Special Olympics Day
The Woodlands Kiwanis Club is sponsoring a Special Olympics Track & Field event to promote life skills that help athletes succeed by enhancing self-esteem, promoting independence, and facilitating social competence. Mr. Kevin Brady will be serving as Honorary Chairman. The event will be held at The Woodlands High School Athletic Field, 6101 Research Forest Dr, The Woodlands, TX 77381, from 8:00 a.m. to 3:00 p.m. Learn More
Ricky Skaggs & Kentucky Thunder
Dosey Doe – The Big Barn presents Ricky Skaggs & Kentucky Thunder at 8:30 p.m. Doors open at 6:30 p.m. Ticket price includes three course meal. Learn More
"Luminous" Spring Lantern Installation (March 13-April 14)
Check out the new, free "Luminous" light installation at City Place Plaza, illuminated nightly at dusk, where you can walk through a display featuring giant flowers, butterflies, mushrooms, flamingos, and more for a whimsical experience. Learn More
Boots, BBQ, and Bingo
Have some fun, play some bingo, enjoy some great food, and raise some money for a great cause all at the same time. Proceeds benefit Hope's Bridge, a 501(c)(3) non-profit organization that provides needed resources for foster and adoptive children and families in Walker and Montgomery Counties and beyond, through established partnerships with area churches and DFPS. The event will be held at North Montgomery County Community Center, 600 Gerald St Willis, TX 77378 beginning at 5:30 p.m. Learn More
Friends of the Library Annual Book Sale (March 23-25)
The South Montgomery Friends of the Library Book Sale helps support our local libraries. The sale is held at the South County Community Center (2235 Lake Robbins Drive) and in the South Regional Branch Library (2021 Lake Robbins Drive). Children's books will be shown in South library, in the large meeting room on the first floor. All other items will be shown in the Community Center. There will be a wide variety of books, both fiction and nonfiction, hardback, and paperback in multiple categories, as well as DVDs, and a large assortment of children's and young adult books. Learn More
Saturday, March 25, 2023
Earth Day GreenUp
Team up with family and friends to help keep our community beautiful while enjoying the outdoors! Remove litter from pathways, greenbelts and waterways and be part of the Great American Clean up that improves the health and beauty of our environment. Join the 12th annual community litter cleanup day, Earth Day GreenUp on Saturday, March 25, 2023. Learn More
Night of Hope Gala
Join Love Fosters Hope for a Night of Hope "Fostering Miracles" at The Woodlands Resort. Love Fosters Hope inspires hope and brings healing to children and youth in foster care, who have been abused, abandoned and neglected. They provide uniquely designed summer camps, year-round mentoring, and additional programming designed to transform and empower young lives. Learn More
Backyard Throwdown Tournament
The second annual Backyard Throwdown Tournament, benefitting The NeighborBridge, will be held from noon to 6 p.m. at Northshore Park and feature good old-fashioned competitive fun! Sign up as a team to compete for the coveted first place trophy (as well as priceless bragging rights) and show off your mad skills in Ladder Golf, Yard Pong, Washers & Corn Hole. There will be food, games, and and incredible raffle. Learn More
The John Cooper School Job Fair
The John Cooper School is hiring! Learn more and attend the upcoming Job Fair on March 25 from 9:00 to 11:00 a.m. Register Here
ART & LIT: Harold & The Purple Crayon
ART & LIT is a guided art lesson at Village Books designed for preschool and young elementary-aged student and their parent(s) or guardian. On March 25 at 1:00 p.m., students will create whimsical doodles and drawings, based on the beloved book Harold and the Purple Crayon, using a variety of mediums and of course, purple inspired by Harold's imagination! Learn More
Painting on the Lake
Have you ever wanted to paint on a kayak and capture a nice spring day on a canvas? If you are looking for inspiration, or a new hobby, try this unique experience. Preregistration is required. Kayaks depart from Riva Row Boat House at 9:00 a.m. Ages 10+. Learn More
The Woodlands Garden Club Spring Plant Sale
Purchase beautiful plants for your home and garden at The Woodlands Garden Club Spring Plant Sale at The Woodlands Farmer's Market, 7 Switchbud Place in Grogan's Mill from 9:00 a.m. to 1:00 p.m. Purchases can be made by cash or check; no credit cards. Come early for the best selection! Knowledgeable members are on hand to answer patron's questions and give advice about plants that tend to do well in our area. Proceeds go to the Club's education programs and community projects. Learn More
The Woodlands Home And Outdoor Living Show (March 25-26)
This two-day event is the perfect opportunity to learn about the latest trends in home decor and landscaping. You will have the opportunity to talk directly with local experts and get the advice you need to help you with your home improvement projects. Get inspired by a wide variety of vendors. The event takes place at The Woodlands Waterway Marriott Hotel & Convention Center. Parking is free. First responders and teachers attend free on Sunday with ID. Learn More
Wunderlich Farm Market and Museum Days
Join Wunderlich Farm and step back in time as you shop local merchants at this free event. Explore history and shop local vendors all under 150 year old trees. The market is held at Wunderlich Farm, 18218 Theiss Mail Rte Rd, Spring, TX 77379, from 10:00 a.m. – 2:00 p.m. The onsite museum is open until 3:00 p.m. Learn More
Homeschool Family Expo
The Homeschool Family Expo features exhibitors from all over the North Houston area showcasing their classes, tutoring, sports, and more. Shop the Student Commerce Fair, where kids are selling products from their businesses. Enjoy performances from kids showing their talents including martial arts, singing, and what they do best. The come and go event is from 10:00 a.m. to 4:00 p.m. at Klein UMC, 5920 FM 2920, Spring, TX 77388. Learn More
Dogapalooza
Dogapalooza is a paw-ty you won't wanna miss! Children and canine attendance encouraged! There will be vendors, food trucks, kids activities, a doggie costume contest, pet photo booth, fire truck, free pickle ball lessons, and adoptable dogs from Operation Pets Alive! Goodie bags available for the first 100 attendees. Dogapalooza will be held at Marilyn Edgar Park in Oak Ridge from 11:00 a.m. to 2:00 p.m. Learn More
Spring Fest Crafters and Artisans Market
The Spring Fest Crafters and Artisans Market will feature over 75 vendors, pictures with the Easter Bunny, face painters, kids crafts, and lots more at the Magnolia Event Center from noon to 4:00 p.m. Entry fee is $1. This is primarily an indoor event and will proceed rain or shine. Learn More
Libation Creation Festival
Taste the flavor of your favorite local beers, wine, cider and mead in one place! Attend the Winemakers Masterclass, take a brewery tour, learn how mead is made, get a flavor of some local cider, enjoy live music, an artisan market, food trucks, and more! The Libation Creation Festival will be held at B-52 Brewing Co., 12470 Milroy Ln, Conroe, TX 77304, from 1:00 – 8:00 p.m. Learn More
Water Egg Hunt
The Woodlands Township's Water Egg Hunt features games, prizes, giveaways, an egg hunt, and so much more! The event takes place at Creekwood Pool, 3883 S Panther Creek Dr, from 3:00 - 5:00 p.m. Learn More
Waterway Nights – Spring Series
Enjoy live music by local and regional performers in the picturesque setting of Waterway Square at Waterway Nights from 6:30 – 8:30 pm. Taking place in the spring and summer, Waterway Nights makes for an eventful night out in The Woodlands Town Center. On March 25, Vince King & The Vegas Mafia Band (Elvis Tribute Band) will be playing. Coolers, picnic baskets, blankets and lawn chairs are permitted. Learn More
Texas A&M Aggieland Orchestra "The Big Band Era"
Dosey Doe – The Big Barn presents the Texas A&M Aggieland Orchestra's "The Big Band Era" at 8:00 p.m. Doors open at 6:00 p.m. Ticket price includes three course meal. Learn More
Sunday, March 26, 2023
Forest Therapy
Forest Therapy is a slow and relaxed stroll of approximately 3-hours and a distance of no longer than 1-mile, through a natural environment. During the walk, Gabriela, Forest Therapy Guide, will help you awaken your senses and slow down to be present, away from your worries, and connect to nature. Forest Therapy meets at the Texas TreeVentures Pavilion, and the walk is from 8:00 to 11:00 a.m. Ages 5+. Learn More
Conroe Symphony Orchestra's Silver Jubilee
Come join the Friends of the Symphony celebrating the Conroe Symphony Orchestra's 25th season providing music for the greater community. By attending and making a contribution, you enable the Conroe Symphony to share the music impacting communities, investing in children and promoting musical activities for the cultural benefit of all ages. The event will be held at The Lake House at Grand Central Park, 1039 Lake House Dr, Conroe, TX 77304, from 5:00 to 8:00 p.m. Learn More
The Pavilion Partners 23rd Annual Wine Dinner and Auction
Enjoy an evening of fine wine, provided by Flora Springs Napa Valley Estate, delicious dinner provided by Fleming's Steakhouse and Wine Bar, and good company, followed by a live auction and bid board sure to appeal to wine connoisseurs of every level. Proceeds from The Pavilion Partners 23rd Annual Wine Dinner and Auction benefit The Pavilion Partners Fine Arts Scholarship Program. Since its inception, the scholarship program has provided over $1.8 million in fine arts scholarships. The dinner starts at 5:00 pm on The Pavilion's Main Stage. Learn More
Concert in the Park
Concert in the Park is a free family tradition of music and fun for all ages held at Northshore Park February 26, 2023 – April 2, 2023 from 5:30 - 7:30 pm. Coolers, picnic baskets, blankets and lawn chairs are permitted. Learn More
Plan Ahead: Upcoming Things to Do
Easter Events
Celebrations are starting this weekend! Discover local Easter events here: www.hellowoodlands.com/local-easter-events-2023
The Woodlands Waterway Arts Festival
Save the date for the 2023 festival the weekend of April 14-16! Celebrating 18 years, Fidelity Investments The Woodlands Waterway Arts Festival is a jewel of the Texas fine arts tour and ranked among the top arts festivals in the country! Set along the scenic banks of The Woodlands Waterway and in Town Green Park, festival guests have the unique opportunity to enjoy a vibrant outdoor art gallery with music, food and kid's activities while shopping for art created by fine artists from around the world and nation! Selected artists display unique original artwork ranging across a variety of mediums at the festival. Voted the best event in The Woodlands, the arts festival is a long-standing springtime tradition for families and locals. Learn More
Spring Thing Luncheon benefitting New Danville
Join New Danville for their premier fundraising event, Spring Thing, on Friday, April 28, 2023 at The Woodlands Resort! Enjoy the Market of products made with the assistance of New Danville clients (Wranglers) and an event to honor the Lynne and Steve Charbonneau family for the their commitment to New Danville. Special keynote speaker is Rory Feek, singer, songwriter, storyteller, author…loving dad to special needs daughter, Indiana. Check the special Spring Bling raffle! Your support inspires New Danville's Vision 2025. The Market will open at 10:30 a.m. and the Lunch and Program will begin at noon. Learn more and purchase tickets today at www.Spring-Thing.org.
Spring Festivals
Mark your calendar for these local spring festivals! View our guide here: www.hellowoodlands.com/spring-festivals-in-the-woodlands-area-2023
Check back on Hello Woodlands' Calendar Page and the monthly 31 Things to Do list for more events as they come up!
Have an event coming up or want to highlight your business? You can sponsor one of these popular weekend guides! By sponsoring a guide, your company name (organization or event) and logo will be included on the featured photo of the article published on the Hello Woodlands website. Your company name will also be included within the article along with a paragraph sharing more about your business with your logo and a link to your website. Email info@hellowoodlands.com for more information.